Refining crude oil has been a low margin business. Huge capital outlay, high maintenance costs, and susceptibility to commodities price swings are just some of the challenges the industry faces. It is hard to love a group that has low growth and high loss potential, despite steady (but not great) yield. However, several recent developments are promising to make the domestic refiners a star that has the potential to outshine the market for months or years.
Looking at some independents and integrated players such as Phillips 66 (NYSE:PSX), Valero (NYSE:VLO), Tesoro (NYSE:TSO), Marathon Petroleum (NYSE:MPC), Western Refining (NYSE:WNR), Delek US (NYSE:DK), HollyFrontier (NYSE:HFC), their year-to-date performances have outpaced the market, with returns ranging from 18% to 105%, vs 10% for S&P. Does it have legs?
(click images to enlarge)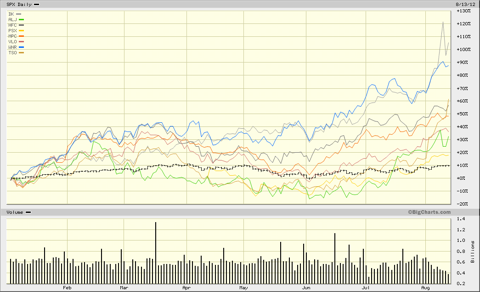 Source: BigCharts.com, Kronos Management
Export Machine
Thanks to the slack in domestic demand due to the economic slowdown and the ever increasing fuel efficiency of vehicles, refiners increasingly turn their heads toward the international markets and take shares from Latin American (operational issues) and European (higher cost) competitors. 2008 marked the year the U.S. became a net exporter of refined products, and the trend has accelerated since then. The U.S. has massive refining infrastructure dating back to the 1970s, and even though the utilization rate has been stuck below 90% range, more and more distillate and gasoline has been exported in recent years.
To be sure, older refiners on both sides of the Atlantic have been losing relative competitiveness to the newer facilities in Asia and Middle East, and many are facing closures. This trend is expected to continue for the foreseeable future. The closures will create more headroom for the survivors, and the resulting increase in market share, while good, may not last too long.
Worldwide demand for refined products may be slowing down, but U.S. refiners have a couple of macro trends that work in their favor.
Feedstock Economics
The emergence of light/sweet shale oil represents both a blessing and a challenge. On the one hand, the Midcontinent refiners with significant exposure to light sweet crude (WTI, Bakken) such as WNR, HFC, DK, and some of PSX's refineries have benefited from this; whereas, MPC with its relative proximity to the Bakken has enjoyed the low cost supply. TSO is working on expanding its Mandan refinery in North Dakota and creating access to the Bakken at another refinery on the West Coast. It is good to be in a position to source cheap(er) domestic oil and sell the refined products at higher prices linked to imported oil.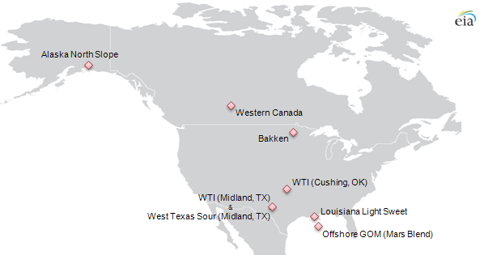 On the other hand, the complex Gulf Coast refineries with big cokers are mostly geared toward the heavy and sour crudes, making them less able to take advantage of the surge in domestic oil production. VLO, the biggest independent refiner, works with multiple benchmark crudes, but has a mere 10% exposure to WTI. The rest of the portfolio is a mix of Louisiana Light Sweet, Brent, and water-borne heavies import.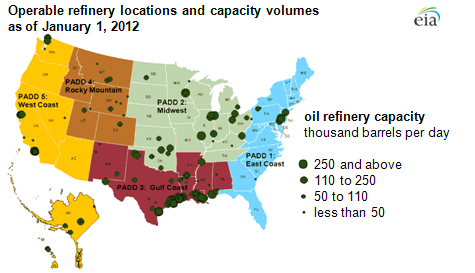 Since 2008, Cushing WTI has seen a price divergence between itself and LLS and Gulf of Mexico Mars blend due to transportation constraints limiting its marketability. However, industry has responded to this structural pricing dislocation. In the Bakken alone, takeaway capacity has increased threefold since 2008. Projects such as the reversal of Seaway Pipeline and other debottlenecking projects in West Texas should help narrow the spreads between Bakken, Cushing, and LLS going forward.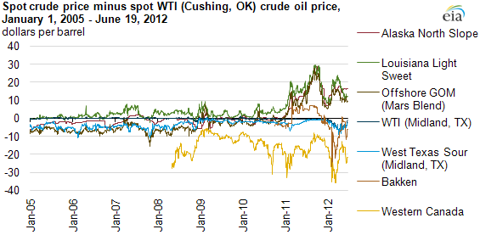 In the next two years, the Gulf Coast where Brent and LLS compete should see plenty of supply, driving some Brent traffic to the East Coast. When complete, the Keystone Pipeline will also flood the Gulf Coast with heavy crude from Canada and suppress prices of other heavies like Maya and Mars.
In a flat-to-declining demand market, this should create downward price pressure on all crudes, with LLS taking a disproportional hit. The heavy crude refineries can then have the option to run all light/sweet but realistically, since the cokers are such expensive investments, the more cost effective way might be to reconfigure the mix and take advantage of both heavy and light. VLO, MPC, and PSX should be in a great position to exploit this development for years to come.
Cheap Fuel
Natural gas prices in the U.S. are in a structural decline due to the shale gas boom. This has provided domestic refiners a fairly significant advantage over their high-cost competitors overseas. Although the current over-supplied market is being corrected, the low price is widely expected to persist for a few years, giving the group a tailwind.
Refining margins in the U.S. have been on an uptrend, thanks largely to the rapid increase in domestic oil production. It is expected to continue in the short to medium term. Gasoline, diesel, and heating oil have historically tracked Brent and LLS, but with the coming weakening of LLS/Brent link, and the convergence of WTI with the rest of North American crudes, we could potentially see the softening of prices for gasoline and other refined products for the next few years, all else being equal. This will prove to be a boon, not only for industries and consumers, but also for domestic refiners as they gain sustainable competitive advantage over the rest of the world.
Disclosure: I have no positions in any stocks mentioned, but may initiate a long position in DK, MPC, HFC over the next 72 hours.