AUDUSD
When it's August 15th and I can't even snip 12.5 pips per contract out of an AUDUSD trade using my best set-up, it's time to hang it up for the rest of the week (month). On the other hand it was a counter-trend trade. Regardless, when the watering hole starts drying up to the point where we're seeing 15-minute candles of less than 5 pips it's time to move on to less risky activities. In the big picture - Figure 1 - AUDUSD is holding its summer gains nicely, though did stall out just above 1.06. Business confidence Down Under is holding up well, though consumer sentiment is not. While we might expect a correction lower because that's what even the strongest bulls do, we agree with old Charles Dow's assessment over 100 years ago that trying to figure out the timing of market corrections is even harder than letting profits run.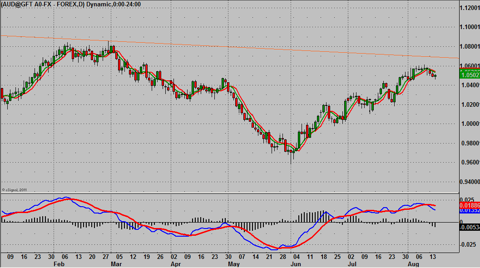 Click to enlarge1. Daily Chart of AUDUSD
The Aussie, because of its proximity to Asia, and its AAA rating certainly does benefit from lower non-systematic risk than Europe and even America, which is what makes it such an appealing investment first, and such an attractive trading vehicle second. Smart traders know the advantage of speculating in a market with a healthy incoming cash flow to count on.
EURUSD
The Euro on the other hand is the queen of both non-systemic and systemic risk. While it can seem like short the Euro is a sound investment, technically it is still just a trade, and the hedge funds with those large short positions were reminded of that earlier in the month as this pair tried to climb back into the June range above 1.24. Collecting 2% up front makes the hedgies pros, so they are less likely to capitulate and cover on a rally, but they are not immune to taking profits on dips which would be seen as market supportive.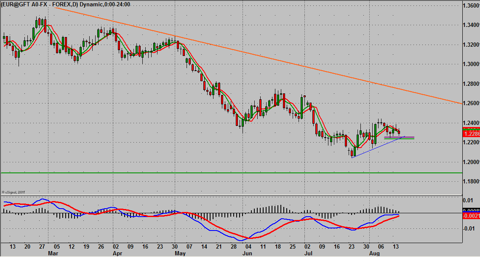 Click to enlarge2. Daily Chart of EURUSD
Currently the Euro is stuck between 1.2240 below and 1.24 above. From a longer-term perspective it's just a chip shot away from our long time objective at 119.00, but it doesn't count until it prints. If the Euro bears are right and we do see a sharp sell-off we had better see it sooner rather than later because there is nothing new about Europe's money problems and for all the emotion this has sparked over the past couple of years, price is still above the 2010 lows. And there is a bullish seasonal coming up for this pair in the fall, which we saw play out in both 2010 and 2011, despite all the bad economic press.
Disclosure: I have no positions in any stocks mentioned, and no plans to initiate any positions within the next 72 hours.