Blackmont Capital analyst Trevor Johnson initiated coverage on 5N Plus Inc. (OTC:FPLSF), a Montreal-based producer of metal compounds used in the production of photovoltaic cells for the solar energy industry, with a "buy" rating and a target price of C$14.50.
5N produces high purity metals, typically above the 99.999% mark, used in specific segments of the electronic materials market, in particular tellurium, cadmium, selenium and their compounds.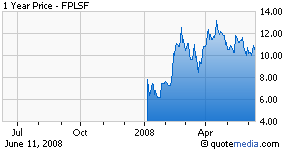 In a note to clients, Mr. Johnson pointed out that 5N differs in many ways from traditional, speculative stocks in the solar energy industry. He drew attention on the strong fundamentals of 5N which posted 31 consecutive quarters of profitability, and boasts a varied portfolio of products, services and applications, shielding it from potential industry upheavals.
5N currently derives over 60% of its revenue from First Solar Inc. (NASDAQ:FSLR), the solar industry bellwether. 5N supplies an estimated 70% of First Solar's cadmium telluride [CdTe], the new metal compound poised to replace the traditional, thicker, silicon.
Mr. Johnson considers 5N a safer, inexpensive investment option to latch on to the fortunes of First Solar. "With First Solar trading at a forward P/E, EV/EBITDA and EV/Sales multiples that are on average 12, 10 and 4 multiple points higher than 5N respectively, we are inclined to believe this valuation spread is too wide," he wrote in a note.
The analyst concluded by outlining a series of potential positive catalysts for 5N in the next 12 months, including the completion of their new German facility, a production increase from 435 megawatts to 910 megawatts which should result in higher sales volumes, and an expansion of its recycling capabilities, to handle other types of thin film modules.