Not too long ago in the late 1990s the expectations of the Internet had reached heightened levels. Every company rushed to the web to "replace" conventional businesses and their models that had been operating for decades upon decades. For investors, this trend provided seemingly endless opportunities to take stakes in publicly listed companies. But by the summer of 2002, many of those expectations had been long forgotten and investor sentiment had deeply soured.
In today's markets, we are wrestling with an effective way to gauge expectations for social media and Internet-service companies. To date, we have witnessed a proliferation of new companies that have recently gone public. Some of the services these companies provide include social networks, professional networks, online gaming, discount coupons, review of products and stores, among others.
Much debate resounds regarding which companies, if any, are worth investing in. Both Zillow, Inc. (NASDAQ:Z) and LinkedIn Corporation (NYSE:LNKD) have caught my eye, and I believe that they have the potential to become "game changers" for their respective markets.
To take a closer look at these two companies we will consider selected peers, a set of evaluation measures, and the prospects of their business models.
Zillow
Zillow just recently announced their second quarter earnings results. Zillow operates as the leading real estate information marketplace. Key revenue operating segments include Marketplace Advertising and Display Advertising. Marketplace revenues have grown 29% sequentially over the last 8 quarters and are tracking around the low 20% level over the past few quarters. Display revenues have grown 7% sequentially over the same period, and are tracking upward around 15% recently.
Average monthly unique users have grown between 15-19% over the past 2 and 8 quarters sequentially. Premium agent subscribers have grown around 20% over the same period sequentially.
During the conference call management made it clear that the vision for Zillow is to provide its real estate services to potential home buyers and renters, mortgage loan entities, real estate agents and brokers, and the rental property management market.
Highlights included refining real estate information through direct interaction with listing sellers and agents, increasing premium agent subscriber pricing options and features including the website building feature, and realizing robust growth in mobile demand. Zillow's CEO continues to express the value that mobile has in monetizing the marketplace revenue segment.
LinkedIn
LinkedIn also recently announced their second quarter earnings results. LinkedIn operates as the largest professional network on the Internet. Key revenue operating segments include Hiring Solutions, Marketing Solutions, and Premium Subscriptions. Hiring solution revenues have grown 24% sequentially over the last 5 quarters, and roughly 20% over the past few quarters. Marketing solution revenues have grown 17% sequentially over the same period, and roughly 13% recently. Premium subscription revenues have grown 14% sequentially over the same period.
Number of registered members have grown 10-11% over the past 2 and 5 quarters sequentially. Unique visitors have grown 9% sequentially over the last 5 quarters, and 17% over the past few quarters. Similarly, page views have grown 6% sequentially over the last 5 quarters, and 11% recently. LinkedIn corporate solutions customers have grown 20% sequentially over the same time period, and 14% recently.
During the conference call, it was clear that LinkedIn delivered significant top line growth. LinkedIn now boasts roughly 174 million registered members of which 62% are from international markets. With regard to engagement as measured by comScore, LinkedIn totaled 131 million unique visitors in June when including SlideShare, making it the 26th most visited web property in the world. Alexa ranks LinkedIn 12th in the world in web traffic.
Highlights included improved metrics resulting from the recent web-redesigns of the homepage and LinkedIn Today social news product, increases in mobile new membership registrations and percent of unique visiting members accessing the website from the mobile app launch, largest multi-year hiring solution deal with Microsoft Corporation (NASDAQ:MSFT), and successfully developing a branded LinkedIn Group with Citi, which quickly generated over 30,000 members.
Peer Review and Method of Evaluation
To gauge strengths and weaknesses among peers, we'll look at some measures to provide insight. There are varying opinions regarding evaluation methods for stock performance and valuation. Adjusted earnings before interest, taxes, depreciation, and amortization, EBITDA, and adjusted EBITDA per share have become increasingly used, especially with respect to forecast estimates by analysts for Internet-related companies.
When comparing Zillow and LinkedIn with their peers, we will consider diluted earnings per share, EPS, diluted free cash flow, FCF per share, share-based compensation, SBC, expense, and the ratio between net income and adjusted EBITDA.
Zillow, LinkedIn, and Peer Results and Observations
The companies that I have selected to perform a peer comparison include Facebook, Inc. (NASDAQ:FB), Groupon, Inc. (NASDAQ:GRPN), Zynga, Inc. (NASDAQ:ZNGA), Yelp, Inc. (NYSE:YELP), and TripAdvisor, Inc. (NASDAQ:TRIP). All of the following data is as of the stock market close August 13, 2012. All data was derived from the Securities and Exchange Commission. Due to a lack of positive diluted earnings and free cash flow data, some company information is not applicable. Additionally, as many of these companies just recently became public, not all filings are available for trailing twelve-month, TTM, analysis, so 6-month time periods were used where necessary.
All share-based compensation, operating cash flow, free cash flow, net income, and adjusted EBITDA numbers are expressed in thousands.
Diluted Earnings per Share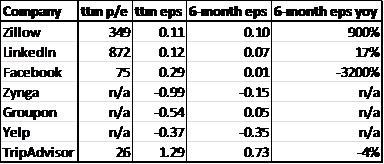 From the results in this table, it is clear that both Zillow and LinkedIn are trading at much higher valuations than Facebook and TripAdvisor when comparing TTM price to earnings, P/E, ratios. Upon looking at the most recent changes in diluted EPS for the recent 6-month period for 2012, Zillow clearly is leading the group while LinkedIn is growing too. Facebook's growth has severely declined and TripAdvisor is slightly lower. Zynga, Groupon, and Yelp do not have comparative net income. Groupon, however, has improved its net income over the previous 6-month period.
Despite the higher TTM P/E ratios for Zillow and LinkedIn, they have more robust growth and allow for the potential to grow into these valuations.
Diluted Free Cash Flow per Share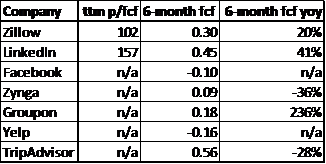 Both Zillow and LinkedIn trade at a lower valuation from the TTM FCF as compared to the previous table's TTM P/E ratio. Over the most recent 6-month period, Groupon appears to be growing its FCF much more robustly than both Zillow and LinkedIn. Over the same 6-month period, both Zynga and TripAdvisor are seeing significant declines and Facebook now has negative FCF.
Zillow and LinkedIn are significantly outperforming all of these peers, with Groupon being the exception.
Share-Based Compensation (SBC) Expense

The first column illustrates the share-based compensation expense, SBC, line item for the previous 6-month period in 2012. Both the operating cash flow, OCF, and FCF are also displayed. The percentages of OCF and FCF are compared against the SBC. This table provides significant insight into operating expenses as they relate to net income and revenue growth, as well as magnitude of impact to the cash flow statement.
As a percent of OCF, both Zillow and TripAdvisor display a healthy ratio. LinkedIn and Groupon are definitely higher, and Facebook and Zynga are extreme cases, where SBC is outrageous. Only TripAdvisor maintains a very healthy OCF and FCF compared to SBC. However, growing companies such as Zillow, LinkedIn, and Groupon are displaying marginal success. Facebook, Zynga, and Yelp on the other hand, seem to be using an extremely significant amount of SBC relative to their operations.
It is important to note that while SBC is the line item focus for this analysis from the cash flow statement, there are other items including deferred income taxes, tax benefits from shared-based awards, etc. which may inflate cash flow operations.
Net Income and Adjusted EBITDA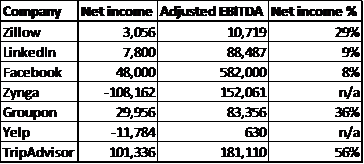 This table represents the most recent 6-month period for 2012. I have used net income as a ratio of adjusted EBITDA as a consideration for companies that predominantly use adjusted EBITDA estimates in their guidance. The higher the percentage of this ratio, the better. Over time, we can also use historical trends of this ratio to determine what the company is really earning, and incorporate this tool to project our own revised assumptions. TripAdvisor, Groupon, and Zillow display the highest ratios of the group. LinkedIn and Facebook have lower ratios, and Zynga and Yelp do not have positive net income.
This is definitely a questionable area for LinkedIn. It could possibly be a indication that the SBC percent of FCF from the above table, is becoming more significant. However, LinkedIn has displayed somewhat volatile ratios over the last 8 quarters, so this is something to monitor. Zillow displays a higher net income ratio than LinkedIn and we see in the preceding table its SBC percent of FCF is lower.
Facebook's net income has significantly declined and trends are moving in the wrong direction. TripAdvisor maintains the highest ratio and Groupon's SBC percent of FCF is decreasing, which could be positively impacting the net income ratio.
Business Model Comparison
Obviously there are important factors to consider when assessing any company. A company's business model and the metrics of the business are vital to its success, just as much as is transparency with estimates and targets, and consistent performance. Our dilemma is that many high-growth Internet companies do not fit nicely into these factors.
From a business perspective, both Zillow and LinkedIn have diversified operating revenue segments. Both are competing within large markets that possess significant scaling potential. And, both are first movers within these respective markets.
Facebook's difficulties in moving its business into a mobile platform and its ability to continue to grow its subscriber base are two challenges that the company is facing. Additionally, Facebook relies heavily on advertising. This puts pressure on the company, with no other revenue options, in the event the advertising market turns sour.
Zynga, Groupon, and Yelp also have limitations with respect to their business models. Zynga is only as good as its last game, and has recently struggled. The online gaming industry is constantly undergoing rapid changes and Zynga's perceived leadership role has quickly been put to the test. Groupon's business model and its sustainability is questionable at best. It will be interesting to see how a company relying on providing discounts is able to grow and succeed over the long-term. Will Groupon's clients benefit from perpetual discount strategies? Yelp seems to be focusing on an interesting area as a utilitarian guide, if you will. However, this model seems highly fragmented and easily replicated.
TripAdvisor finds itself in a heavily intense online travel-service market. Newer players such as Kayak Software Corporation (NASDAQ:KYAK), and the potential of market entrants such as Google, Inc. (NASDAQ:GOOG) are adding increased competition. Macroeconomic concerns have not helped in the near-term.
As a result, both Zillow and LinkedIn seem to be at the forefront of their respective markets, and robust growth is continuing to drive these companies.
Conclusion
Zillow appears to be growing into its valuation more quickly than LinkedIn. It is clear that LinkedIn has more of an SBC effect within its FCF operations. Some concern has been expressed for Zillow's next quarter adjusted EBITDA guidance margins. But Zillow is displaying solid net income relative to adjusted EBITDA, so as long as growth continues, Zillow will continue to grow into its valuation. Each quarter will allow for a reassessment of valuation. Based on current trends and my adjusted net income assumption ($0.23 diluted EPS) for the current-year, Zillow is trading around 164 times diluted EPS. This is significant improvement from the 349 TTM diluted EPS.
LinkedIn has displayed much stronger historical net income ratios to adjusted EBITDA in the past. The next two quarters will be very important for them to show stronger net income growth to maintain the current stock price valuation. For LinkedIn, if net income ratios for adjusted EBITDA do not improve from the second quarter's low-point (5.6%), an assumed current-year valuation could fall just under 700 times diluted EPS ($0.15 diluted EPS). This would not show much improvement from the current 860+ diluted EPS.
While business prospects for these two companies seem very bright, there is room for improvement. It appears that both companies are trading at premiums, and over the near-term, it will be important to monitor how much they grow into these valuations. Both revenue growth and diluted EPS have the ability to significantly impact stock price volatility.
The significant market opportunities for Zillow and LinkedIn and their ability to generate continued growth through diversified revenue segments is what sets them apart from this peer review. Competition will evolve soon enough for these companies. In LinkedIn's case they have already dealt a significant blow to Monster Worldwide, Inc. (NYSE:MWW).
Over time, we have seen the Internet change the way people connect, shop, offer business services, and how they make many of their decisions. While our eagerness and expectations of the Internet replacing "bricks and mortar" businesses over ten years ago was extreme, today we are seeing more and more of them slowly drift away. Zillow and LinkedIn are capable of continuing this transition. It just might not play out they we would hope or think.
Disclosure: I am long LNKD. I may initiate a long position in Z over the next 72 hours.