MeetMe Inc. (MEET) is the largest Social Media network for meeting new people and in June of this year, was the 18th most trafficked website in the US. Through acquisitions, they now own myYearbook and have recently (within the past year) changed their name to MeetMe from Quepasa. MeetMe owns and operates platforms of meetme.com on the iPad, iPhone and Android mobile phones.
MeetMe also owns the rights to a Social Media platform known as the Social Theater. Which, through partnerships with Facebook (FB) and other websites, is MeetMe's largest source of revenue. Users watch video clips from advertising companies and in return, they receive online money that can then be used in various ways on their websites.
Before MeetMe Inc. released their results for the second quarter, I wrote an article suggesting that upcoming results would signal a turnaround - or breakout signal - for the company. I also suggested that the second quarter would be the first reported positive earnings for shareholders.
On August, 8th MeetMe Inc. published a second quarter press release stating that gross revenue was $13.1M and that net loss allocable to share holders was equal to $3.8M, or a loss of -$0.11 per share.
Even with the loss per share - I still believe I was right about a positive turnaround developing, while missing on the earnings per share estimate for the quarter. (Note: I did not post any revenue or EPS estimates within the article. They were posted within the comments section. I estimated gross revenue of between $13M and $14M and an earnings per share of $0.03 to $0.05.)
I was wrong on my earnings per share estimate for a couple of reasons. First, I expected a decrease in product development spending. This did not happen, spending in that area actually increased by $1.7M. Secondly, I expected a positive return from the closing of their Quepasa Games division - I was thinking that they would be able to sell off assets and rights to their games as a profit. Looking back now, I wasn't even close on that one.
It cost MeetMe approximately $3M to close this division (mostly from a loss in Goodwill value). Accrued liabilities going forward from the closing are around $700K - mostly due to severance pay and a loss on assets. I expect them to pay for this amount in full during the third quarter. However, even with the accrued liabilities, the operational expenses of $800,000 for Quepasa Games no longer exists.
The good news is that this closing is mostly behind them, and of the -$0.11 per share loss, -$0.09 of this was applicable to discontinued operations. From continuing operations, MeetMe's loss was only -$0.02 per share - up from a loss of -$0.05 from the first quarter of the year.
After MeetMe issued their second quarter results, I sent an e-mail to Brian Harvey, MeetMe's head of investor relations. I asked if he could comment on the allocation, or distribution of product development costs and whether or not he saw this portion of operating costs beginning to decrease or stabilize in the future.
Mr. Harvey's response to my e-mail:
We have not provided guidance to our development costs, however we have discussed that now that the rebranding is complete, the internationalization is underway, that we plan to move developers in to other areas such as mobile and monetization products. However, to your question, we are not currently providing guidance on our upcoming development costs.
For the time being, I expect product development costs to continue to increase as MeetMe expands their mobile platform to other languages. Along with product and development costs, I also expect that administrative costs will continue to rise. MeetMe is planning to continue adding personnel to their workforce, especially in the software and IT areas. Rising costs related to product development and additions to staff are often indicators that a company is growing.
A look at results from MeetMe (post-merger) that signal an uptrend:
EBITDA earnings have been positive since the myYearbook acquisition - Q2 EBITDA per share were $0.05 ($0.07 more than Q2 of 2011)
Revenue has increased every quarter since the acquisition - $13.1M for Q2 and $23.4M for the first six months ($19.5M more than first six months of 2011)
Quepasa Games is no longer a burden on operating expenses
Mobile currency sales have increased over Q1 - adding $1.3M in gross revenue last quarter for virtual currency
Share prices since my last article are up 48% - MeetMe last closed (08/13/2012) at $2.43 per share (up from $1.65/ps)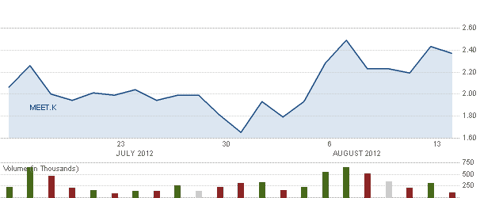 Last week, MeetMe launched a Spanish and Portuguese version of their mobile app for Android phones
During the last half of this year MeetMe plans to launch their mobile platforms in 7 different languages (which includes the two just mentioned)
During the second half of the year, all Quepasa users will be transferred to MeetMe - adding approximately 40M additional users
Page views for the first six months of 2012 are up 1,500% over the first six months of 2011 - total page views were 9.7B versus 583M ~ page views are calculated by comScore metrics combining all available platforms and are not necessarily "unique" page views
One major area of concern going forward with MeetMe is in regards to income from their principal share owner, MATT Inc. for advertising revenue on their Social Theater platform. Revenue from MATT was the largest portion of advertising revenue received last quarter - a total of $4M. My concern with this fact stems from a statement made in MeetMe's second quarter filing with the SEC:
"We do not expect that either MATT Inc. or AHMSA will run any Social Theater campaigns for the quarter ending September 30, 2012."
The (projected) loss of income from MATT for the third quarter should, at the least, cause investors to be cautious.
Advertising revenue during the second quarter came from three different companies. The (projected) loss of their largest source of advertising (and overall) revenue could prove to be detrimental.
So, the question going forward into the next quarter will be -
Can MeetMe make up the difference of $4M in lost revenue - while simultaneously increasing overall gross revenue - from other advertising agencies and virtual currency sales?
If they are able to do so, MeetMe's value to shareholders will continue to increase for the foreseeable future and MeetMe will become an interesting Social Media stock to own.
However, if they fail to increase revenue in the third quarter, I would expect a substantial decrease in the current share price and a loss in all positive momentum that was gained from the first half of the year. We will have to wait and see what happens.
Disclosure: I am long MEET.