This article is part of a series that provides an ongoing analysis of the changes made to Fairholme's US stock portfolio on a quarterly basis. It is based on Fairholme's regulatory 13F Form filed on 08/14/2012. Please visit our Tracking Bruce Berkowitz's Fairholme Fund Holdings article for an idea on how his holdings have progressed over the years and our previous update highlighting the fund's moves during Q1 2012.
Bruce Berkowitz's US stock portfolio size decreased by just over 11% this quarter compared to an increase of 27% in Q1 2012. Many of his largest positions decreased in value and many positions were trimmed as well. The trimming was probably done to fund redemptions. The number of positions in the portfolio came down slightly from 20 to 19 - two very small positions were eliminated and a new position was added during the quarter. Although the portfolio has 19 positions, the largest five positions account for over 82% of the overall US long portfolio value. The portfolio continues to be very concentrated with the largest position American International Group (NYSE:AIG) representing a jaw-dropping ~45% of the portfolio.
New stakes:
Hartford Financial Group WTS 9.649 Strike: This is a minute stake of just over a million dollars established this quarter. The warrants expire on 6/26/2019 and have an anti-dilutive feature that protects against cash dividends. It kicks in at a quarterly dividend threshold of $0.05. Although this position is very small, Berkowitz is known to be bullish on similar warrants - he holds significant positions in warrants of several financials including American International Group , Bank of America (NYSE:BAC), and Wells Fargo (NYSE:WFC). It will be interesting to see whether he builds on Hartford warrants in the coming quarters.
Stake Disposals:
Mercury General Corp (NYSE:MCY) & Regions Financial (NYSE:RF): MCY was a very small (<0.5% of portfolio) position established last quarter at a price-range between $42.88 and $45.62. It was disposed-off this quarter at a price-range between $41.36 and $45.58. The stock currently trades at around $37. The about-turn this quarter signifies a mild bearish bias. RF was first purchased in 2009 and the stake was increased by three-times in 2010. At the time, the position made up for over 5% of the portfolio. Since then, the stake was trimmed and by last quarter the position had become insignificantly small. It was finally eliminated this quarter. The stake elimination indicates a mild bearish bias.
Stake Increases:
Jefferies Group (JEF): JEF is a 0.5% position first purchased in Q2 2011. The stake was doubled last quarter at prices between $13.64 and $19.49 and was marginally increased this quarter at prices between $12.16 and $19.05. The stock currently trades at the low-end of that range at around $13.40. For investors attempting to follow Berkowitz, JEF is a good option to consider.
Sears Holdings Corp (NASDAQ:SHLD): SHLD is a huge 14.5% stake that was established in 2007. The stake has fluctuated over the years. This quarter, it was increased marginally at prices between $47.9 and $68.69. The stock currently trades at $55.50. The large position size and the stake increase signify a bullish bias. Berkowitz has stated that his SHLD purchases were well below his estimate of liquidation values. The investment thesis is also based on knowing that Eddie Lampert will be a great capital allocator. The current stock price is far below the prices Berkowitz paid for the bulk of his stakes.
Wells Fargo WTS 34.01 Strike: Wells Fargo Warrants (expiry 10/28/2018, strike price $34.01) is a very small ~0.2% position that was increased marginally this quarter. It was increased by over 55% last quarter when the warrants traded between $8.7 and $10.8. The stake is very small but Berkowitz has significant stakes in similar warrants of other financials such as American International Group and Bank of America.
Stake Decreases:
Berkshire Hathaway (BRK.A and BRK.B): Berkshire Hathaway is a long-term holding that was built aggressively in the 2009-2011 time-frame. The stake has since been reduced by over 80% in the last four quarters. It currently accounts for around 1% of the portfolio. At the peak in Q2 2011, the position was at about 10% of the portfolio. The large stake reduction over several quarters indicates a bearish bias.
CIT Group (NYSE:CIT): CIT Group is a large 7% of the portfolio stake that was first purchased in 2009. The position was increased by over 30% in 2010 and had since been held steady. During this quarter, the position was reduced by around 25%. The fairly large stake reduction signifies a bearish bias.
American International Group , AIG WTS 45 Strike, Bank of America , Citigroup (NYSE:C), Leucadia National Corp (NYSE:LUK), MBIA Inc. (NYSE:MBI), Orchard Supply Hardware (OSH), and St Joe Companies (NYSE:JOE): These positions were only marginally reduced this quarter and so do not signify a clear bias. Citigroup position is being trimmed over several quarters and the pattern indicates a clear bearish bias. Orchard Supply Hardware is a small 0.2% position purchased last quarter at a price-range between $15.02 and $27.51. It was reduced by ~8% this quarter at prices between $15.62 and $25.93. The stock currently trades at around $15. The about-turn indicates a mild bearish bias.
The positions in Assured Guaranty Ltd (NYSE:AGO), Bank of America Warrants, JP Morgan Warrants, and Wells Fargo saw no movement this quarter. The spreadsheet below highlights changes to Fairholme's US stock holdings in Q2 2012: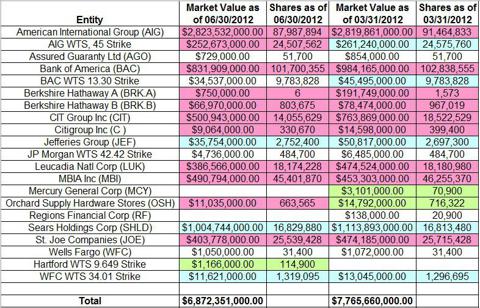 Click to enlarge