National Oilwell Varco (NYSE:NOV) is one of Warren Buffett's newest additions to his portfolio. The company supports the oil and gas industry with a comprehensive array of products and services which includes: drilling, downhole solutions, engineering and project management, industrial, lifting and handling, production, supply chain, tubular and corrosion control, and well service & completion.
NOV has a growth by acquisition strategy. It acquired about 300 businesses over the past 15 years. It completed nine acquisitions just in the first half of the year. The company has a staff dedicated to the process of acquiring new companies. NOV has the knowledge and experience to scope out good companies and to effectively integrate them into its business.
Mr. Buffett knows a good value when he sees it. NOV is clearly undervalued with a forward PE ratio of 11.27, a PEG of 0.79, and a price to book ratio of 1.73. It looks like a good time to start a position in the stock for the long-term.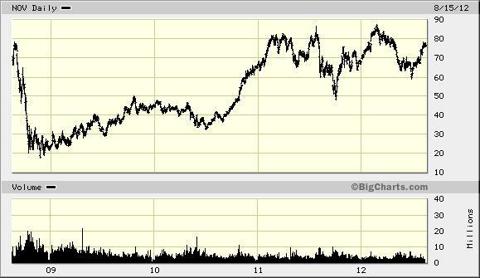 Click to enlarge
NOV has a market cap of $32.67 billion. It has a double-digit profit margin of 13.6% and an operating margin of 19.82%. For the past twelve months, the company had operating cash flow of $939 million. The balance sheet also looks good with $1.92 billion in total cash, $1.45 billion in total debt, and a current ratio of 2.01.
NOV has expected earnings growth that fits Warren Buffett's requirement of at least a 15% compound annual growth rate (OTCPK:CAGR) from a combination of dividends and earnings growth. The company is expected to grow earnings annually at 16.25% for the next five years. It also pays a modest dividend of 0.60%. This provides investors with a total potential CAGR of 16.85%. With this growth, a $10,000 investment in NOV should reasonably grow to be worth over $21,000 in five years.
The long-term prospects for the company are promising since it becomes more difficult to extract oil and gas in new areas. Drilling rigs are now under pressure to be more complex and to drill deeper. The need for highly deviated and horizontal wells is on the rise. NOV has many tools and solutions to get the job done. It provides the support and infrastructure for many aspects of the fossil fuel extraction process. As of the end of the 2nd quarter, NOV had a backlog of $11.3 billion, of which $4.9 billion is expected to contribute to revenue for the remainder of 2012.
Overall, National Oilwell Varco looks like a promising investment for the long-term. It acts as a common denominator in the oil/gas industry as it provides the various tools and support to extract fuel in harder to reach areas. It looks like Warren Buffett sees this opportunity and plans to capitalize on with his new stock purchase.
Disclosure: I have no positions in any stocks mentioned, and no plans to initiate any positions within the next 72 hours.