In a recent edition of Value Investor Insight, Karen Finerman of Metropolitan Capital Advisors described why she sees mispriced value in Brown Shoe Company (BWS).
What appeals to you about Brown Shoe [BWS]?

KF: The company is in both the retail and wholesale footwear businesses, which account for roughly 60% and 40% of revenues, respectively. The Famous Footwear retail stores are focused on selling shoes for the entire family, from Nikes and Skechers to Brown's own brands, like Buster Brown, Dr. Scholl's and Naturalizer. The typical customer is probably female, shopping for her family. On the wholesale side, Brown is a solid industry #2, behind Nine West, and has a full range of brands from low- to high-end. We attribute the overwhelming majority of the negativity built into the stock (which is down 45% in the past year) to what's going on in consumer retail. Brown's same-stores sales fell slightly and wholesale revenues were down 3-5% last year. They've also taken some restructuring costs to consolidate operations.

Are you basically looking through a dead-money period to when consumers start spending again?

KF: That's pretty much it. We do also see opportunity for margin improvement from things like getting their online business beyond break-even and making their distribution system more efficient. The company believes over the next five years it can double sales and double operating margins, to around 8%. That's great if it happens, but we're not counting on anything close to that kind of improvement.

With all the expected consumer headwinds built in, we're estimating that Brown will earn around $1.50 per share for the fiscal year ending in January of next year. Beyond that, if we assume they open 50 new stores, same-store sales go up 3%, and they realize some very modest leverage in SG&A costs, earnings would rise to $1.90 per share the following year. At that point they'd have very little net debt.

What upside do you see for the shares, currently trading around $16.70?

KF: Historically, Brown shares have traded at an average multiple of greater than 14x. Just getting back to that level on $1.90 in earnings would result in a share price above $25.

This isn't a complicated idea. We don't believe the consumer is dead forever. There's no hot footwear fashion today, which we also don't believe will be the case forever. Brown has scale, a healthy balance sheet and is in a strong competitive position to benefit as the overall environment improves. Given all that, the current valuation is just extremely attractive.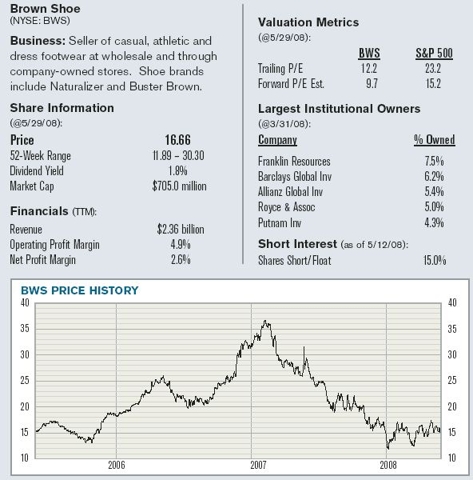 Click to enlarge