Yesterday afternoon S&P Marketscope posted the following:
S&P UPGRADES SHARES OF ETRADE FINANCIAL TO HOLD FROM SELL
2:22 PM ET 6/11/08 | S&P Marketscope


We think management has been straightforward in their disclosure of exposures to troubled mortgage securities and has made strides to reduce this exposure. It has also been able to attract customers and post strong trading volume despite balance sheet issues. We expect loan loss provisions and valuation adjustments will continue to weigh on results, but we think ETFC has acted in a timely manner and should be able to sustain its business. We are raising our target price by $0.50 to $4.00, a discount to its book value, but keep our '08 estimate at a loss of $0.49.
This is the first upgrade that E*Trade has had since February 2007 (see Yahoo Finance), and comes at a time when many other financial institutions have revealed that they have not "been straightforward in their disclosures," and are scrambling and "figuring out what they are going to do to survive." Market reaction to these company's disappointing announcements has been severe and unjustly penalizing across the broad financial sector, including E*Trade.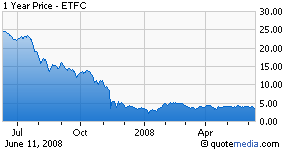 The reputation that the S&P has for independence, objectivity, and overall conservative positioning in their analyses makes this upgrade and viewpoint more significant than other potentially biased opinions. The S&P's conservative stance can be seen in their prior April 22, 2008 12-month Target Price of $3.50 (when the general market has already been trending to a price of around $4), and their current 12-month Target Price of only $4.00.
The S&P conservative pricing is of course related to their concern with the future performance of E*Trade's mortgage portfolio. Updated performance details in April (1st Quarter Conference Call) and May (Annual Shareholder's Meeting) indicated acceptable and favorable performance within ranges previously estimated by management. In other words, what management had provisioned and booked as losses as of the 4th Quarter in January 2008 needed no additional adjustment as of April and May. Very significant results given the types of large negative adjustments other mortgage institutions are incurring. New updates on E*Trade's mortgage portfolio performance will be a major point of interest during next month's July 25th, 2nd Quarter Conference Call.
I had no idea when I submitted my article "E*Trade's 'First In, First Out' Position: Yes, 111M Shorts Can be Wrong" on Tuesday morning that the S&P would also come out with a Wednesday upgrade statement that has many similarities to my article. Obviously I find those similarities quite gratifying. I do need to make one correction to the information contained in my article regarding the 111M of short interest. After the market close on Tuesday, June 10, the Short Interest Position as of the end of May was reported at NASDAQTrader.com (enter symbol ETFC). Interestingly, E*Trade's Short Interest has decrease from 111.4 million on May 15 to 105.8 million as of May 30. However, because of lower trading volume, "Days to Cover" has increased from 5.11 days to 6.78 days.
E*Trade caught my eye back in April just prior to its 1st Quarter earnings report. It has been a very rewarding investment, but of course, you as the reader must research the facts and do your own due diligence. After weeks of continual investigation and many positive events (metrics, marketing, brokerage tools), it is nice to see the S&P lead in turning the tide in the right direction from the analyst arena.
Disclosure: Long