Data center related stocks closed a mixed month in July 2012, in spite of several positive performances after earnings, as most companies beat analysts' expectations both for revenues and earnings.
July performance
Here is a quick look at how all companies under our radar screen performed in July 2012: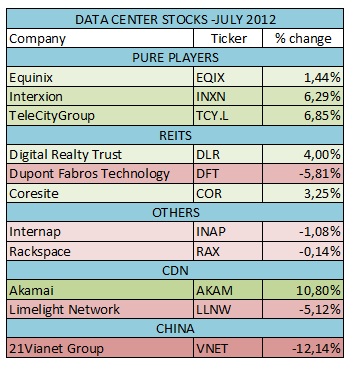 (click to enlarge pictures)
Unsurprisingly, Akamai (NASDAQ:AKAM) was the best stock for the month, having rebounded a stunning 24% after earnings.
Network-neutral players closed July all in the green, with Interxion (NYSE:INXN) and TeleCity both exceeding 6% gains in the month.
The worst performers were Dupont Fabros Technologies (NYSE:DFT), Limelight Network (NASDAQ:LLNW) and 21 Vianet Group (NASDAQ:VNET), the Chinese data center provider whose trading is often aligned with Chinese peers more than with its sector counterparts.
July and August earnings performances
It is interesting to note that these mixed results for the month of July were obtained in spite of good earnings reports, that lead to solid uptrend movements after earnings, as resumed in this chart: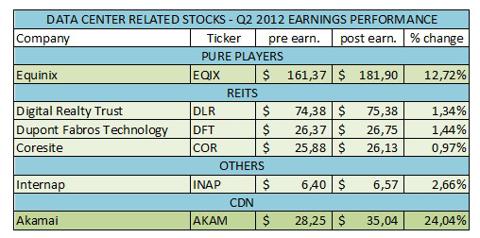 Both Akamai and Equinix (NASDAQ:EQIX) delivered positive numbers for the quarter and issued solid guidance for the remainder of the year. The stocks rebounded nicely after earnings. All other stocks were marginally positive.
To complete this sector post-earnings analysis, here is how the remaining companies that reported at the beginning of August behaved after giving Q2 numbers:

TeleCity delivered strong numbers, in spite of operating in a weak European environment, and announced the acquisition of Tenue Oy, a Finnish data centre operator. Revenues were up 22.4% Y/Y to £137.3m (roughly $ 214 million), and EBITDA was up 26.6% Y/Y to £62.6m ($ 97.5 million), or 45.6% of revenues. These data include both organic growth and the acquisition of Data Electronics and UK Grid, which contributed with £ 8.0 million to revenues and £ 1.8 million to the company's EBITDA.
Limelight Networks' Q2 EPS of (-$0.05) were in-line with analysts' expectations, but revenues of $44.4 million (+7% Y/Y) missed consensus. The company also issued a soft Q3 guidance (revenue expectations of $44 million to $45.5 million vs. consensus of $47.4 million). Unsurprisingly, the stock lost about 8% after earnings.
Rackspace (NYSE:RAX) delivered Q2 EPS of $0.18, basically in line with consensus. Revenue of $319 million (+29% Y/Y) were better than analysts' expectations. The stock gained more than 8% after earnings.
YTD performance
On average, data center related stocks remain among the best performers since the beginning of 2012, having mostly delivered solid two-digit gains.
Here is a summary of all performances, divided, as usual, by sub sectors: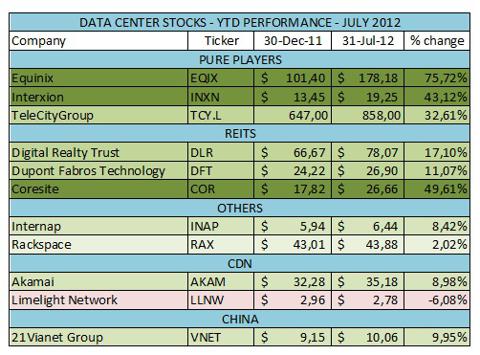 Equinix, CoreSite (NYSE:COR) and Interxion remain the best performers, with gains of 75%, 49% and 43% respectively.
As to sub sectors, network-neutral players appear as the most solid movers, followed by REITs.
What to expect?
Most data center related stocks achieved their best performances in the first months of 2012.
While recent earnings confirm that several companies are executing very well against their business plan and delivering solid numbers, it looks like some stocks may have reached a peak, as far as their price.
As investors, we remain very confident about the long term positive trends for the sector, but we do not expect the second half of the year to see the same kind of high returns that characterized the end of 2011 and the first half of 2012.
Disclosure: I am long EQIX.