Sirius XM (NASDAQ:SIRI) has been on an exciting bull run for investors lately. Running up from the $1.80's at the beginning of Q2 in July to Wednesday's closing price of $2.55, shares have appreciated by an astounding 41% in just over 6 weeks.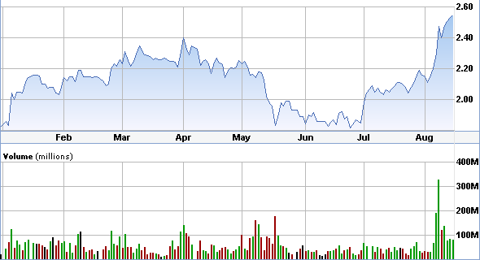 It appears, then, that institutional investors made some good moves in the second quarter. Taking their stakes higher were 129 institutions who either increased their holdings in Sirius XM or initiated new holdings altogether. I'd expect a bit of cheering and celebration from that camp. Cutting their stakes, either in part or completely, 164 instututions are likely kicking themselves for selling out in Q2.
What matters to the individual investor, though, is not the number of firms who bought or sold, but the net quantity of shares bought or sold. Q2 2012 saw a net influx of institutional buying to 52% of all outstanding common shares, over and above the previous value of 50%. This is in effect a net increase in buys of around 80 million shares of Sirius XM.
It is important to mention that the stake held by UBS AG (NYSE:UBS) of 304 million shares was likely reduced greatly when Liberty Media (NASDAQ:LMCA) took possession of 302 million shares in a forward contract in July. UBS is the only holder who could have provided that quantity of shares, and this is likely where Liberty got them. I will be expecting Q3 to show a net outflow of shares simply based on this huge block move from UBS, to Liberty, and that should be seriously considered once the data from the third quarter arrives.
Institutions are often termed "smart money." It can be argued that net influxes of institutional buying into a stock points towards expectations by this smart money of future gains. But investors should always do their own due diligence. Why? Consider the "smart money" which sold out. Doesn't appear that all smart money is smart, does it?
Investors should use this data like any other data. Use it as a piece of the puzzling question "to invest, or not invest?" Together with all the other pieces one can form a great picture in one's head of where they expect a stock's price to go. In the case of Sirius XM, net institutional buying should be looked upon as bullish, and should give investors a bit more comfort in their choice.