Shares of office supplies distributor Staples (NASDAQ:SPLS) fell almost 20% at one point yesterday following the release of its second quarter results. But is the company worth so much less today than it was yesterday? The company reduced its 2012 earnings growth estimate from high single-digits to low single-digits. Considering the company's competitive position, it now trades at a very attractive P/E of 8, which may provide for an excellent entry point for long-term investors.
Those who believe bricks and mortar retail is due to shrink significantly can take comfort in the fact that most of Staples' profits come from its delivery business. This is a business that benefits from economies of scale (large fixed costs are spread out over more customers, giving Staples a cost advantage), which Staples is likely to continue to enjoy.
This advantage is evident in Staples' margins relative to its competitors, which can be seen below: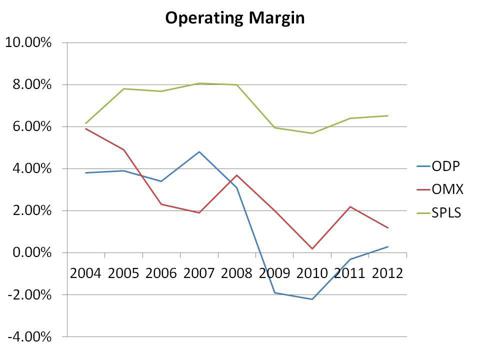 Click to enlarge
Note that Staples' margins are also considerably higher than those of Amazon, which is often seen as a threat in the office supplies segment. Irrational pricing from Amazon has forced Staples to lower prices in order to hold share; but Staples is able to do this and still be very profitable, unlike Amazon. In the long-term, rational pricing may return. Staples' CEO noted on yesterday's conference call that "[O]ur online competitors have said: at some point, we've got to make money"
But while the company likely has a competitive advantage in North America, it's international operations are poor. In fact, currently international operations are generating negative earnings. Management's patience with this business is wearing thin, as capex in this segment has dwindled. Just by shutting down or selling the weakest of these businesses off, the company would see a bump in its earnings.
In the meantime, the company continues to throw off significant cash flow ($1 billion/year) relative to the company's market cap ($8 billion). Staples is using this cash to buy back shares and pay off debt; risky capital expenditures are on hold as the company seeks to take advantage of the current share price.
Predicting a company's earnings several years out is difficult to do. But when a company has a durable competitive advantage thanks to economies of scale as Staples appears to have, predictability is likely higher than average. When this is combined with Staples' cheap price (at eight times free cash flow), a compelling investment opportunity presents itself for long-term investors.
Disclosure: I am long SPLS.