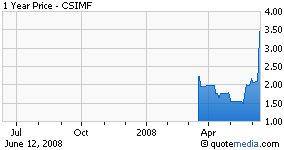 Four times in the last few weeks I've been presented on a platter with the name Colossus Minerals (OTC:CSIMF), and four times I looked at the evidence and dismissed it virtually out of hand. That was a mistake...a big, big mistake. Here's why:
Strike One: The Midas Letter written by James West on March 14 made a really big write up of it, going into the history and potential of its Brazilian 'Serra Pelada' (bald hill) project. Here's the link, so go look for yourself. I read it. Ignored it. Dumb, dumb Otto.

Strike Two: A switched on reader of this blog by the name of Andy mailed me on May 20th with the same newsletter write-up and said it was his idea of a top junior. I wrote back saying something like, "If it's too good to be true, then it is." The stock was trading at $1.91. Dumb, dumb Otto.

Strike Three: The stock was featured in this SeekingAlpha note written by Michael Pollick (aka shootfirst at silicon investor). It caught my attention because Pollick made special mention of the upgraded management team, something I normally pay a lot of attention to. "Hey..Colossus is putting together a world class team", I thought, and then promptly did nothing about it. Dumb, dumb Otto. By the way, Pollick's note is also worth reading because he links a (now easy to say) must see video on the property. Full kudos to the author.

Strike Four: The stock was featured in the smart Canaccord "Morning Coffee" publication on Tuesday. I glanced at it, nothing more. Dumb, dumb Otto.

So what's to regret? This press release on Wednesday morning that moved the stock up over 32% on 15X average volumes. The PR includes some of the best drill results seen since the Aurelian FDN property exploded on the world, and makes Colossus a simply mouthwatering prospect. There is a lot to love about the news, and a full read is recommended, but highlights include (from the PR):
 

- SPD-002 intersected

46.72 metres @ 24.11g/t gold, 9.04g/t platinum and 11.57g/t palladium

(50.95g/t gold equivalent(ii)) plus 14.65 metres @ 22.51g/t gold, 4.56g/t platinum and 5.01g/t palladium (35.64g/t gold equivalent(ii))


- SPD-004 intersected

53.50 metres @ 5.35g/t gold, 2.51g/t platinum and 4.01g/t palladium

(13.20g/t gold equivalent(ii))


- Both holes exhibit very high grade Au- and PGE-rich subzones

- Drilling to date shows continuity of high grade gold-platinum-palladium mineralisation along 100 metres of strike length and vertical intervals of more than 50 metres in the Central Mineralised

Zone up to 260metres southwest of the historic Serra Pelada open pit.
To give a rough idea, 46m of 50g/t gold equivalent is rock is worth around U$3,600 per cubic metre with gold at $900/oz. Interested yet? Well if not, think about the previous drill holes that have returned over 4,000 g/t gold at the site (yes, four thousand).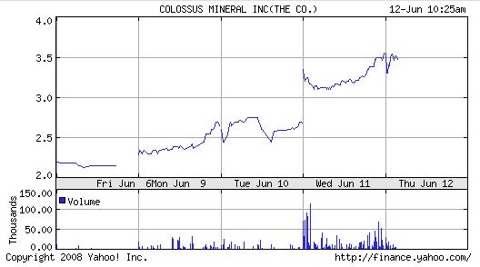 This is the five day chart of CSI, and as you can see there was all the $2 stock you wanted last week.

Yep...that's an 80% gain gone begging. DOH!

So I therefore officially want to be counted as one of the people who was stupid, doubting, cynical and dead wrong about ignoring Colossus. This is now one hot junior. Congrats to those who saw the light before this catchup-playing Otto.
Company: Colossus Minerals (CSI.to)
Website: www.colossusminerals.com
Shares out: 42 million
Share price: $3.55
Mkt Cap: $149m approx
Cash at bank: $20m approx
Disclosure: No position in Colossus yet.