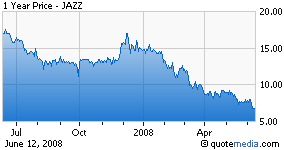 I always felt a company marketing a date rape drug and an antidote for antifreeze (ethylene glycol) poisoning was in for a world of hurt. 
The stock is down 62.5% ($6.75 from $18) from the IPO almost a year ago and today the company filed an S3 with the SEC allowing the sale of $100 million of its common or preferred stock, warrants or debt securities in addition to announcing layoff of 8% of its workforce and the delay of some developmental programs.
Buckle up.  It's only gonna get bumpier.
PS: If you ever find yourself having just ingested antifreeze, don't reach for the Antizol, just head to the pub and down some shots.  Cheaper and more fun!