I screened with Finviz for companies that trade with a P/E ratio of less than 5 and checked if the companies had any insider buys during the last three months. I chose to check the insider buys to narrow the list and to add more confidence that these stocks could be good picks now. The low P/E shows that the companies have great earnings power relative to their market cap. I wrote the part I of "5 Companies Trading At Price-To-Earnings Ratio Of Less Than 5 With Recent Insider Buying" on August 15. Here is a look at five additional companies that I found:
1. Noranda Aluminum Holding Corporation (NOR) is a leading North American integrated producer of value-added primary aluminum products, as well as high quality rolled aluminum coils.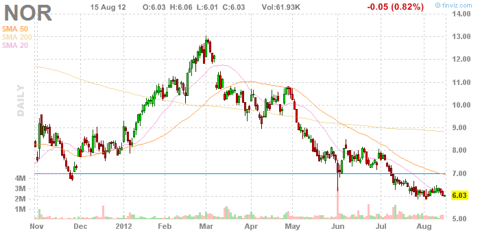 Insider buys
Alan Schumacher purchased 5,000 shares on May 31 and currently holds 26,382 shares of the company. Alan Schumacher serves as a director of the company.
Carl Rickertsen purchased 20,000 shares on May 15. Mr. Rickertson serves as a director of the company.
Financials
The company reported the second-quarter financial results on July 25 with the following highlights:
| | |
| --- | --- |
| Revenue | $ million371.7 |
| incomeNet | $ pershare0.38 |
| Cash | $ million50.6 |
My analysis
The stock trades currently at a P/E ratio of 4.51 and a forward P/E of 7.24. The stock did see some heavy insider selling in March 2012. I might take a long position in the stock in near future.
2. Parkway Properties (NYSE:PKY) is a member of the S&P Small Cap 600 Index, is a self-administered real estate investment trust specializing in the ownership of quality office properties in higher growth submarkets in the Sunbelt region of the United States. Parkway owns or has an interest in 39 office properties located in nine states with an aggregate of approximately 10.3 million square feet of leasable space at August 8, 2012. Fee-based real estate services are offered through wholly-owned subsidiaries of the company, which in total manage and/or lease approximately 11.9 million square feet for third-party owners at August 8, 2012.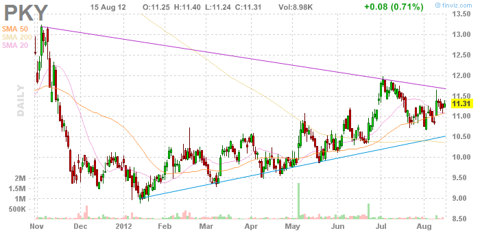 Insider buys
James Heistand purchased 35,000 shares on May 21 and currently holds 349,892 shares of the company. James Heistand was appointed as President and Chief Executive Officer of Parkway in December 2011 and served as Executive Chairman of the company just prior to his current role.
Brenda Mixson purchased 7,000 shares on May 14 and currently holds 17,984 shares of the company. Brenda Mixson serves as a director of the company.
Financials
The company reported the second-quarter financial results on August 8 with the following highlights:
| | |
| --- | --- |
| FFO | $ pershare0.32 |
| Dividend | $ pershare0.075 |
| outstandingShares | million23.4 |
Funds from operations (FFO) is defined as net income, computed in accordance with GAAP, reduced by preferred dividends, excluding gains or losses on depreciable real estate, plus real estate related depreciation and amortization.
Recurring FFO totaled $19.6 million, or $0.82 per diluted share for the six months ended June 30, 2012, as compared to $25.4 million, or $1.18 per diluted share, for the prior year period.
Outlook
Parkway revised its 2012 reported FFO outlook from $1.15 to $1.30 per share to $1.24 to $1.30 per share and adjusting its earnings (loss) per diluted share (NYSEARCA:EPS) to ($0.11) to ($0.05).
My analysis
The stock has seen heavy insider buying at the $10 level in the beginning of the year. This insider activity increases the odds that the bottom is in for the stock. The stock has currently a P/E ratio of 4.90 and a forward P/E of 9.36.
3. PostRock Energy Corporation (NASDAQ:PSTR) is engaged in the acquisition, exploration, development, production and transportation of oil and natural gas primarily in the Cherokee Basin of Kansas and Oklahoma. The company owns and operates over 2,800 wells and nearly 2,200 miles of gas gathering lines in the Basin. In addition, it owns 1,100 miles of interstate gas pipelines in Oklahoma, Kansas and Missouri.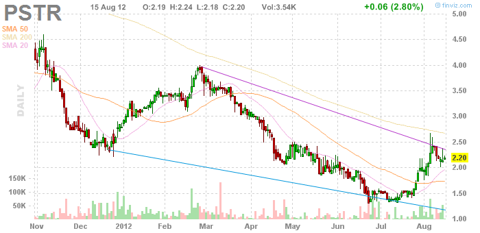 Insider buys
Edelman & Guill Energy L.P. purchased 3,076,923 shares on August 1 and currently controls 5,257,156 shares of the company. The shares were purchased through a secondary offering.
Financials
The company reported the second-quarter financial results on August 8 with the following highlights:
| | |
| --- | --- |
| Revenue | $ million13.9 |
| lossNet | $ pershare1.71 |
| EBITDAAdjusted | $ million17.9 |
The company received $12 million on August 1 through the secondary offering.
My analysis
The stock has support at $1.75 (50 day moving average) and resistance at $2.75 (200 day moving average). Most of the insider sells were at $5 level. The stock has a book value of $1.73 per share. I would be looking to be a buyer around $1.75.
4. Republic Bancorp (NASDAQ:RBCAA) has 43 banking centers and is the parent company of Republic Bank & Trust Company (RB&T) and Republic Bank. RB&T has 34 banking centers in 12 Kentucky communities - Covington, Crestwood, Elizabethtown, Florence, Frankfort, Georgetown, Independence, Lexington, Louisville, Owensboro, Shelbyville and Shepherdsville, three banking centers in southern Indiana - Floyds Knobs, Jeffersonville and New Albany and one banking center in Franklin (Nashville), Tennessee. Republic Bank has banking centers in Hudson, Palm Harbor, Port Richey and Temple Terrace, Florida as well as Blue Ash (Cincinnati), Ohio. Nationally, Republic Processing Group (NYSEARCA:RPG) facilitates the payment of federal and state tax refund products and offers prepaid cards. RPG is comprised of two distinct divisions: Tax Refund Solutions and Republic Payment Solutions. Republic offers internet banking at republicbank.com. Republic has $3.3 billion in assets and $1 billion in trust assets under custody and management.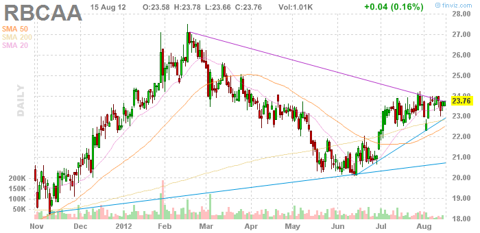 Insider buys
Financials
The company reported the second-quarter financial results on July 19 with the following highlights:
| | |
| --- | --- |
| incomeNet | $ pershare0.46 |
| Cash | $ million124.4 |
| valueBook | $25.75 |
Steve Trager, Republic's President and CEO, commented:
"While I am very pleased with our results during the first half of 2012, I am even more optimistic about the potential for the future. Our industry strong credit quality and capital ratios have placed us in a position to take advantage of the many opportunities that may arise over the next few years. In particular, we remain steadfast in our desire to find additional TCB-like opportunities that provide immediate up-side potential to the company's shareholders. In addition, the opportunities in our existing markets continue to be favorable for a locally-based bank with a strong community-minded culture. All of us at Republic are very happy about where we are but even more excited about where we are going. As always, my pride in the past, my delight for the present and my optimism for the future allows me to once again say: "We were here for you yesterday. We are here for you today. We will be here for you tomorrow."
My analysis
The stock has a $28.5 price target from the Point and Figure chart. The stock did see some insider selling at the $26 level earlier in the year. The stock is trading at a forward P/E of 8.52 and has a book value of $25.75 per share. I believe the $28.5 price target is achievable this year.
5. SED International Holdings (NYSEMKT:SED) is a multinational, preferred distributor of leading computer technology, consumer electronics, small appliances, housewares, and personal care products. The company also offers custom-tailored supply chain management services ideally suited to meet the priorities and distribution requirements of the e-commerce, Business-to-Business and Business-to-Consumer markets. Headquartered near Atlanta, Georgia with business operations in California; Florida; Georgia; New Jersey; Texas; Bogota, Colombia, Buenos Aires, Argentina, SED serves a customer base of over 10,000 channel partners and retailers in the US and Latin America.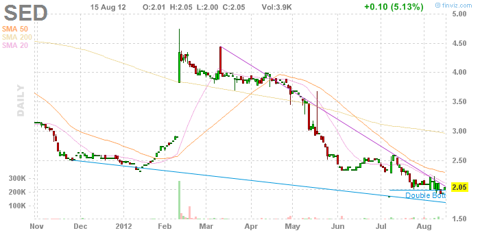 Insider buys
Jonathan Elster purchased 2,000 shares on May 15 and currently holds 141,436 shares of the company. This purchase was made via a Rule 10b5-1 trading plan adopted by the reporting person in July 2011. Mr. Elster has served SED in a number of key roles beginning in early 1995 as a Sales Representative and ascending through the ranks to ultimately become Chief Executive Officer in December 2009.
Financials
The company reported the third fiscal quarter (ending March 31) 2012 financial results on May 10 with the following highlights:
| | |
| --- | --- |
| Revenue | $ million138.7 |
| incomeNet | $ pershare0.09 |
| Cash | $ million7.3 |
Jonathan Elster, president and chief executive officer of SED International commented:
"We maintained our profitability despite a challenging economic environment in which we experienced a softer than anticipated top-line and continued to invest in strategic growth initiatives. The residual effects of the hard drive shortage due to the flooding in Thailand continued to affect availability of certain hard drives, accounting for nearly all of the decline in our revenues and resulting in higher overall gross margins. Also during the quarter, the housewares, small appliances, and personal care product categories, strengthened through our recent acquisition, delivered double digit revenue growth and represent an important opportunity for us to increase our profit margins over time."
My analysis
The company's book value is $5.27 per share. The stock has traded above its book value only in May 2011. I believe the stock is worth buying below the book value. The company has maintained profitability in 10 of the last 11 quarters.
Disclosure: I have no positions in any stocks mentioned, but may initiate a long position in NOR, SED, PSTR over the next 72 hours.