On Wednesday, Target Corporation (NYSE:TGT) reported second-quarter earnings, with mixed results. Although revenue increased, profit was even with last year on the heels of rising costs in the company's quest to enter Canada. That said, Target's revenue increases are evidence of the company's successful efforts to drive up customer count and basket size within its current stores. The company's second-quarter results are as follows:
Click to enlarge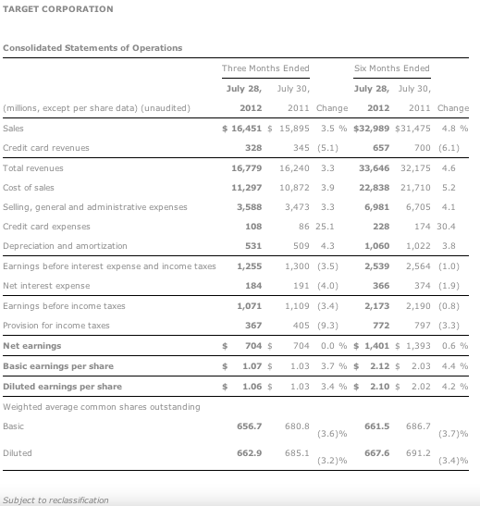 Click to enlarge(Target Second Quarter Results)
To put these results into perspective, one must see that Target is showing both positive growth in key metrics, along with investing in its future by funding expansion outside of the United States. The company's total revenue increase of 3.3% is strong in this still difficult retail environment, along with the fact that EPS increased by 3.4% verse the same quarter last year. Gregg Steinhafel, Target CEO, states that the company's second-quarter results reflect, "disciplined execution of our [Target's] strategy". His sentiment is correct and investors should be cautiously optimistic about the company's future and the growth that is commencing in both revenue and geographic footprint.
Successes with Current Stores
Target has had many successes within its stores so far this year. This lies within the company's focus on driving sales through both its retail stores, and targeted internet deals. The following wins for TGT can directly be related to the company's second-quarter results:
The conversion of many of its stores to the PFresh concept has increased spend by customers and contributed to the evident sales increases. Food was the largest growing category again this quarter as it has been year over year.
The company's credit card that offers customers a 5% discount has also boosted sales and stands as a testament to TGT attempt to build loyalty and stay current within the market place. The number of card users is growing steadily.
"Christmas in July" was an inventive way to increase holiday spend outside the confines of November and December. Although many retailers attempt to drive sales in this way, TGT has had particular success due to both its emphasis on deals within the store, along with online.
TTG plan is to remodel an expected 230 stores this year, with an additional store count of 20. This illustrates TGT commitment to further expansion and a constant effort to stay ahead of its competitors in this increasingly difficult retail environment.
Favorable results in stores the company is calling CityTargets, which have been strategically placed in cities from Los Angeles to Chicago. These locations are roughly half the size of typical TGT locations.
Expanding its Geographic Footprint
Profit was flat in the second quarter in large part because the company's effort to enter Canada this upcoming year has been costlier than anticipated. This expansion effort for TGT represents an opportunity to grow both profitability and revenue into FY14 and beyond. Many see the success of CityTargets as a model for how TGT expansion into Canada will look. TGT's flat profit cannot be viewed as a miss, but rather a bump in the road to achieving a more global footprint. David Drbul of Barclays Capital states, "The company has provided detail on how it plans to reach its long-term objectives of $100 billion in revenues and $8 in earnings per share by 2017." This level of expansion would yield a stock price dramatically higher than its current valuation and some analysts see potential for the stock to top $100 per share.
Valuation/Financials
Target's valuation is one that does not fully reflect the expected expansion that is being geared up for. This bodes well for investors looking at TGT for a longer-term time horizon, as the stock has a lot of potential to rally in the wake of its recent successes within and outside its stores, along with global expansion efforts.
Forward Price/Earnings: 13.27
PEG Ratio: 1.32
EV/EBIDA: 7.84
Profit Margin: 4.15%
Dividend: 2.30%
Return on Equity: 18.89%
Conclusion
For the aforementioned reasons, Target remains a strong buy into the coming years due to its success within its current stores, along with its growth potential in new markets, and through its investment in new formats like CityTarget and PFresh. Do not allow the company's flat profit delivery in the second quarter make you lose sight of TGT's long-term strategy.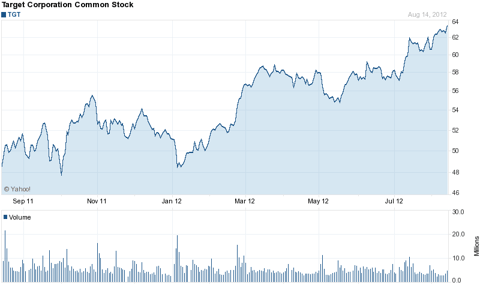 Click to enlarge
(Yahoo! Finance)
All financial metrics referenced above are obtained from Yahoo Finance, CNBC Analytics, S&P Capital IQ and Thomas Reuters.
Disclosure: I have no positions in any stocks mentioned, and no plans to initiate any positions within the next 72 hours.