Sina (NASDAQ:SINA) reported Q2 results yesterday.
Key highlights:
Net revenue: $131.6 million, +11% y/y and beating consensus of $129.7 million
Advertising revenue: $103.1 million, +12% y/y
Non-advertising revenue: $28.5 million, +5% y/y
Non-GAAP EPS: $0.05 per share, vs. consensus of $0.02 loss per share
What I liked: Revenue and EPS beating consensus, Weibo monetization taking off
Net revenue of $131.6 million easily beat the consensus of $129.7 million, making this the third consecutive quarter of revenue beat. Advertising revenue was especially resilient, growing 12% y/y to $103 million, driven by strong ad spending from FMCG, internet and telecom sectors. In addition, video online advertising also performed well, growing 126% from the same period last year. Finally, EPS of $0.05 per share came in better than the expected $0.02 loss per share.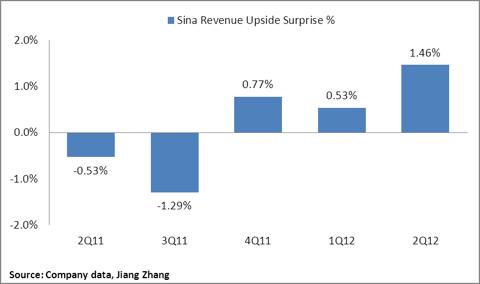 A positive highlight of the quarter was Weibo monetization, which is gradually becoming a significant revenue driver for Sina. In Q2, Weibo revenue accounted for 10% of Sina's net revenue after the company introduced its social interest graph ad system, which has generated positive feedback from advertisers. Heading into the second half of the year, Sina will continue to enhance its "promoted tweets", which are similar to Facebook's (NASDAQ:FB) Sponsored Stories that appear in users' news feeds. Promoted Tweets will be critical to Weibo's growth as 69% of its users access the platform through mobile devices.
Weibo continues to gain user adoption. As of Q2, Weibo has 365 million total registered users. Daily active users grew 22% y/y to account for 10% of the total users, an improvement from 9% last quarter. Positive adoption of the Weibo ad system and a rising user base are laying a good foundation for Weibo revenue contribution to accelerate in the second half of the year.
Finally, Sina finished the quarter with $716 million in cash, or 20% of the company's equity value and an increase from $673 million in the prior quarter.
What concerned me: Soft guidance, No significant Weibo monetization until 2013
Sina guided $145-148 million in revenue for Q3, slightly below the Street consensus of $150 million. Advertising revenue is expected to be between $120-122 million, the midpoint of which represents 20% y/y growth. Non-advertising revenue is expected to be $25-26 million, the midpoint of which represents 4% y/y growth.
While the initial ad result from Weibo is positive, management indicated that Weibo monetization will unlikely to be significant until next year. Recall that Weibo monetization is approximately $13 million this quarter, or $52 million on an annualized basis, which translates $0.14 ARPU. On the other hand, Twitter has 500 million registered users and is expected to achieve $260 million in revenue this year, which translates to $0.52 ARPU. Compared with Twitter, Weibo still has a long way to go in terms of monetization. However, note that this is only the first quarter in which management disclosed Weibo results and the result is still positive, in my view.
For the second half of the year, Sina will continue to focus on building Weibo's ad platform and growing its paying user base. Weibo recently introduced paid membership services and the revenue contribution has been insignificant. However, paid members could be another layer of icing on the cake as they begin to purchase other Weibo products after becoming comfortable with the monthly fee.
Disclosure: I have no positions in any stocks mentioned, and no plans to initiate any positions within the next 72 hours.