On July 25th I mentioned Cisco (NASDAQ:CSCO) as one of 5 Tech Stocks to Combine with Apple (NASDAQ:AAPL). Little did I know that their 4Q results were going to be so positive. Even after the post market spike in the stock to 18.26 per share, I still like the stock. In fact, I like it more now than I did before its announcement.
Not only did it beat the consensus earnings forecast, but it also beat estimates on the top line. And though it didn't raise its guidance, it raised the dividend to $0.14/share, a whopping 75%. Great results at a time when companies are barely beating earnings estimates, missing on revenue and lowering guidance.
Net sales increased 6.6% to $46.1 billion for the FY2012 while net income increased a whopping 24% to $8 billion. (the 4th quarter EPS increase was 56%!) The company also reported strong cash flows of $3.1 billion for the 4th quarter and $11.5 billion for the full year.
And while some companies are reducing headcount, Cisco's expansion into emerging markets has been so successful thus far it has hired a total of 14,000 employees from the previous quarter and over half of those were in emerging markets.
Some of the highlights are as follows:
ClearAccess acquisition - ClearAccess provides standards-based software to service providers for the provisioning and management of residential and mobile devices.
Truviso acquisition - intelligent networking by providing differentiated solutions with streaming real-time analytics for the core, data center, virtualization, collaboration, and video.
Cisco Cloud Connected Solution - a new product solution that delivers cloud-enabled routing and wide area network optimization platform.
Cisco WebEx - bring social collaboration to mobile devices, email and business applications.
Cisco Linksys Smart Wi-Fi router - provides wireless speeds three times faster that can be extended to Smart TVs and game consoles.
To read more about the earnings, check out Cisco Systems' CEO Discusses F4Q12 Results - Earnings Call Transcript
My Take
Before the call, Cisco had been trading at a PE ratio of 12.8. That is a substantial discount from the industry average of 22.8 and a discount to it's 5 year average PE of 17.7. Most surprising to me, as a user of Morningstar for a vast majority of my financial data, Cisco was trading right around Morningstar's "Consider Buy" price of $16.80. This is a very attractive entry point, particularly an industry leader in a sector that is benefiting from emerging market infrastructure growth, cloud computing, and social networking. For the record, Morningstar's Fair Value Estimate was $24 before today's announcement. I think that is conservative. With earnings increases and a possible expansion of their PE, the stock has much more upside.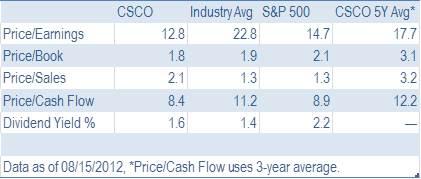 Cisco also has approximately $48 billion in cash. That means if you paid $18 per share, which equates to roughly $95 billion of market cap, you are buying $9 of cash and paying only $9 for a stellar company's future earnings potential. And today was confirmation that that future is bright. As I mentioned in the opening paragraph, I liked the stock before the announcement, now, I love it. Not only does it now sport a juicy 3.2% dividend yield, it has shot through resistance at about $17.35 and I think it could easily surpass the $26 level it had reached in early 2010.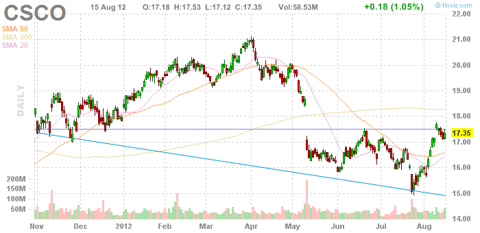 Click to enlarge
(Click to enlarge)
Disclosure: I have no positions in any stocks mentioned, but may initiate a long position in CSCO over the next 72 hours.