One of the most consistently mentioned tropes heard in discussions over the future of the U.S. is the increasing number of retirees from the "Baby Boomer" generation. Like any crisis, this also presents itself as an opportunity for making money. One company I believe could be poised to reap significant profits from these retirees going forward is Merck (MRK). The pharmaceutical giant recently saw significant success last month from trials of a drug targeting osteoporosis, a concern that will undoubtedly be faced by record numbers of retirees going forward. Excitement seems to have waned in the media for Merck's new treatment. But with positive 2Q numbers and the pipeline still looking solid, I think Merck is a definite buy.
Clinical trials for the drug odanacatib were stopped early after the drug was found to be extremely successful in reducing the bone fractures of post-menopausal women. Merck will seek to get the drug approved for the market next year. It's still early, but it looks like the company could be set to reap significant profits from a drug that will undoubtedly be one of the top drugs around for the baby boomer generation. Keep in mind that recent estimates have the number of citizens of 85 doubling in 2030, and by 2050 over 40% of the population will be over 50. Now, these dates are a long shot and come surely after generics will come, but the trends are moving toward a more populous older demographic. The demand for drugs to help elderly ailments will increase accordingly.
The drug also seems to have fewer side effects than current osteoporosis drugs, which should make it more palatable to consumers. This is extremely good news for the company after it found out it would lose the patent rights to Singulair, its extremely profitable asthma medication. Also notable is the fact that Merck will also seek approval for the drug in Japan, a country notorious for its aging population. While that represents a significant problem for the already stagnating Japanese economy, it represents the potential for significant profits for Merck. Analysts were quite positive about the odanacatib trial, and shares rose on the news.
Early estimates for odanacatib are stellar - CNBC says the drug could "easily" bring in $1-2 billion. TheStreet.com says it has "mega-blockbuster potential". Reuters reported estimates of up to $3 billion annually. Merck lost its patent exclusivity on mega-seller Singulair (about $6 billion annually in sales)- a best-selling osteoporosis treatment could help make up for that.
Currently, the stock is trading at over $44. The stock was at $37 as recently as early June, so Merck has been doing quite well as of late, and it looks like the success of its osteoporosis drug could allow the stock to rise even higher. Other analysts have come up with different numbers for the treatment. Deutsche Bank believes odanacatib could generate $800 million for the company in just a few years, and Citi thinks it could hit over $2 billion by 2020. And some believe the numbers could be even higher, especially if it is found that the drug is able to cut fractures by 40 percent or more. One analyst spiked his price target for Merck up to $50 on the news.
Keep in mind that its board of directors was just named one of the best in the country, as well. It continues to lead Merck with positive reports - like its 11% growth in US sales for last quarter. Januvia, its diabetes drug, saw sales up 33%. Merck still pays out a better dividend than large-cap competitors like Pfizer (NYSE: PFE) and Johnson & Johnson (NYSE: JNJ).
Merck's 2Q2012 numbers were promising, especially compared with its 2Q2011 figures. Revenues were up, and costs were down across the board, except for research & development, which should suit any pharma investor fine. Yes, revenue growth was only 1%, but that beat analysts expectations. And, with a solid pipeline gross margins improving to 66.6% (as well as an EPS of $3.82), there's a lot to like.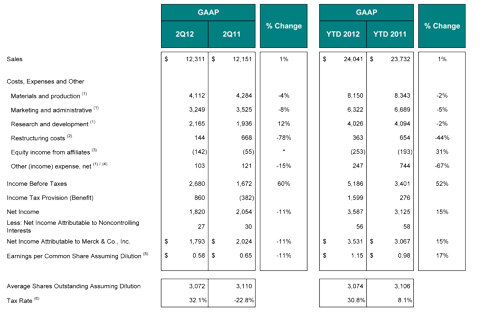 Over the coming decade, osteoporosis drugs are going to be in high demand, and Merck looks poised to lead the nation. If it can handle a large portion of the American senior market, as well as Japan's, there's no telling the kind of numbers we could see from this drug. With other financials looking sound, Merck is likely to near that $50 mark that analysts have it at, especially if more good news on odanacatib comes out. I'd be remiss not to mention a long history of safety concerns with osteoporosis drugs, so there's always that risk. Merck knows this and will deal accordingly, still odanacatib is garnering some major excitement.
Disclosure: I have no positions in any stocks mentioned, and no plans to initiate any positions within the next 72 hours.