Nobody likes to be hit over the head about a movie they have to see, the sport they should love, or the stock they should buy. Once you hear enough about how you have to do something, a natural stubbornness kicks in, the instinct to say, "No thanks, I'm good." (This is how it works for me, at least -- except sometimes in more vulgar terms.)
This article is not going to use Velti's (VELT) strong second quarter to suggest that the mobile advertising company is a good one to invest in. In the aftermath of Velti's strong first quarter and surprising drop in share price (related to an issue regarding how long it took for Velti to get paid, an issue Velti has dedicated itself to resolving), a number of Seeking Alpha authors took to their keyboards to make the case that Velti was still a great investment, myself among them. Velti remains a good, cheap speculative play on the burgeoning mobile advertising space, but the argument has been made and this quarter only confirms it.
Instead, I'd like to read into Velti's quarter, as well as the strong second quarter from peer and rival Millennial Media (NYSE:MM), to see what the prospects are for better-known companies in the mobile space -- specifically Facebook (NASDAQ:FB) and Pandora (NYSE:P). The results the smaller, marketing- and advertising-focused companies have been able to achieve suggest that the bigger hosting companies have opportunities in front of them, although they will have to do work to take advantage of those opportunities.
Plugging Away in an Unplugged Way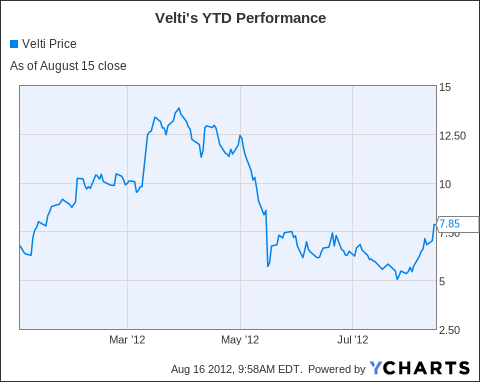 The numbers in Velti's second quarter were impressive. The company posted revenue of $58.7 million, a 71.1% year-over-year growth rate, hitting the high end of the company's guided range ($55 million to $59 million) and beating estimates by over $1 million. The company hit the higher end of its adjusted EBITDA range ($6.2 million vs. a range of $4.5 million to $7 million), and met estimates of a $-0.01 EPS. The company also raised its guidance on the low end, with revenue forecast to come in at $285 million to $296 million for the year (vs. $283 million to $296 million prior guidance) and adjusted EBITDA moving to a $82 million to $88 million range (from $81 million to $88 million). This marked the fourth consecutive hit or beat of guidance and estimates as well as the fourth consecutive guidance raise from Velti.
Beneath the headlines, the breadth and depth of Velti's success should impress upon the investor the strength of the mobile advertising trend. Velti grew revenues in each geographic region -- the Americas, the U.K., Europe w/o U.K., and Asia/Africa -- by at least 21% and as much as 189% year over year, and grew revenues in each region on a sequential basis except the U.K. CEO Alex Moukas boasted of success in signing new customers, among them Disney (NYSE:DIS) and Nestea, as well as continued returns from existing customers.
The quarter was a successful one for Velti on these results, as well as on addressing issues raised after Q1. The company reduced its DSO figure from 272 to 266, still high, but Velti only began restructuring contracts to shorten payment periods midway through the quarter. The company's cash balance increased in the quarter and the company enjoyed positive operating and free cash flow, a pattern the company expects to stabilize by the end of 2012. The market vindicated these results, bidding up the stock about 12% in the two days since the report (the stock still trades well below its pre-Q1 levels, but that's for another day).
Reaching Out to the Millennials, One Sick App at a Time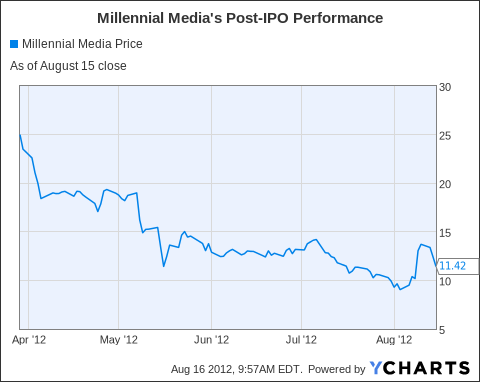 Millennial came on the market earlier this year, and after soaring in its IPO, has dropped below the initial price of $13/share. While the first public quarter for the company was bumpy, the second quarter has also been received positively on Wall Street. The company also saw huge revenue growth, with the $39.4 million earned for the quarter coming 76% ahead of the year-prior quarter. While the company posted not only negative EPS but also a slightly negative adjusted EBITDA, it did raise revenue and adjusted EBITDA for the year as well, moving to a forecast revenue range of $176 million to $179 million (from $173 million to $176 million) and a forecast adjusted EBITDA loss of $1 million to $2 million (from a loss of $3 million to $4 million). Millennial is expected to turn profitable by 2013 on a full-year basis.
Millennial's CEO Paul Palmieri was equally effusive about the company's prospects and results while operating, "at the center of the massive secular trend of mobile and … experiencing the growth that is consistent with the promise of this exciting market." The company's results included a healthy balance of existing clients to new clients (a revenue split of about 70/30 between the two). Millennial is more focused on the U.S. market, but is building out operations in Europe and Asia/Pacific; international business accounted for only 12% of Q2 revenue.
Millennial also appears to do more business in promoting apps and smaller developers. During the conference call Palmieri cited an example of promoting an app from an entertainment company that became the top download in seven countries. Velti's work is more focused on traditional advertising of connecting brands to users using the company's broad reach (4.3 billion mobile users) and software expertise. Both companies do each of these types of mobile advertising and cover the wider spectrum, however, and I don't want to speak to a huge difference between the two companies' operating realms; Palmieri also, for example, mentioned a successful brand advertising program involving Auntie Anne's pretzels.
Millennial's stock, by the way, enjoyed a 28% close-to-close pop after earnings came out, though the stock has since given back more than half of that short-covering boosted gain.
What's It Mean for Companies You Know About, but don't Trust?
The success of these two smaller, more focused, and less-known companies brings us to the mobile heavyweights. Companies that have apps or platforms that garner users' attention on mobile settings are going to have the opportunity to profit from advertisers who need to keep up with the times. The Mary Meeker presentation (linked to above) presents much of the bullish case surrounding the mobile space, while also underlining bearish issues. For example, 10% of Americans time is spent on mobile devices, but only 1% of advertising (compared to 7% attention and 25% advertising money for print media). Despite that, mobile app and advertising revenue together have grown at a 153% CAGR from 2009-12.
The big issue is that the costs of supporting this mobile attention have not yet been met with rising revenues. For both Pandora and Facebook, revenue earned is significantly lower for mobile users than for desktop users. On Pandora's March report, for example, CEO Joe Kennedy reported RPM (revenue per thousand listener hours) of $20 for mobile in the company's fiscal 2012 (February 2011 to January 2012). This was a big jump from the $12 RPM the company had for mobile in fiscal 2011, but still a far cry from the $60-$70 RPM the company enjoyed for desktop users. Similarly, Facebook's average revenue per user and total ads delivered has been stunted by the fast growth in mobile usage, as was reported on the company's recent Q2 earnings call. CEO Mark Zuckerberg and COO Sheryl Sandberg spoke at length in their prepared remarks about Facebook's efforts to monetize mobile and make it a more valuable area for the company.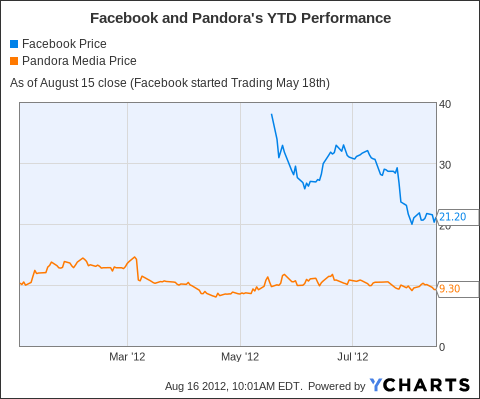 Facebook and Pandora face different challenges. Facebook has had difficulty integrating other apps onto its mobile platform and effectively targeting and selling advertising in the mobile space. Pandora's focus comes more from a radio standpoint, as the company is looking for a way to use its data to sell more targeted ads than what traditional radio can offer.
How does all this tie together? Facebook reported 543 million mobile users as of June during its last conference call; Pandora stated 70% of its listening hours were mobile on its last conference call, which, extrapolating from the July audience metric press release, would mean roughly 38.7 million listeners using Pandora for 784 million hours over the course of the month (those are very rough figures, of course, but should give an idea).
The opportunity as such is obvious. Velti and Millennial's results suggest that companies and advertisers want to figure out mobile, which bodes well for those two experts in the space. But in advertising on mobile, companies are going to turn to the most-watched channels as it were, and Facebook and Pandora gain as many eyeballs and ears as anybody.
Pandora and Facebook are still a little too risky to invest in at current price levels. Pandora at about $8/share, close to its 52-week and historic lows, and Facebook at around $16.50/share, where its forward PEG ratio would be around 1, are entry levels where the potential reward would outweigh the big risks, at least for me. Velti and Millennial, meanwhile, are both intriguing stocks on a standalone basis (many have talked about the possibility that one or the other would get a takeover bid, but I think they're worth investing in on their own merits). I would go (and have gone) with the cheaper and more profitable company, and the one growing at an equally impressive clip -- Velti, in which I'm thinking about adding to my position.
Mobile can work, though, as Velti and Millennial have proven. This means Facebook and Pandora, once those companies and advertisers figure out the space, could fulfill their promise. Don't believe me? "For us mobile is like desktop was in 1999, smart marketers are getting great ROI and are developing native ad models that generate results for them." So said Nikesh Arora, Chief Business Officer at Google during its latest conference call. Considering how well Google's done in the past with desktop, and how well this quarter showed it was doing in mobile, there is reason to take the sentiment seriously.
Doing so has already led to results for Millennial, Velti, and Google; it should eventually pay off for even the much-distrusted, disliked names Facebook and Pandora. I won't beat you over the head about it, but it is worth considering.
Disclosure: I am long VELT.