One of the challenges of investing is weighing hard, quantitative information against intangibles that are difficult to quantify. BioScrip, Inc. ("(NASDAQ:BIOS)" or the "Company") is a company that fits this mold.
The Company is fairly cheap and at current prices offers an interesting risk/reward. However, the Company's atrocious Board and overpaid management team led by CEO and Chairman Richard Friedman is a huge negative and impediment towards the Company achieving a better valuation.
I would feel much more comfortable investing in BIOS if the Company had a CEO and Chairman that actually earned his compensation, that was held accountable by the Board, or - better yet - if the Board served the interests of the Company's shareholders. Instead, the Company's Board is filled with lackeys that only care about transferring more and more wealth from BIOS shareholders to Friedman, irrespective of Friedman's inability to transform BIOS into a consistently profitable company. 
Chart I presents BIOS investor returns as well as Friedman's "returns" through the consistent increases in his executive compensation. The 2008-2009 section of the chart is halfway through 2008 and Friedman's compensation for 2008 assumes a 3% increase from 2007 levels, since total compensation won't be revealed until next year's proxy. The salary growth is based on his newest contract, featuring a 15% increase from his 2007 salary to $850k in 2008.
CHART I: BIOS ANNUAL STOCK RETURNS VS. FRIEDMAN ANNUAL COMPENSATION GROWTH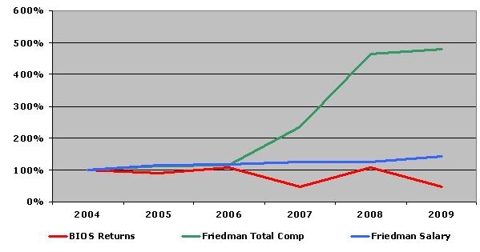 From 2004 through June 10, 2008, BIOS investors have seen the value of their stock drop 41% due to management's bumbling, while Friedman's compensation has increased fourfold. In 2004, Friedman pocketed $717k in compensation while by 2007, his compensation totaled $3.0MM based on Company proxy filings. What prompted me to speak out was a recent filing whereby Friedman received a salary increase from his 2007 salary of $738k to $850k in 2008. Friedman secured this 15.2% salary increase while BIOS shares opened 2008 at $7.65 and, as of June 10, 2008, were down 54% to $3.52. Even if one were to ignore 2008, BIOS investors would be up 11% from 2004 through 2007, which equates to a 2.6% annualized return, well below keeping up with inflation and hardly the kind of performance that would warrant a four fold increase in CEO compensation. Perhaps most laughable (aside from the fact I recently bought shares) is that the Board hired a consulting firm, the Delves Group, to help draft a compensation arrangement in recent years.
However, stock charts are not the entire story and at times a company may post strong operating performance yet be ignored by the market. If BIOS had generated remarkable operating performance during this time period, then one could argue that Friedman deserves his compensation. Unfortunately for BIOS shareholders, the stock performance accurately reflects the pathetically inconsistent and horrid results during Friedman's tenure as illustrated in Table I.
TABLE I: SUMMARY OPERATING METRICS

BIOS gross profit margins and EBIT margins have not matched its high water mark of 11.6% and 2.7% in 2003. Despite Friedman's inability to return BIOS to this level of profitability, the Board has continued to rip shareholders off by transferring investor wealth to Friedman. The obvious question is why would I invest in a company where I hold the CEO and Board in such low regard? I had actually invested in BIOS last year at prices not much lower than the current price and sold for a nice return, and now with BIOS stock coming full circle, the Company appears to offer an interesting risk/reward proposition as the investment thesis has not changed.
BIOS is a specialty pharmaceutical services provider which was founded through the botched merger of Chronimed and MIM Corp in March 2005 (another value destruction move by management). It's important to note that Friedman was CEO of MIM and prior to the 2005 combination, MIM experienced margin pressures on certain product areas and also lost contracts with companies such as MedImmune (MEDI). Nonetheless, Friedman served as Chairman of the Board before taking over as CEO for BIOS. He had a track record of being a subpar operator at MIM yet the Board felt he was best suited to run BIOS.
BIOS operates two segments - Specialty Pharmaceutical Services ("SPS") and Pharmacy Benefit Management ("PBM"). SPS focuses on therapy management services for specialty pharmaceuticals ("SP") used to treat chronic diseases such as Crohn's Disease, AIDS/HIV, hemophilia, and Multiple Sclerosis ("MS"). The issue with SP is that they tend to have high production and delivery costs due to frequent dosage requirements, severe and unique (patient by patient basis) side effects, special storage, handling, and administration needs, and treat a very limited patient population base. This makes cost containment a key focus and that's where BIOS comes in.
BIOS works with payors, drug manufacturers, physicians, and patients by coordinating a variety of tasks including dispensing of SP, billing/coordination of benefits, and therapy management which includes developing adherence programs. The Company has a centralized distribution center for mailing of SP as well as roughly 40 specialty pharmacies located in urban locations. BIOS also has a growing infusion program which is benefiting from a growing trend towards shifting infusion from hospitals to clinics and homes due to lower costs. The Company also has secured preferred distribution agreements ("PDAs") with drug manufacturers for various SP. BIOS also became the sole vendor for the CMS Competitive Acquisition Program ("CAP") for certain Part B drugs in late 2006 and in mid 2007 was awarded a contract with UNH to serve as an SP provider for HIV/AIDS and Solid Organ Transplant drugs to UNH insured patients. Both of these contracts run through the end of 2008.
The Company also operates a PBM segment which does claims processing, benefit design, and mail order fulfillment for plan sponsors. This is a secondary focus for BIOS with certain contracts being terminated by clients in recent years. In 2004, Value Options of Texas took its $20MM contract away, in 2005 Centene Corporation left with a contract valued at $100MM, and in 2006 other customers walked with $35MM in contract value. The run-rate for this business should eventually decline from $396MM in 2003 to around $175MM by 2009 (LTM Q1 08 PBM sales were $213MM).
At current prices, BIOS is valued at 0.1x EV/LTM Sales, 7.1x EV/LTM EBITDA, and 15.0x LTM EPS. This does not appear cheap, especially for a company that has such weak management and Board members. However, the key investment thesis has been the same for over three years: improve gross profit margins and drive EPS. BIOS has a fixed cost operating structure. After its drug acquisition costs and related expenses, SG&A costs can be controlled. As Table I illustrated, the Company's gross profit margins finally exceeded 11% in 2007 after three years of languishing in the 10% range. That improvement is what catapulted the stock in 2007.
However, in Q1 08, investors found out that BIOS would once again suffer from some operational blunders and the stock has cratered since then. First, BIOS management showed no regard for Fair Disclosure as management revealed these issues during the Annual General Meeting ("AGM"), where it's rare to have all shareholders present. So of course, those with advance knowledge sold off the stock leaving most shareholders clueless until a late press release forwarded Friedman's comments regarding a drop in gross profit margins.
What was concerning was that the drop in gross profit margins was due to a timing delay in instituting drug price increases while drug acquisition costs had increased. So BIOS was paying more for acquiring the drugs but payors had not kicked up pricing schedules. In addition, generic drugs usually lead to higher profits and lower sales for SPS companies but somehow the reverse occurred for BIOS in Q1 due to "supply side challenges" and payor matching, according to BIOS CFO San Rosenbaum. For a company where cost is the key focus, this was frustrating to observe. In addition, these issues were likely known during the Q4 07 call in March, yet there was no comment until the end of April at the AGM. Another issue is that investors are now realizing the CAP is not going to be the great program as it was initially marketed.
When CAP was first discussed, it was positioned as a volume play. Basically, the gross profit margins for $100MM of CAP revenues were expected to be around 4% but the operating expenses would consist of just 15 people at around $40k per year, resulting in $3.4MM or 3.4% operating margins. The key was to sign up a large number of doctors so BIOS campaigned to bring more doctors into the program. Unfortunately, as of Q1 08, investors now find that the CAP program is not profitable due to CMS dropping reimbursement rates. Fortunately, if BIOS abandons the program it's not expected to have a material impact but given management's credibility - who knows what to believe. It also raises the question of why BIOS became the sole vendor of CAP. Perhaps where BIOS management was sideswiped by CMS rate reductions, other bidders anticipated it and bowed out to let BIOS secure the CAP "prize."
These blunders led to BIOS breaching its Debt/EBITDA covenant, resulting in a waiver. The capitalization and leverage levels of the Company are not a big issue, but the fees associated with the waiver will result in about $150k in 2008. BIOS is a company with razor thin margins and these drags to income are material and just further reflect an incompetent management team that stumbles and bumbles.
So now BIOS stock is back to levels not far from where I had my first foray with the Company. While I have little confidence in management and believe Friedman is disgustingly overpaid, the Company could generate some significant upside due to its fixed cost structure. Table II outlines a scenario analysis based on potential gross profit margin ranges for 2008. As one can observe, a 1% increase in gross profit margins from 10% to 11% can result in a four fold increase in EPS while a 2% increase in gross profit margins can result in a seven fold increase in EPS. This is what causes the massive volatility in BIOS share price, since the market attempts to forecast where gross profit margins will be, and basis point changes can have massive changes at the EPS level and therefore share prices.
TABLE II: GROSS PROFIT SENSITIVITY ANALYSIS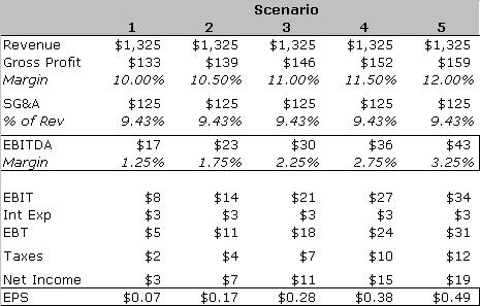 Scenario 2 is where the market currently appears to be pricing in BIOS, but if management can secure better margins resulting in a higher EPS, BIOS shares could be worth $5-10 per share. BIOS is undervalued against its peer group but frankly, its peer group consists of better operators with scale, so notions of receiving comparable multiples of 0.8-0.1x EV/Sales and 12-13x EV/EBITDA are not warranted. However, this comes back to why BIOS investors tolerate such poor corporate governance and compensation when, if properly managed, BIOS could well be worth $10+.
Big investors such as Heartland, Century Capital, Essex Investment, Becker Capital, Bjurman, Barry & Associates, Perritt Capital Management, and Byram Capital Management have remained quiet while Friedman is awarded more and more compensation for doing virtually nothing that benefits long-term investors. Friedman's $850k in compensation equates to $0.02 per diluted share. Based on BIOS EPS multiples, Friedman $0.02 per share cost should be viewed as an investment that returns 15x that cost in per share value or $0.30 to BIOS. However, this is not the case. Instead, BIOS shareholders have made nothing over the past four years while Friedman has enjoyed increased levels of compensation.
What has Friedman done that justifies nearly $18k in car allowances from 2003-2005 and "club fees" of $20-26k over the same time period? In addition, BIOS stopped breaking out various other compensation starting in 2006.  Also, reading the performance incentives for Friedman's stock awards is laughable. For example, in the Equity-Based Grants section of the latest employment agreement, Friedman receives 20% of the equity based grant if BIOS generates EBITDAO (EBITDA + stock comp) of $33MM for any of the fiscal years from 2008-2013. The Company's current LTM EBITDAO is over $20MM yet if Friedman can increase it by just 30-40% anytime from 2008-2013, Friedman receives 20% of the allocated grant? It really makes no sense to me considering the annualized growth rate in EBITDAO could range from 4% to 32% depending on what year the target is achieved, yet Friedman still gets paid the same amount.
The main point of this rant is that BIOS has value and can be worth considerably more than the $3.50 or so it trades hands for. The investment thesis is very basic but the big risk is on the execution side. Friedman has stated that the business model works yet I have not seen any open market purchases by him in 3 years. He just continues to receive free share grants by the Board. The only saving grace is that Board member Rich Robbins purchased nearly $200k worth of stock in May which demonstrates that some members think BIOS is a value, but aside from this recent purchase, the last material purchase was in November 2006 by another board member. While it's unlikely shareholders will do anything, if Friedman proves inept in 2008, it should be time to replace him, the rest of management, and the entire board with those that believe in the Company and have the ability to consistently operate it at a higher level of profitability and are compensated based on results.
DISCLOSURE: AUTHOR MANAGES A HEDGE FUND THAT IS LONG BIOS.