Like a number of gold-mining stocks, AngloGold Ashanti (NYSE:AU) seems to be moving in two directions at once. The company is expanding production while losses are increasing and profits are falling drastically.
Anglo's profit has fallen by nearly half in the last year, from $470 million to $270 million. Yet the company is planning to spend $2.2 billion on expansion projects in this fiscal year. Even though it will cut into the bottom line and cut profits, the planned expansion may pay off in the form of increased production in the near future.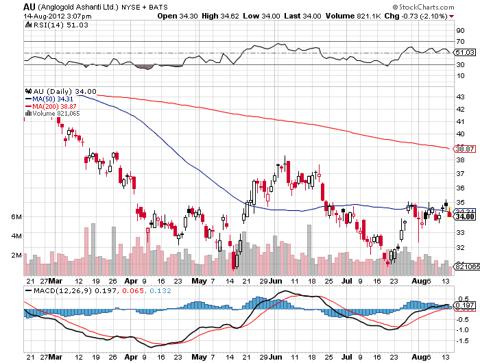 The market, as you might expect, doesn't seem inclined to wait for new production. Since October 2011, AngloGold's stock has fallen from a price of over $45 per share to under $35 per share. This kind of stock chart might scare off speculators, but value investors might be smelling opportunity here.
So, is there opportunity or not? Is AngloGold a good company going through a rough stretch, facing losses that will end once the new production comes online? There are some indications that this is the case. Anglo's Chief Executive, Mark Cutifani, told Dow Jones that he expects the Tropicana project in Australia to start producing gold in late 2013.
The known gold reserves at the Tropicana are 3.91 million ounces of gold. Anglo owns 70% of the Tropicana. Independence Group (IGO) of Australia owns the rest. Cutifani did admit that productivity at the Tropicana might be lower than had earlier been projected. The two companies expect to spend around $790 million to bring the Tropicana into production.
AngloGold is also interested in expanding its operations in Africa by purchasing 41% of the Sadiola Mine in Mali. Cutifani told Business Week that he is interested in the Sadiola if it is for sale at the right price. The 41% in the Sadiola is currently owned by IAMGOLD (NYSE:IAG). The rest of the mine is owned by AngloGold (41%) and the government of Mali (18%). Such a purchase will give AngloGold 82% of the mine. The Sadiola produced 121,000 ounces of gold in 2011 at a high cash cost of $722 an ounce. Cutifani did not say what the right price for the 41% stake in the Sadiola mine was. Anglo is also considering an expansion at the Sadiola. It is unclear if the expansion plans are contingent on this purchase or not.
Purchasing the Sadiola will give Anglo an additional 49,610 ounces of gold production a year if production figures at the property remain the same. Since Anglo produced 4.33 million ounces of gold in 2011 this might not affect the company's overall revenues that much. The company's income from gold mining for 2011 was $6.6 billion.
There may be another way that Anglo can cut its losses. Cutifani told Business Week that Anglo might sell off two or three assets. Unfortunately, he did not say which assets might be for sale. Nor did he say how much the company expects to get for them. Cutifani told Business that some of the assets for sale might be in Mali and Namibia.
Anglo is also considering some acquisitions to boost production. Cutifani told Business Week that he is looking at what he calls smaller mines with large growth potential. He didn't name any particular acquisitions, but he said he might like to buy another three to five million ounces of gold production.
It is easy to see why Cutifani wants to boost production. It cost AngloGold $801 to mine an ounce of gold in the second quarter, and that figure could rise to $865 an ounce during the third quarter. Anglo's costs seem to be increasing and are far higher than many of its rivals.
Barrick Gold (NYSE:ABX) estimated that its production costs for 2012 will be $550-$575 an ounce, which is $300 million lower than AngloGold's. Barrick's costs included a $450 to $490 million exploration budget and increased expenditures at the Pascua-Lama mine in South America. Goldcorp's (NYSE:GG) cash costs were even lower. It spends $340 to $350 to produce an ounce of gold.
AngloGold is not a good value buy because of its high operating costs. The per ounce production figure proves that this company is simply incapable of controlling costs. Any additional cash it makes by increasing production goes straight out the door. The drop in AngloGold's stock value in the past year is justified by these costs. Rising costs seem to be eating up Anglo's revenue, and the company doesn't seem to be able to control them.
The only way that AngloGold will become a good buy is if it can significantly reduce costs by shedding money-losing operations. The company seems incapable of doing that.
My advice is to stay away from AngloGold right now. There is no sign that this company knows how to control costs and no evidence that additional production will solve its problems. There are better gold producers with lower costs and brighter prospects out there. AngloGold Ashanti seems to be one stock that the market has correctly priced.
Disclosure: I have no positions in any stocks mentioned, and no plans to initiate any positions within the next 72 hours.