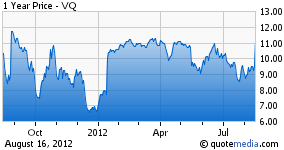 Share prices for California oil and gas producer Venoco (NYSE:VQ) have ranged from just over $7.00 to over $11.00 this year, rising and falling as Mr. Market changes his opinion of a company buyout. Chairman Tim Marquez presented his financing plan today, and now that we appear to be in the last stage of the buyout, the news presents an exit point for some investors and a potential "merger arb" opportunity for others.
The Venoco Buyout
Falling prices for natural gas hurt the share price of Venoco throughout 2011, until Venoco CEO and majority shareholder Tim Marquez offered to buy out the remaining shareholders this past winter. Marquez already owned more than 50% of the stock. Shares were trading at prices between $7 and $8 per share when Marquez offered to buy remaining shares at the premium price of $12.50 per share.
The outside board members approved the buyout on behalf of shareholders, and all that was left was for Marquez to secure financing, with which he found some difficulty. Earlier this summer, the board extended Marquez's deadline to secure financing, but shortened the total time allowed to complete the merger
Today, however, his acquisition company "Denver Parent Corporation" presented a plan to finance the rest of the buyout, and shares jumped up from approximately $9.50 to pre-market price of almost $11.25. Under the terms of the merger agreement, Marquez has until September 14 to complete the merger.
Under Marquez's plan, he first forms several entities (called, among other things, HoldCo and RemainCo) to buy some, but not all, of Venoco's assets. These assets seem to be grouped so as to present his lenders with attractive collateral for financing. The other assets are purchased without outside financing. This division makes a big difference to Marquez's lenders who do not wish to finance the purchase of what the plan refers to as "negative EBITDA" assets, but should make no difference to selling the shareholders.
As far as I can tell, under Marquez's proposal, the public shareholders receive only cash, and the other features of the plan relate to using the assets to secure Marquez's financing. Unless there's some disadvantageous feature that I don't appreciate (such as possibly leaving some tax burden on the public shareholders), the deal looks fine to me. If you are a shareholder concerned about the implications of this financing proposal, you should consult your own attorney, accountant or other professional for advice.
Merger Arbitrage Opportunity
An investor purchasing shares today at a price of about $11.00 per share only has to hold them for one month until Marquez buys them for $12.50. This represents a profit of over 13% in just one month, or an annualized profit (assuming one could repeat the transaction costlessly, every month for one year) of 460%.
On the downside, it's very easy to see these shares trading back at the $7.00 share price after a failed buyout. Marquez's lenders have not agreed to the plan yet, so there is a chance the deal may not go through as described. On the other hand, natural gas prices have improved considerably since then, by almost 25%, and there may be less pessimism in the market place in general. I think this represents an attractive opportunity for those not already invested.
Disclosure: I am long VQ.