Edited By Kate Boehme
CenturyLink (NYSE:CTL) is one of the largest telecommunications companies in the United States. It currently has a market cap of about $25 billion, making it the country's third largest communications provider after AT&T (NYSE:T) and Verizon (NYSE:VZ) based on market cap. In a previous article on CenturyLink, I suggested that the company should cut its dividends and look toward paying its debts. At present, CenturyLink seems to be conducting the second part of this recommendation as it tries to pay off some of its debts. CenturyLink has a relatively high dividend yield of 6.90 percent, and an annual dividend of $2.90 per share. With declining revenues and mammoth amounts of debt, will the company be able to maintain its current dividend levels?
Earnings
In its recent second quarter earnings announcement, CenturyLink revenues improved slightly due to capital obtained from Savvis. In fact, Savvis added a total $278 million to CenturyLink's total revenues. Strategic and Data Integration components experienced growth of 20.3 percent and 11.8 percent, respectively, while the legacy segment faced a decline in revenues of 7.9 percent. CenturyLink earned $74 million during the second quarter, which represents a decrease of 55 percent from the same period last year. Meanwhile, earnings per share for the second quarter stood at 12 cents per share as compared to 19 cents per share for the same period in 2011.
CTL's gross profit margin fell to 58.4 percent from 59.6 percent. Key reasons for the fall in profits included expenses from early debt retirement and severance, as well as other acquisition-related charges. CenturyLink's operating expenses also went up to $3.92 billion from $3.67 billion in 2011. These expenses included $292 million of operating expenses from Savvis and higher data integration costs. At present, Savvis is contributing more to operating expenses than revenues.
Cash Flows
Last year, CenturyLink generated operating cash flow of $4.98 billion and levered cash flows of $1.62 billion. Net operating cash flow for the six months ending June 30, 2012, amounted to $2.8 billion. This figure demonstrates a significant increase from the previous year net operating cash flow of $2.018 billion.
CenturyLink invested $1.3 billion in PP&E and capitalized software, which increased the depreciation costs of the company. In addition, net cash increased by $153 million during the second quarter, leading to total cash and cash equivalents of $281 million. According to the earnings report for this period, CenturyLink generated free cash flow of $779 million, excluding integration-related expenses and special items. Total operating cash flow and free cash flow have thus improved during recent periods.
Debt
Mammoth amounts of debt remain CenturyLink's main problem. Although recently the firm has been trying to reduce debt by paying early, the amount of debt still remains extremely high at $19.6 billion. Current liabilities also stand at over $5 billion. During the past six months, CenturyLink has decreased the long-term debt by about $1.7 billion, which is a step in the right direction. Almost $7.2 billion of this debt is in commercial paper. Of these bond issues, three mature over the next three years amounting to almost $1 billion. CenturyLink pays over $2 billion in interest expense every year. The company issued new debt amounting to $3.3 billion and used the proceeds to pay off previous debts of $3.6 billion.
Ratios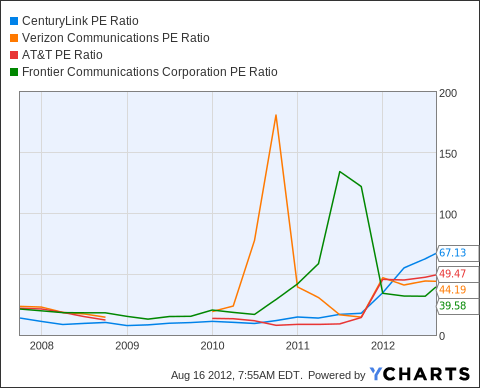 CenturyLink's P/E ratio is extremely high at 50.8, indicating a heavy market premium. It has a meagerly net margin of 2.8, compared to an industry average of 4.5. ROE for CenturyLink is also lower than its peers at 2.5. Based on these debt ratios, CenturyLink seems to be in a pretty unfortunate position. The debt-to-asset ratio of 0.39 is higher than the industry average of 0.29, while the debt-to-equity ratio also stands higher than its peers. Meanwhile, CTL has an EBITDA-to-Interest ratio of 5.30, in comparison to the industry average of 8.18. The CTL debt-to-EBITDA ratio of 3.03 is again almost twice as much as the industry average of 1.82. CenturyLink cash-flows-to-total-debt ratio is exactly half of the industry average at 0.23.
Summary
CenturyLink has encouraged cash flow growth as well as improving revenue figures. However, debt remains a serious problem for the company. Healthy cash flows should enable the company to keep the current dividend levels for the near future, but one bad quarter could turn things ugly. Although the company has moved in the right direction by reducing debt, further debt reduction is still needed. CenturyLink dividends will not be safe until the company's debt levels come down.
For those chasing high yield options in the telecom sector, I recommend Frontier Communications (NYSE:FTR), which has a safer dividend profile. Frontier also has a higher yield compared to CenturyLink. The recent insider transactions support my investment thesis. CenturyLink insiders keep selling stock, while Frontier's management has purchased stock in the last six months.
Disclosure: I have no positions in any stocks mentioned, and no plans to initiate any positions within the next 72 hours.