Amazon (NASDAQ:AMZN) is the king of online retailers. It sells a little of everything. It also acts as a big online mall owner. It rents virtual stores to virtually any retail company that wants space in the mall. After adding in all of these outside vendors, Amazon truly has a tremendous array of products. This helps it to extend its leadership as the number one online store. It can't guarantee the behavior of all these other retailers, but it does provide ratings for all products based on past performance. The user must decide if the price and the likely satisfaction are a good bargain. It is always possible to return a product; but unless the article is highly valued, the likelihood of a return is low. Plus Amazon is reliable. It truly lives up to its reputation as the number one online retailer.
Amazon has been attacked for arguably selling too many products, but this is really one of its strengths. It has been attacked for trying to compete with the likes of Apple (NASDAQ:AAPL) with its iTunes comparable music service and its Kindle reader (or Kindle Fire). It has been accused of taking on Google (NASDAQ:GOOG) with its Kindle Fire and Netflix (NASDAQ:NFLX) with its streaming video service. There is seemingly nothing that Amazon will not try. It remains to be seen if it can successfully use its muscle to carve out big profitable niches in each area it tries. To many, AMZN seems to be falling short, and those people wonder what the ultimate outcome will be. Will Amazon eventually cut back to save money? Will it persevere somehow in almost everything? I am not even sure if Amazon's most ardent supporters think persevering in everything is likely. There will be some disappointments.
One thing is clear. Amazon will experience a lot of competition in a lot of areas, and it will be a miracle if it can be successful long term in all of them. Some people have already written the Kindle's obituary, although I have no such conviction yet. Others point out that Amazon is not even close to being the cheapest online retailer. Wal-Mart (NYSE:WMT) often has better deals (if not almost all of the time). Sears (NASDAQ:SHLD) advertised recently that it had the lowest prices on all of the top ten home appliance brands. One is inclined to think that the advertisement was largely true.
Sears used to put out its famous "contains everything you need" Sears-Roebuck catalog decades ago. A much bigger online version of this seems like a natural fit. Wal-Mart is perhaps the best bargain store, and its catalog is immense already. Either of these could try to go into direct competition with Amazon. Each could offer cloud services. Each could offer virtual online store rentals attached to Wal-Mart or Sears. Each could offer standalone virtual stores (with all of the necessary functionality to run the store in the cloud). It might take some time, but either or both could go into competition with Amazon. We'll have to wait to see if the above does happen. Providing a cloud virtual store facility for any would be mall occupants or standalone store occupants should be a relatively low risk venture for such large companies. Some store renters would stick. Over time, more would join; and more customers would come to shop. Amazon could be challenged. Further, there is always the possibility of an Apple or a Google trying to market a fantasy mall with extra bells and whistles. Some challenge whether this will ever happen, but that is really like contending that Netflix would never have any significant competition. It does now, and the competition is growing stiffer. One or more will eventually (likely soon) step up to challenge Amazon too.
Why then does Amazon have such outrageous multiples (a PE of 289.18 and an FPE of 99.76)? The simple answer is that it shouldn't have outrageous multiples. It pays no dividend. It has a five year EPS growth estimate per annum of 33.60%. However, that should only give it a multiple of about 66 at most. AMZN's PE is more than four times higher than that (66), even though Amazon is predicted to shrink EPS this year by -43.80%.
Amazon is supposed to grow EPS by 209.10% in 2013, but that is highly questionable given the worsening world economic environment. Even the US is slowing. The US GDP growth fell from +2.0% in Q1 2012 to +1.5% in Q2 2012. With approximately 87% of the S&P 500 having reported Q2 2012 earnings as of Friday August 10, 2012, revenues were -1% lower than in the year earlier quarter. That is not growth! Further the situation will likely worsen in Q3 and Q4, especially if there is significant bad news from the EU or China. If the "fiscal cliff" and "tax-maggedon" are not kicked down the road at some point soon, the already slowing US will likely fall into recession. Amazon, with a significant business in Europe, will be more exposed than most even without this last. Chinese exports to the EU were down year over year by -16.2% in July 2012. The EU has to already be hurting; and US exports to the EU have to be (or will soon be) hurting more than some people want to acknowledge. Amazon will be lucky to lower its PE to 100 by 2013E without a stock price increase. A more likely result would be a 2013E PE of 200 or higher. When reality sets in, Amazon should fall. It is just too highly valued.
For comparison, Wal-Mart trades at a PE of 16.04 and an FPE of 13.86. It has a respectable five-year EPS growth estimate per annum of 8.30%. Plus it pays a 2.10% dividend. Does Amazon deserve to be 18 times more highly valued? Macy's trades at a PE of 12.18 and an FPE of 10.14. It has a 5 year EPS growth estimate per annum of 12.90%. Does Amazon deserve to be almost 24 times more highly valued? Target trades at a PE of 14.89 and an FPE of 13.24. It has a five-year EPS growth estimate per annum of 11.58%. Does Amazon deserve to be 19+ times more highly valued? This consistent overvaluation of Amazon versus other highly thought of retailers is quite simply insane. It is also not a safe place to put your money. Peter Lynch would have called the valuation of Amazon a "nose bleed" multiple. One of the greatest money managers of all time would have said (and has often said) that the odds favor you losing money in this case. You are better off with your money in other stocks. I am sure "happy go lucky" momentum traders will ignore this advice. They may scoff or sneer at it, but it is a long time truism of the market. If you own Amazon , you want to sell. If you are an aggressive trader you may want to short AMZN, especially with the overall market currently overbought.
The two-year chart of AMZN shows a possible triple top formation forming now (another reason to sell).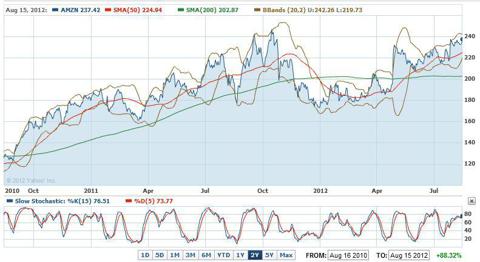 Click to enlarge
The highest near-term top was at $246.71 in October 2011. The stock is currently at $237.42. The slow stochastic sub chart shows that AMZN is near overbought levels. If you don't want to short it until it is clearly overbought, you might wait to short nearer the previous high top in October 2011. Otherwise you might sell or short now. The S&P 500 is also overbought. It too may turn downward at almost any time. This would almost certainly cause AMZN to fall dramatically.
Beyond the immediate future. Amazon will have to grow consistently and strongly in order to keep its HFT/momentum trader support. If it disappoints at any time, its stock will drop precipitously. The odds of disappointment at some point in the next 1.5 years is high. Who wants to hold a stock like that. There is a nasty recession coming in the EU. The US may drop into recession with the fiscal cliff and tax-maggedon coming up. If the US drops into recession, the likelihood of a hard landing in China will go up dramatically. Then both of China's biggest export markets will be in recession. You don't want to risk holding AMZN with all of this coming down the road. There are better, less risky opportunities.
Note: Some of the fundamental fiscal data above came from Yahoo Finance.
Good Luck Trading.
Disclosure: I have no positions in any stocks mentioned, but may initiate a short position in AMZN over the next 72 hours.
Additional disclosure: AMZN is at or near a triple top formation. This is likely a good technical sell signal for AMZN, especially given the AMZN's fundamentals. It would be best if readers could read the article before the situation changes much.