We published a report on State Street Corporation (NYSE:STT) last month in the wake of its Q2 earnings results. We believe that the company is still an undervalued industry leader in the asset management and administration industry and we can see why Nelson Peltz of Trian Fund Management has a bigger position in it versus Legg Mason (NYSE:LM) or Lazard (NYSE:LAZ) (Trian's other asset manager holdings). We maintain our thesis that the company is simply too cheap when we consider its valuation metrics:
STT's PE of 11.03X trailing earnings and 10.75X estimated 2012 EPS
STT's PE based on FY 2013 EPS is 9.5X
STT is trading at a 55bp discount to book in spite of its strong ability to generate cash
We were absolutely thrilled when State Street announced its $1.8B share repurchase program at the end of Q1 2012 after it passed the Federal Reserve Stress Tests. State Street's trust banking peers Bank of New York Mellon (NYSE:BK) and Northern Trust (NASDAQ:NTRS) also announced plans to return capital to shareholders like State Street.
However State Street's capital action plans dwarfed the announced plans by BNY Mellon and Northern Trust. Despite the fact that BNY Mellon is a bigger company by market cap, State Street Announced a larger share repurchase program in dollar terms than BNY Mellon. BNY Mellon announced a $1.1B share repurchase program and Northern Trust announced a $240M share repurchase program. Since we pointed out that State Street announced a $1.8B share repurchase program, that exceeded the combined share repurchase program of BNY Mellon and Northern Trust by $460M. Also, State Street implemented a 33% dividend increase versus 7.14% for Northern Trust and 0% by BNY Mellon.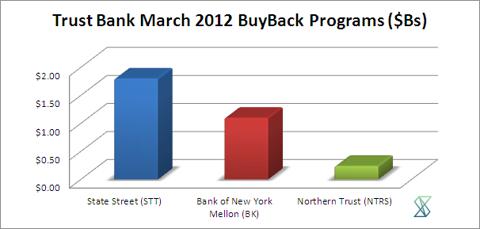 Source: Saibus Research's April 23rd report on State Street
State Street spent $480M on gross share repurchases and reissued $121M of shares for employee stock benefit programs for a net share repurchase of $359M in Q2 2012. This enabled STT to reduce its shares outstanding by nearly 8.6M in Q2 2012. We were concerned when management said that the buyback could be interrupted for acquisitions. We think that helped contribute to the 6.36% decline in the price on July 17th and a flat stock performance in the month since it released EPS results.
We reiterate that the most important thing on State Street's agenda should be to complete the announced buyback, especially because its stock price is so low. BNY Mellon repurchased $289M in shares during the quarter and offset that by issuing $500M in new preferred stock. Northern Trust only repurchased $36M during the quarter and $50M YTD. Northern Trust's YTD share repurchases were offset by $52M in employee stock plan issuance. However, we believe that the market has more confidence in BNY Mellon's and NTRS's repurchase programs than STT's because STT's management keeps making too many references to acquisitions in the conference calls and attempted acquisition deals in the news. We noted that Northern Trust made a couple of bolt on acquisitions last year as did BNY Mellon.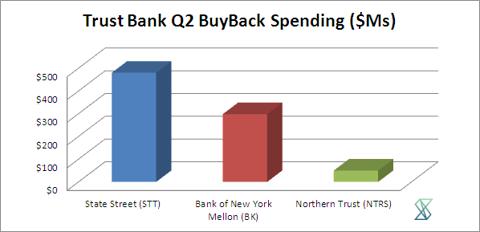 Source: Morningstar Direct
We had expressed our interest in State Street's acquisition of Goldman Sachs Administration Services, which was the hedge fund administration business of Goldman Sachs (NYSE:GS). We made an exception for this merger because the merger was a small, $550M cash deal. We also think it was a great deal when we considered that SS&C Technologies paid a 60% higher premium for GlobeOp in relation to the assets GlobeOp serviced versus GSAS. SS&C funded this purchase with new debt while we showed that State Street could and should finance the GSAS deal with $550M of its existing low-yielding cash and liquid securities on hand.
Click to enlarge

Sources: Saibus Research Estimates and Company Press Releases
We believe that though Nelson Peltz and Trian has not been an activist shareholder of State Street other than his October 2011 White Paper, we believe that his presence has kept State Street's management somewhat grounded with regards to management's acquisition impulses. We were displeased that State Street was in discussions with Deutsche Bank (NYSE:DB) pertaining to potentially acquiring Deutsche Asset Management. Our sentimental side would have liked to have seen that deal acquired since Deutsche had acquired Boston-based asset manager Scudder Stevens and Clark from Kemper Insurance and it would have been nice to bring that once great local asset manager back under Boston-based management.
However, our practical side was able to overcome that little bit of local nostalgia and identify that with the exception of its municipal bond funds, Deutsche Asset Management had merged Scudder into Deutsche's Asset Management arm and the combined company had a proud and hard-fought record of mediocre investment performance on its investment products. Scudder used to be a no-load mutual fund family and it became a load family under Kemper and Deutsche kept the company as a load family in the hopes that it would help generate sales volumes.


Source: Morningstar's Fund Family Page for Deutsche's DWS Funds
We recently read that State Street was in discussions with UBS (NYSE:UBS) with regards to a possible combination of State Street Global Advisors and UBS Asset Management. In April, we published our report in which we called on State Street to mend, not end State Street Global Advisors. Looking back on that report we think we should have been more specific and specifically said don't buy the mediocre performing asset management divisions from large, multinational European banking conglomerates. In our defense, we assumed that it was a "fifth-derivative dimension" that we didn't think we needed to spell out to everyone. At least we explicitly spelled it out now. The performance of UBS Asset Management's managed investment products is just as mediocre as Deutsche Asset Management's but at least Deutsche Asset Management and UBS Asset Management each have about ~$600-$700B in client AUMs. We remember that as far back as 1999-2000, PaineWebber mutual funds were the second worst performing mutual funds that year out of 101 fund families and while the UBS funds are at least better than the old Steadman funds, we don't think State Street should have been involved in discussions to acquire UBS Asset Management any more than it should have been involved in acquiring Deutsche Asset Management.
Click to enlarge


Source: Morningstar's Fund Family Page for UBS's Funds
In conclusion, we still maintain our buy rating and $54.63 Fair Intrinsic Target Value on State Street Corporation. We believe that while the company will see headwinds to performance in 2012, we believe that the company will begin to see the benefits of its corporate transition efforts as well as increased top line growth. At the same time, we believe that management needs to redouble its efforts to maintain and expand its market share through organic growth efforts, which is why we were glad that State Street did not purchase any of Deutsche Bank's asset management operations. We were absolutely seething that State Street was in discussions with UBS with regards to acquiring UBS Asset Management, but were relieved at least when we saw that nothing came out of the talks but hot air and wasted time. We can live with that for now.
We noted that State Street has restored its dividend to pre-crisis levels and repurchased $1B in new share buybacks since last year's second quarter net of share issuance, however we think that investors either don't know about it or care about it since all they hear out of STT's management is "blah-blah-blah acquisitions." We believe that if State Street's management wants to reestablish its credibility with the investment community, it will complete the repurchase program authorized in March and repurchase $1.32B shares between now and March 31st, 2013.
We don't think that it can be repeated enough times that if State Street's management completes the repurchase program, increase the dividend by at least 20% or more next year, authorizes another $2B share repurchase program and refrain from talking about acquisitions, let alone engaging in acquisition deals, it should help generate value for State Street's shareholders and enable the company's PE to take steps towards the Target Multiple of 13.5-14 times earnings that Nelson Peltz and our firm target.
Disclosure: I am long STT.
Additional disclosure: Saibus Research has not received compensation directly or indirectly for expressing the recommendation in this report. Under no circumstances must this report be considered an offer to buy, sell, subscribe for or trade securities or other instruments.