Earlier this Month, Sprint Nextel (NYSE:S) announced that it was cutting the price of the iPhone 4S devices available for sale with Sprint by $50. While this was a Sprint only promotion, word is that Apple (NASDAQ:AAPL) had provided its support for Sprint's promotion. Sprint also waived the $36 activation fee if customers signed up for the iPhone 4S at Sprint's website. We had appreciated this promotion because although Sprint was able to avoid a linked-quarter iPhone sales volume decline in Q2 2012 versus Q1 2012, AT&T (NYSE:T) and Verizon (NYSE:VZ) has still sold more iPhones than Sprint. Even though we knew that AT&T and Verizon would still sell more iPhone devices than Sprint because those companies have had the iPhone longer and have bigger customer bases, we were disappointed that Sprint has only sold 4.8M iPhones in the three quarters it has had it because Sprint is the only carrier that offers unlimited data for $79.99/month. We are optimistic that Sprint will continue to gain momentum against AT&T and Verizon with regards to iPhones because an iPhone through Sprint has the lowest total cost of ownership of the Big Three US Carriers.


Source: Mobile Carrier Websites
Apple responded to Sprint's $50 price cut promotion by reducing the price on its iPhone 4S devices available for sale at its Apple stores. We published our report on August 9th in which we had expressed our support for Apple's willingness to sacrifice its margins in order to maintain unit sales volumes, especially after facing a challenging Q3 2012 period. We also were well aware of the fact that Apple is releasing its 6th generation iPhone device around September 12th. The iPhone 5's September 12th release is probably one of the worst kept secrets in the world and AT&T has responded by putting in place an "all-hands-on-deck policy" for employees that will extend to the middle of October. We think that AT&T's Human Resources Department should save time, money and energy by simply including members of the investment community on its special vacation policy alert distribution lists. That way, no one has to go to any trouble of sneaking these emails out of the company and leaking the emails to individual and professional investors plus we wouldn't have to search for them on the Internet either.
In the second quarter of 2012, Sprint had a promotion in which for a limited time, it offered $100 off the price of an iPhone 4S to new subscribers. While we were displeased that the promotion did not result in any linked-quarter volume gains, we were content with the fact that Sprint's iPhone volumes in Q2 2012 were constant versus Q1 2012 levels, unlike AT&T and Verizon. Granted, Q2 and Q3 are usually seasonally slow periods for the carriers with regards to new activations however Sprint has a lower margin of error than those other two carriers. We are pleased to see that its quarterly iPhone sales to new customers are comparable to AT&T and Verizon though.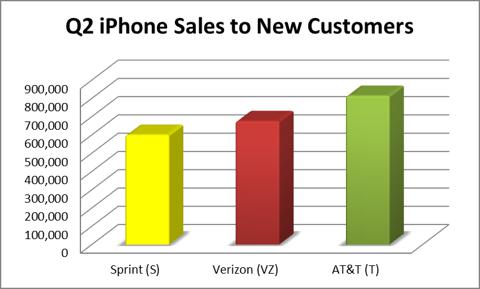 Sources: Q2 earnings releases for Sprint, Verizon and AT&T
Eight days after it announced that it was cutting prices on its iPhone 4S devices by $50, Sprint doubled down on its promotional activity by offering a $100 American Express Gift Card with the purchase of any smartphone between August 14 and August 26th. This deal is not restricted to any one smartphone device maker, however if one was to buy an iPhone 4S with 16GB of data, it would only cost that customer $49.99 upfront plus tax. We think that compares favorably with AT&T and Verizon because both of those customers charge $199.99 plus $36 activation fee plus tax. Customers would also save $10-$20 per month on their monthly phone bill and Sprint has been rolling out 4G-LTE coverage since July 15th of this year.
In conclusion, we like that Sprint is getting more aggressive with regards to competing against AT&T and Verizon. Sprint probably won't begin to return to profitability until the second half of 2013 or FY2014 and is still a distant third in the US mobile carrier segment. However, the good news is that Sprint is trying harder than it has ever been and we are pleased that it is meeting and exceeding its management guidance pertaining to its operational milestones. We are not foolhardy to say that Sprint is the best mobile carrier because AT&T or Verizon might have something to say about that. However, we believe that the AT&T-Verizon duopoly ignores Sprint at its own peril. We believe that Sprint is positioning itself to be the pest mobile carrier in the industry and its continued existence will result in the growth rates at AT&T and Verizon decelerating, as well as continued customer defections at T-Mobile.
Disclosure: I am long S, AAPL.
Additional disclosure: Saibus Research has not received compensation directly or indirectly for expressing the recommendation in this report. Under no circumstances must this report be considered an offer to buy, sell, subscribe for or trade securities or other instruments.