Coal exchange traded funds are rallying as recent earnings reports for coal companies have posted better-than-expected earnings. The Market Vectors Coal ETF (NYSEARCA:KOL) has staged a forecast, as the forecast for thermal coal in the U.S. was reported positive.
The recent report that U.S. thermal coal demand is going to pick up in the near future has sent coal-focused ETFs higher. The latest earnings reports from coal companies such as Peabody Energy (BTU) and Arch Coal (ACI) were positive and this helped the latest uptick for the coal-focused fund.
KOL is not a pure play on U.S. coal producers, as 50% of assets are derived from China and Indonesia, reports Peter Epstein for The Motely Fool. The PowerShares Global Coal Portfolio (NASDAQ:PKOL) focuses in on mid-cap and large-cap coal companies. The fund is well-diversified, with the U.S. as the top country represented, followed by China, Indonesia, Australia, and Canada, suggesting a decent mix between developed and emerging nations.
KOL has lost about 31% in 2012, and PKOL has lost about 28% this year.
Currently, the rough trading in the oil industry and the depressed natural gas prices have been rough for the coal industry. Coal is often used as a power plant input, but mild weather across much of the nation has kept this in check for the better part of the year, reports Eric Dutram for Zacks.
Both coal-focused ETFs are trading at levels that many investors would be attracted to, however, the energy sector may not be done descending. Regardless, the coal industry is not in danger of collapse, so the funds may be worth a closer look.
(click image to enlarge)
Market Vectors Coal ETF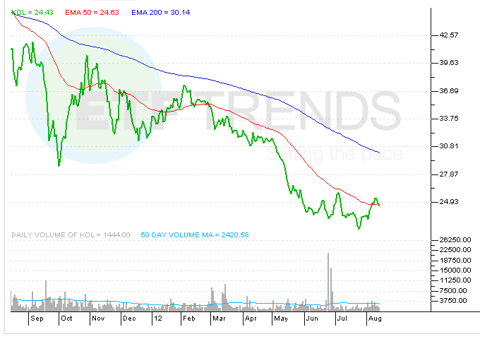 Click to enlarge
Tisha Guerrero contributed to this article.
Disclosure: I have no positions in any stocks mentioned, and no plans to initiate any positions within the next 72 hours.