This month's REIT Focus is on SL Green Realty Corp., (NYSE:SLG) an independent real estate investment trust that primarily engages in the acquisition, ownership, repositioning and management of Manhattan office properties. SLG is a self-administered and self-managed Maryland real estate investment trust that is the 96.3% owner of the general partner interest in The SL Green Operating Partnership, L.P., the UpReit partnership that owns the assets of SLG. This REIT owns a diverse portfolio of 65 office properties, with 30.7 million sq. ft of space, 13 retail properties with 396 thousand sq. ft., 8 development properties with 2.6 million sq. ft, 385 apartment units and 2 land properties. SLG's properties are primarily located in the borough of Manhattan, and as of 6/30/12, the average gross rent per sq. ft. and occupancy were $44 and 92%, respectively. SLG was incorporated in the State of in Maryland in 1997 and is based in New York, NY.
SLG has 89.9 million shares outstanding, a stock price of $81/sh, and a market capitalization of approximately $7.3 billion. SLG has a solid and well regarded management team including commercial real estate veteran, Stephen L. Green, 73, Founder and Chairman of the Board and Marc Holliday, 46, Chief Executive Officer. Mr. Holliday has been with the company since 1998.
Select financial data for SLG as of the 6/30/12 10Q and for the period 1/1-6/30/12 is as follows (in millions where applicable):
Real Estate Assets, Gross
$11,512
Debt, Preferred Equity and JV Investments
$1,996
Total Assets
$14,139
Mortgages, Credit Facility and Senior Notes Payable
$6,115
Stockholders' Equity
$6,811
Revenue
$688
Net Income
$128
Earnings Per Share
$1.45
Cash Flow from Operations
$198
Unsecured Revolving Credit Facility ($1.3 billion available)
$1,500
Market Capitalization
$7,300
Debt to:
Market Capitalization (equity value only)
84%
Gross Real Estate, Debt, Preferred Equity

& JV Investments

45%
Real Estate Assets Per Sq. Ft.
$375
Dividend and Yield ($1.00/sh)
1.20%
NOI and Value Calculation:
Revenue Per Above Annualized
$1,376
Less: Operating Expenses
$497
Projected NOI 2012
$879
Projected Inflation Rate
x103.5%
Projected NOI for Next Year
$909
Projected Cap Rate
7%
Projected Value of Company
$12,986
Less: Total Debt and Preferred Stock
($6,485)
Projected Value of Company Equity
$6,501
Shares Outstanding
89.9
Projected Value Per Share
$72
Market Price Per Share (8/14/12)
$81
As shown above, our value for SLG is $72 per share versus a market price of $81 per share. The market is valuing SLG at a cap rate of approximately 6.6%. Current cap rates for office building investments in the New York market per CBRE and Price Waterhouse Coopers investment surveys are in the 5% to 6% range, primarily due to the demand for core properties in core markets like Manhattan. However, we have used a higher cap rate of 7%, due to the additional risk of SLG's portfolio not being diversified by location and industry. All of SLG's properties are located in the New York City region, with the majority in the borough of Manhattan, and the tenancy is primarily financial service and Fortune 500 companies. We believe this creates additional geographic and industry concentration risk for the company that should be reflected in a higher cap rate for valuation purposes.
SLG is a well management REIT and has experienced strong growth in assets, net income and funds from operations from 2009 to 2011 as shown below.
| | | | |
| --- | --- | --- | --- |
| (millions) | 2009 | 2010 | 2011 |
| Gross Real Estate Assets | $8,257 | $8,890 | $11,147 |
| % Increase | NA | 7.6% | 25.4% |
| Net Income | $38 | $271 | $617 |
| % Increase | NA | 613% | 127% |
| Funds from Operations | $319 | $389 | $414 |
| % Increase | NA | 22% | 6.4% |
The other concerns for SLG are its high debt level at 84% of market capitalization and the slim dividend yield of just 1.2%. Most REITs have a debt to market cap of less than 50% and we expect a dividend yield of at least 3% (average office yield is 3.4% per reit.com). SLG is a quality owner and manager of first class office assets; however, we do not recommend purchase of the stock at this time, as the risk of a NY centric portfolio, high debt level and low dividend is too great. A five year price chart of SLG is shown below.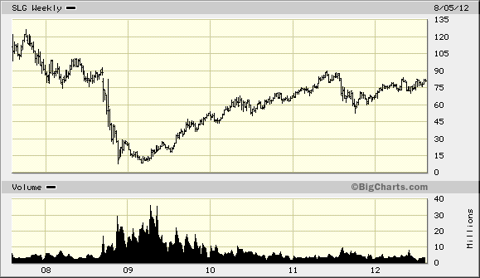 REIT Focus reviews in prior issues of VOM are as follows:
1. BRE Properties, Inc., June 15, 2011
2. Boston Properties, Inc., July 15, 2011
3. Simon Properties Group, Inc., August 15, 2011
4. First Industrial Realty Trust, September 15, 2011
5. Public Storage, October 15, 2011
6. Ashford Hospitality Trust, Inc., November 15, 2011
7. AvalonBay Communities, Inc., December 15, 2011
8. Alexandria Real Estate Equities, Inc., January 15, 2012
9. Federal Realty Investment Trust, Inc., February 15, 2012
10. Digital Realty Trust, Inc., March 15, 2012
11. Lasalle Hotel Properties, April 15, 2012
12. Apartment Investment and Management Company, May 15, 2012
13. Equity Residential Apartment Company, June 15, 2012
14. The Macerich Company, July 15, 2012
Author: Joseph Ori, Managing Director, Paramount Capital Corporation
Disclosure: I have no positions in any stocks mentioned, and no plans to initiate any positions within the next 72 hours.