Since the publication of the previous edition of our Best Ideas Newsletter July 15, we have widened the return outperformance over our benchmark by another 70 basis points. Our absolute return performance is now the highest it has even been, garnering a nearly 37% overall return since inception (May 2011)! We are now outpacing the S&P 500 by over 28 percentage points (a new record) and continue to expect this strong performance to continue. Firms held in our Best Ideas portfolio offer substantial valuation upside, and our stock-selection methodology, the Valuentum Buying Index, positions us well to identify the best potential entry and exit points on portfolio constituents, as well as other firms across our coverage universe. Our valuation of the S&P 500 index indicates investors should expect further upside, as our ETF valuation report on the SPDR S&P 500 shows:
(click images to enlarge)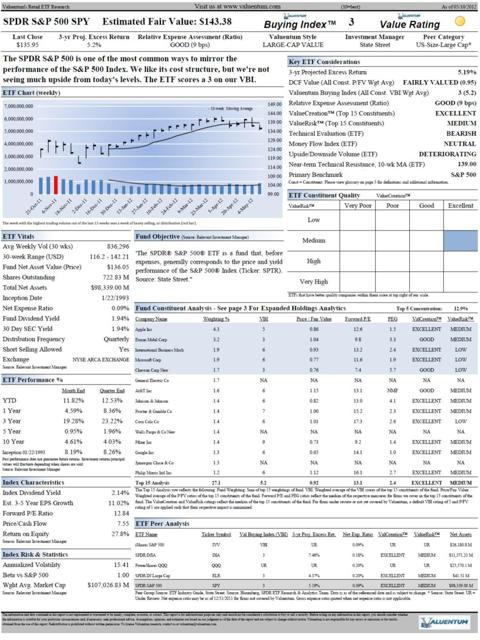 As we had warned previously, investors that place too much emphasis on economic prognostications can be left behind as the market moves higher. Perhaps the biggest bear coming out of the woods recently was PIMCO's Bill Gross. The bond king (turned equity investor) continues to believe that the U.S. is approaching recession when measured by employment, retail sales, investment and corporate profit. The Economic Cycle Research Institute, which lost its pristine track record of predicting recessions last year, continues to expect recession in the U.S., while other perma-bears like Marc Faber-author of the Gloom, Boom & Doom Report-remains skeptical about the growth rate of the Chinese economy. And almost every money manager seems concerned about what's going on within the borders of the European Union. So how can the broader domestic market as measured by the SPDR S&P 500 reach levels that we haven't seen since early 2008, advancing nearly 4% since mid-July (the time of the previous edition of this newsletter)?
It's our view that earnings and cash flow drive the valuations of stocks and the broader market as a whole. In fact, a robust discounted cash flow analysis is the first and most important pillar within our Valuentum Buying Index process, shown in a very abbreviated form below: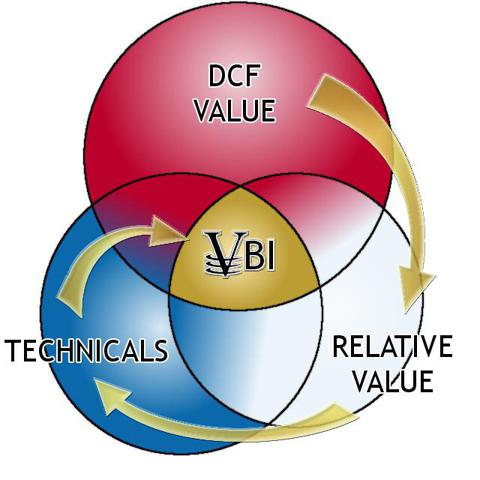 And earnings have been pretty good. According to FactSet, of the 447 companies reporting second-quarter earnings through August 10, 70% of these firms reported better-than-expected bottom-line performance. At the same time, the blended earnings growth rate for the second quarter is coming in at the mid-single-digits (5.5%), which is a far cry from earnings contraction that many pundits may lead you to believe. And while bottom-line expansion hasn't been entirely driven by sales growth (only about 43% of companies that have reported second quarter results exceeded top-line consensus) and third-quarter earnings may face some material headwinds (namely from foreign exchange and higher input prices from the drought in the US), we continue to think the domestic economic backdrop is encouraging (even if it may not be robust).
Let's take a look at an excerpt from the Fed Beige Book, released late July, to illustrate this point:
Reports from most of the twelve Federal Reserve Districts indicated that overall economic activity continued to expand at a modest to moderate pace in June and early July. The Atlanta, St. Louis, and San Francisco Districts reported modest growth, while Boston, Chicago, Minneapolis, Kansas City, and Dallas described economic activity as advancing moderately. The New York, Philadelphia, and Cleveland Districts noted that activity continued to expand, but at a slower pace since the last report, while Richmond cited mixed activity…

…Retail sales increased slightly in all reporting Districts except Boston and Cleveland, where sales were categorized as flat, and New York, where sales softened...All District housing market reports were largely positive as sales and construction levels increased and home inventories declined. Rental markets continued to strengthen with rising rents being reported in Boston, New York, Atlanta, Chicago, and Dallas...Manufacturing activity continued to expand slowly in most Districts, and Cleveland, Atlanta, Chicago, and Kansas City cited slight increases in production levels...Demand for loans, particularly those related to real estate, grew modestly in most Districts...All Districts conveyed that input prices had stabilized in recent months. Price pressures were described as easing in New York, Philadelphia, Atlanta, and San Francisco as energy costs declined.
Further, the Commerce Department's second-quarter gross domestic product (GDP) estimate, released late July, was also encouraging. According to the Bureau of Economic Analysis, real domestic GDP rose 1.5% in the second quarter, better than what most economists had predicted (1.3%). The Commerce Department also revised upward the first-quarter growth rate marginally. Though the second-quarter pace is slightly lower than that of the previous sequential quarter, one will notice in the chart below that comparisons were a bit tougher during the second quarter. Importantly, the graph clearly displays that we are nowhere near the doldrums witnessed in late 2008 and early 2009.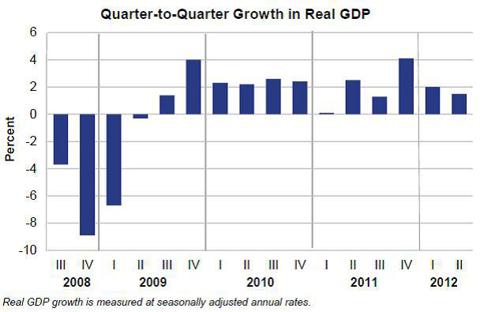 Image Source: http://www.bea.gov/newsreleases/national/gdp/gdphighlights.pdf
We continue to receive solid data from both the retail and housing markets. Earlier this week, the US Census Bureau announced that estimates for US retail and food services for July jumped 0.8% sequentially (above the 0.3% pace economists had predicted) and an impressive 4.1% higher than that achieved in the same period a year ago. The tally marked the first sequential gain in four months and the largest since February, and we were surprised to find that purchases climbed in all 13 reported categories from motor vehicles and parts dealers to clothing and clothing accessories stores -- the first time this has happened in roughly 7 years! The retail sales numbers were particularly impressive, given that the U.S. unemployment rate is still hovering north of 8% (it was 8.3% in July, according to the Bureau of Labor Statistics). The U.S. consumer remains resilient, and the retail sales data is a positive read-through for portfolio holdings Ford (NYSE:F) and Apple (NASDAQ:AAPL) -- and indirectly for payment processing firms such as eBay (NASDAQ:EBAY) and Visa (NYSE:V), which we also hold in our Best Ideas portfolio.
Late July also saw a plethora of strong reports from the homebuilders, with Pulte (NYSE:PHM) showing unit backlog growth north of 30% and D.R. Horton (NYSE:DHI) revealing its backlog grew by 25% from last year's period. The strong performance from these two builders was preceded by solid results from other builders including KB Home (NYSE:KBH) and Lennar (NYSE:LEN). We think the domestic residential real estate market is now on solid footing, which we view as a notable positive for the US banking system. We continue to hold the SPDR S&P Bank ETF (NYSEARCA:KBE) and Financial Select Sector SPDR (NYSEARCA:XLF) to gain diversified financial exposure that allows us to capitalize on the group's ongoing convergence to intrinsic value while limited risk to any one bank.
The looming US "fiscal cliff" -- a number of tax hikes and spending cuts that are set to begin next year - continues to be a concern for businesses, but we doubt Congress will take actions (or better yet not take actions) to directly (or indirectly) throw the US back into recession. As with the debt-ceiling debate, we expect Washington to continue its political grandstanding until the proverbial last minute, opting for a pro-economic policy when all is said and done. After all, its very own Congressional Budget Office predicts that economic contraction will occur if the so-called "fiscal cliff" is not thwarted. Federal Reserve Chairman Ben Bernanke continues to warn Congress to avoid such a cliff, and we think reason will eventually prevail within the Congressional ranks. Still, we continue to monitor developments closely.
And while Bernanke continues to successfully navigate the US economy through recovery, European Central Bank President Mario Draghi is now actively taking measures to stem the eurozone debt crisis. Perhaps the most powerful words any ECB President could say, Draghi said at a recent speech in London that the ECB "will do whatever it takes to preserve the euro; and believe me, it will be enough." Though the timing of when and how the ECB will put these words into satisfactory action remains to be seen, we think this powerful statement puts the ECB's cards on the table and reveals to us that the possibility for a global financial crisis of the magnitude of 2008-09 is practically negligible. Investors should expect economic weakness from the eurozone due to austerity measures, but any sustained global financial contagion will be averted, in our view, given the motives of Bernanke and Draghi and the strength of the U.S. banking system (which has been stress-tested under the most severe conditions and was found to be sound).
As we've outlined previously, the outlook for commercial aerospace deliveries has never been stronger-we hold aerospace suppliers Precision Castparts (NYSE:PCP), Astronics (NASDAQ:ATRO), and EDAC Tech (NASDAQ:EDAC) in our Best Ideas portfolio. And our long-term thesis on the strong growth trajectory of health-care spending has not changed-we hold the Health Care ETF (NYSEARCA:XLV) in our portfolio. With the current forward P/E ratio on the S&P 500 at just 12.7 times, according to FactSet (well below the 10-year average of 14.4), the broader market remains cheap. Though the near term may be choppy, we remain very bullish on the equity markets in general and expect continued outperformance from constituents of our Best Ideas portfolio, which selects positions on the basis of a tried-and-true investment process.
Disclosure: I have no positions in any stocks mentioned, and no plans to initiate any positions within the next 72 hours.
Additional disclosure: Some of the firms mentioned in this article may be included in our Best Ideas portfolio.