It is perhaps inevitable that a deep undervalued investor like yours truly would look at Chinese companies listed in the U.S. Granted, we are smart enough to know how many financial geniuses have been made to look like dummies investing in the space. However the valuations are downright ridiculous and something I have never seen before on any stock exchange anywhere.
A recent article by Marcus Aarnio titled 2 Chinese Fashion Companies Trading Below Net Cashgot us interested in sector. We began our due diligence process on China Xiniya Fashion Limited (NYSE:XNY) and decided to make this a two part article due to length. Part two will be released in the next few days.
Clothing sales is something that piqued our interest because according to a report released by the Boston Consulting Group:
China's fashion industry is set to become the world's second fashion market by 2020, and will account for about 30 percent of the global fashion market's growth over the next five years, the report said.

In 2020, total fashion sales in China are expected to be triple their current level, rising to more than RMB 1.3 trillion ($200 billion) from RMB 398 billion ($60 billion) in 2010.
As a point of reference on valuation, Abercrombie & Fitch (NYSE:ANF) is currently trading at a trailing P/E of 29.76 and a forward P/E of 11.35. Gap (NYSE:GPS) is valued at 21.27 times trailing earnings and 14.84 times forward earnings. American Eagle Outfitters (NYSE:AEO) trades at 25.41 times trailing earnings and 14.25 times forward earnings.
China Xiniya Fashion Limited was the first China apparel company listed in the U.S. when it IPOed on the NYSE on Nov 22, 2010. The company represents its clothing along the lines of Dolce & Gabbana and Emporio Armani, but at much lower prices.
XNY raised $88 million by selling 8,000,000 shares at $11.00 per share. Cowen and Company, LLC acted as the sole bookrunner and Samsung Securities Limited, Lazard Capital Markets LLC and Janney Montgomery Scott LLC acted as co-managers for the offering.
With 58 million shares outstanding, the valuation of the company at the time of IPO was a $638 million. At the current price of $1.20, investors are down 89.1% in less than 2 years.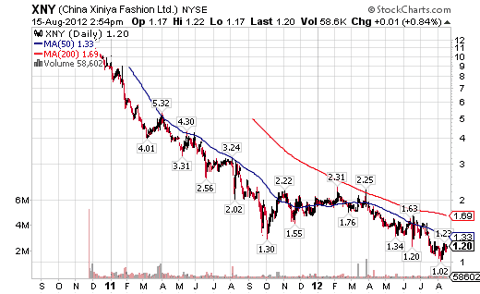 That is a terrible return and American investors have lost a lot of money on this stock. Fundamentally speaking, the company produced revenue of $187 million in 2011 with net income of $39.9 million. That means the current market capitalization of $69.6 million represents a P/E Ratio of less than 1.75 times 2011 Earnings (source).
2012 has been a little rough with sales for the first 6 months totaling $68 million and net income of $9.9 million. On a yearly basis if XNY made $20 million net income, the P/E would still be a low 3.48 times 2012 earnings.
As of June 30, 2012, the cash position including time deposits was $179 million with no debt on the balance sheet. So what is wrong here?
The biggest problem seems to be strategy. We all know Abercrombie & Fitch, Gap and American Eagle Outfitters collectively produced over $22 billion in revenue in 2011. Their strategy has been to source their clothing overseas saving them the hassle and agony of owning their own factories. Why go through the trouble of owning something when you can bid it out. This is the quintessential "asset light" business model we Americans love.
XNY has really lost their investor base here in the U.S. by moving towards building a massive manufacturing base on 74 acres in Jinjiang City in the Fujian Province (source). The cost ... about $94 million. That would leave the cash balance at $85 million which is still greater than the current value of the entire company. However, the market has spoken and does not agree with the strategy of building your own manufacturing. Common sense dictates that if the biggest and baddest companies in the sector outsource why produce clothing in house? We found this tidbit in the 10K where son is not going to need mom anymore because he is going to spend $94 million:
Lease of Facilities from Jinjiang Xiniya

In October 2005, we signed a property lease with Jinjiang Xiniya, a company controlled by Ms. Wushe Wu, the mother of our founder, chairman and chief executive officer, Mr. Qiming Xu, relating to 18,000 square meters of property, which includes a manufacturing facility of 8,400 square meters, administrative areas of 1,800 square meters and employee residential areas of 4,800 square meters. The term of the lease is ten years through December 2015 and the lease amount is RMB960,000 in 2006 and RMB984,000 for each subsequent year during the term of the lease.
If you owned a business and sales were down, would you invest a ton of capital to make the goods yourself? Most of us would say no, but unfortunately this is a strategy call that may leave the company in a cash crunch if the underlying business begins to falter.
Here is a doomsday scenario that worries us ... if sales decline and distributors lack the funds or become conservative in their purchases, the company will have to effectively act as a lender or just not sell products to the distributors. The distributors in China are usually well financed, but they are stupid and won't fork cash over to buy something that can't be sold to consumers. That means the cash becomes much more important and you can go from a position of having $179 million in cash with zero debt to being in a world of hurt very fast.
The case could be made that XNY goes private, but the offer would have to be considerably over the current price of $1.20 since $88 million was invested at $11 per share. With just $85 million in net cash or $1.51 per share, post construction of the manufacturing facility, there may not be enough money to buy out the 42% or 24.36 million shares not currently owned by the founder.
Perhaps a private equity firm may step up and loan money to the founder to take it private. One U.S. investor, Shah Capital of Raleigh, NC (source) believes the company has a future either as a buyout or just because they like the company. Shah Capital purchased 3.25 million shares in the past 8 months.
We are voting to not be shareholders of XNY because we don't agree with the business strategy of the capital expenditure. It would be nice for the company to issue a dividend or stock buyback ... maybe even a tender offer. Yes, SAFE regulations make it hard to move money out of China, but it can be done by paying taxes ... yes dreaded taxes, but from a shareholder's standpoint, I'd rather have the company pay taxes and give me a dividend, buy back stock, or issue a tender than to build expensive factories.
In Part 2 we will look at two other Chinese fashion companies and present our due diligence.
Disclosure: I have no positions in any stocks mentioned, and no plans to initiate any positions within the next 72 hours.