Are those green shoots we see in the housing market? According to a Census Bureau report issued recently, building permits rose 6.8% to an annual rate of 812,000 permits in July, the highest rate in four years. This report along with the new and existing home data below, may suggest that we are well on our way to a housing turnaround.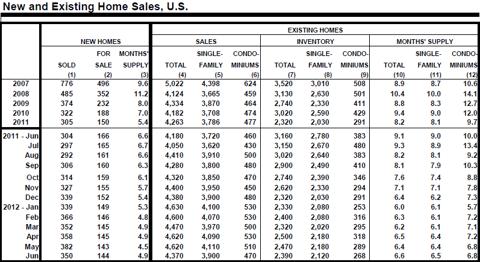 Source: Economics Department, NAHB

Source: Economics Department, NAHB. Sales prices are in thousands of dollars.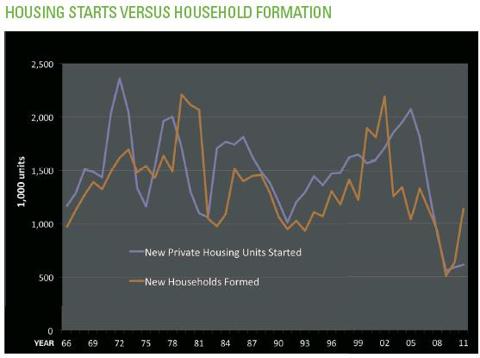 Source: Ibbotson Associates
With months' supply declining and home prices heading higher, the housing recovery is building momentum. Based on this information, should investors start buying housing stocks? First, let's review the business side of several housing stocks and funds that should benefit from a housing turnaround. They are as follows (in alphabetical order by ticker/type):
D.R. Horton, Inc. (NYSE:DHI) - The Company is a homebuilder operating in 25 states and 73 metropolitan markets of the United States, under the name of D.R. Horton, America's Builder. The Company also provides financial services including mortgage financing and title agency services to homebuyers in its homebuilding markets. It does not retain or service the mortgages it originates but seek to sell the mortgages and related servicing rights to third-party purchasers. Its subsidiary title companies serve as title insurance agents by providing title insurance policies, examination and closing services, primarily to the purchasers of its homes.
The Home Depot, Inc. (NYSE:HD) - The Company is a full service, warehouse-style home improvement retailer. The stores serve three primary customer groups: do-it-yourself (D-I-Y) customers, do-it-for-me (D-I-F-M) customers and professional customers. It has approximately 2,200 stores located throughout the United States including the Commonwealth of Puerto Rico and the territories of the United States, Virgin Islands and Guam, Canada, and Mexico. The Company also offers over 300,000 products through its Website, homedepot.com.
Lowe's Companies, Inc. (NYSE:LOW) - The Company is a home improvement retailer serving homeowners, renters and commercial business customers. Individual homeowners and renters complete an array of projects and vary along the spectrum of do-it-yourself and do-it-for-me. Cmmercial business customers include those who work in construction, repair/remodel, commercial and residential property management, or business maintenance professions. It operates approximately 1,700 stores across 50 United States, including 31 stores in Canada and two stores in Mexico.
Masco Corporation (NYSE:MAS) - The Company manufactures, distributes and installs home improvement and building products. It manufactures faucets, cabinets, architectural coatings and windows, and installs insulation for the new home construction market. The Company provides a range of product offerings and distribute products through multiple channels, including directly to homebuilders and wholesale and retail channels. Approximately 76% of the Company's sales were generated by its North American operations during the year ended December 31, 2011.
Mohawk Industries, Inc. (NYSE:MHK) - The Company is a producer of floor covering products for residential and commercial applications in the United States and residential applications in Europe. The Company is a carpet and rug manufacturer and manufacturers, marketers and distributors of ceramic tile, natural stone and hardwood flooring in the United States, as well as a producer of laminate flooring in the United States and Europe. In 2011, approximately 82% of this amount was generated by sales in North America and the balance in sales was generated outside North America.
Pier 1 Imports, Inc. (NYSE:PIR) - The Company is a specialty retailer of decorative home furnishings and gifts. It imports merchandise, and sells a range of decorative accessories, furniture, candles, housewares, gifts and seasonal products in its stores. The Company operated approximately 1,050 stores in the United States and Canada. The Company operates regional distribution center facilities in or near Baltimore, Maryland; Columbus, Ohio; Fort Worth, Texas; Ontario, California; Savannah, Georgia, and Tacoma, Washington.
USG Corporation (NYSE:USG) - USG, through its subsidiaries, is a manufacturer and distributor of building materials. The Company produces a range of products for use in new residential, new nonresidential, and residential and nonresidential repair and remodel construction, as well as products used in certain industrial processes. The Company operates in three segments: North American Gypsum, Building Products Distribution and Worldwide Ceilings. The North American Gypsum manufactures and markets gypsum and related products in the United States, Canada and Mexico. The Building Products Distribution segment consists of L&W Supply. The Worldwide Ceilings segment manufactures and markets interior systems products worldwide.
Weyerhaeuser Company (NYSE:WY) - The Company is a forest products company. It is engaged in growing and harvesting trees, builds homes and making a range of forest products. It manages 20.3 million acres of forests, of which it owns 5.7 million acres, lease 0.7 million acres and has renewable, long-term licenses on 13.9 million acres. The Company operates in five business segments: Timberlands, Wood Products, Cellulose Fibers, Real Estate and Corporate and Other.
iShares FTSE NAREIT Residential Plus Capped Index Fund (NYSEARCA:REZ) - The Fund seeks investment results that correspond generally to the price and yield performance, before fees and expenses, of the FTSE NAREIT All Residential Capped Index. The Index measures the performance of the residential (48%), healthcare (34%), self-storage (15%), and manufactured home (3%) real estate sectors of the United States equity market.
SPDR S&P Homebuilders ETF (NYSEARCA:XHB) - The Fund, before expenses, seeks to closely match the returns and characteristics of the S&P Homebuilders Select Industry Index.
Next let's review the valuations (see table below - click to enlarge) to determine whether the aforementioned stocks have already discounted (priced in) a housing turnaround.

Source: Seeking Alpha
Based on table above, almost all are near their 52-week highs and therefore may longer be bargains, leading to a somewhat priced in housing recovery.
Conclusion
While housing data suggests a recovery, the run-up in housing stocks appears to have priced in some of it. In baseball parlance, we may already be in the middle innings (if not later) and higher share prices will require growing jobs, income, and household formations. In light of rising stock prices including Home Depot reaching a 12-year high, investors who wish to enter the game now might consider Lowe's because it trades at lower relative multiples when compared to other stocks in the selection group.
Fund-only investors might consider REZ and XHB, but must realize they are entering the game late and are doing so more based on a momentum strategy. For conservative investors, they might want to watch this game on the sidelines.
Disclosure: I have no positions in any stocks mentioned, but may initiate a long position in LOW over the next 72 hours. I hold a covered call position in HD.
Disclaimer: Please note the fact that a general recommendation made of a particular security, commodity, or investment area does not mean it is suitable for you or should be purchased by you. For example, we may already have purchased such securities at a lower cost and/or the position for you may represent too much concentration in one security or industry. Before deciding to invest you should carefully consider your investment objectives, level of experience, and risk appetite. The possibility exists that you could sustain a loss of some or all of your initial investment and therefore you should seek advice from an independent financial advisor if you have any doubts.