No mortgage real estate investment trust (mREIT) seems to have been more active in recent days than American Capital Agency (NASDAQ:AGNC). The stock has been on a roller coaster ride, recently falling 11% on the morning of August 7th, then rebounding 6.4% by the close of business.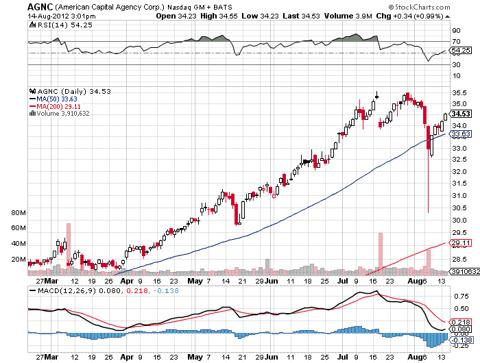 Around 24 million shares of American Capital changed hands on August 7th, which was four times the stock's average full day volume. Is this action indicative of the inherent volatility of mREIT stocks, or something wrong or different about American Capital? As with any mREIT, it is difficult to pinpoint exactly what is driving the volatility at American Capital. After all, American Capital is an ordinary mREIT that repackages mortgages guaranteed by Fannie Mae and Freddie Mac.
The recent problems at Freddie Mac (OTCQB:FMCC) are apparently not to blame for American Capital's stock price fluctuations. The federal mortgage insurer reported that it will not have to seek a federal bailout this year. Instead, it posted a $3 billion profit due to the recovering housing market. It was able to post this profit despite having to make a $1.8 billion dividend payment to the U.S. Treasury. Freddie Mac's recovery is a sign that the mortgage market is beginning to stabilize and recover. Such a recovery is good news for American Capital because it means an increased volume of new mortgages and mortgage securities.
The poor understanding of mREITs by many investors might be to blame for the share price upheaval. Many investors simply do not understand how these trusts work or make money. Shareholders with a poor understanding of a company and its business are always more prone to panic selling, even if there's no basis for the panic.
Obviously, this kind of irrational selloff is what a value investor looks for- a strong stock being dumped only because everybody else seems to be selling it. I believe this is the case with American Capital. By Tuesday, August 14th, it had rebounded to $34.45 per share.
One person that thinks American Capital is a good buy is the company's president and Chief Investment Officer, Gary Kain. Mr. Kain spent $655,000 to purchase 20,000 shares of his company on August 7th. This action increased the number of shares Kain owns to 338,864. Investors are left wondering why Kain is so bullish on his own company. Does he know something we don't?
Most likely, Kain believes the residential mortgage market is recovering and growing, which will translate into more cash flow and profits for his company. Kain has a lot of mortgage industry experience. He used to be a top executive at Freddie Mac.
Record lows for mortgage interest rates have been driving refinancing and new mortgage issues in recent weeks. Rates are now so low that some experts think banks can no longer afford to let them go any lower. The volume of new mortgages has increased with Wells Fargo (NYSE:WFC), JPMorgan Chase (NYSE:JPM), and U.S. Bancorp (NYSE:USB) all reporting increased levels of mortgage origination.
The mortgage market seems to be on the upswing, which bodes well for American Capital. The share price is now approaching its 52-week high of $35.58. That makes it a growth stock with a lot of potential because of the resurgence of the mortgage industry.
If dividend history is anything to grow on, this will translate into increased dividends. The last American Capital dividend on June 19 was $1.25, which was the same amount paid out on March 5. Before then, American Capital paid a dividend of $1.40 a share for over two years from September 2009 to December 2011.
The only drawback to American Capital is that it may no longer be a value buy. The market seems to have caught on to the fact that this might be a good buy. I predict share prices will rise for the foreseeable future.
Investors might be better off with lower priced mREITs that have a higher dividend rate. In contrast to American Capital, Annaly Capital Management (NYSE:NLY) was trading at $17.08 per share on August 14th, and even though it was only half the price of American Capital, Annaly offered a dividend a $2.20 a share. Another popular mREIT, Dynex Capital (NYSE:DX), was an even bigger bargain than Annaly, trading at $10.32 per share on August 14th. Dynex was also offering a dividend rate of $1.16 per share at that time.
I believe mREITs such as Dynex and Annaly are the true value deals in this sector because of their lower share prices. Despite Mr. Kain's faith in his own company, American Capital is not the best pick for the average value investor. There are better deals available in the mREIT sector for those who are willing to shop around.
American Capital's recent movement shows that investor interest in the mREIT sector is increasing. Value investors interested in this area might have to move fast, as many mREITs will likely see an increase in share value from the booming mortgage sector.
Disclosure: I have no positions in any stocks mentioned, and no plans to initiate any positions within the next 72 hours.