Mexico, which has attracted nearly USD115 billion foreign direct investments in the last five years, is among the most attractive global investment destinations. This article discusses the reasons for being bullish on Mexico for long-term.
The investment rationale is primarily backed by rising U.S.-China tensions, which will benefit Mexico's exports and an increasing competitiveness of manufactured products in Mexico.
At the onset, I will summarize the current relations between U.S.-China followed by a summary on U.S.-Mexico relations.
The recent summoning of Robert S. Wang (Deputy Chief of the U.S. embassy in Beijing) by Zhang Kunsheng (Chinese assistant foreign minister) over the South China Sea issue illustrates an undertow in relations between the United States and China.
In Beijing, Zhang told Wang:
The [US State Department's] statement showed total disregard of facts, confounded right and wrong, and sent a seriously wrong message. It is not conducive to efforts by the parties concerned to uphold peace and stability in the South China Sea and the Asia-Pacific region at large.
The message is pretty direct and strong. Further, the intensity of allegations and counter allegations has increased over time between the two largest economies. It is also noteworthy that geopolitical tensions have risen significantly after the financial crisis.
From China being accused of being a currency manipulator to the recent veto by China and Russia against the draft resolution on Syria, indications of souring relations are clear.
The long-term implications of geopolitical tensions between a rising power and an existing superpower can be of serious nature for the world. In the short to medium-term, some countries stand to gain while others lose.
The U.S. relations with Mexico can be best summarized using the fact sheet from the U.S. Department of State:
U.S. relations with Mexico are important and complex. The two countries share a 2,000-mile border, and relations between the two have a direct impact on the lives and livelihoods of millions of Americans -- whether the issue is trade and economic reform, homeland security, drug control, migration, or the environment. The U.S. and Mexico, along with Canada, are partners in the North American Free Trade Agreement (NAFTA) and enjoy a broad and expanding trade relationship.

The scope of U.S.-Mexican relations is broad and goes beyond diplomatic and official contacts. It entails extensive commercial, cultural, and educational ties, with over 1.25 billion dollars worth of two-way trade and roughly one million legal border crossings each day. In addition, a million American citizens live in Mexico and approximately 10 million Americans visit Mexico every year. More than 18,000 companies with U.S. investment have operations in Mexico, and U.S. companies have invested $145 billion in Mexico since 2000.

Mexico is the United States' second-largest export market (after Canada) and third-largest trading partner (after Canada and China). Mexico's exports rely heavily on supplying the U.S. market, but the country has also sought to diversify its export destinations. Nearly 80 percent of Mexico's exports in 2011 went to the United States. In 2011, Mexico was the second-largest supplier of oil to the United States. Top U.S. exports to Mexico include mechanical machinery, electronic equipment, motor vehicle parts, mineral fuels and oils, and plastics.
These statements and developments point to a growing cordial relation between the two countries.
The fact that 50% of the FDI in Mexico (2000-2011) comes from United States underscores the point I am trying to make.
(click images to enlarge)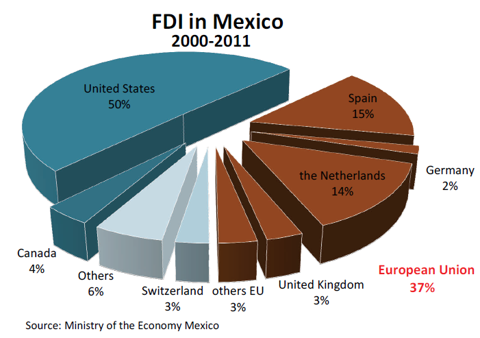 However, an improving relation is not enough to boost exports from Mexico towards the United States. Efficiency related to manufacturing is a critical factor when yuan appreciation has led to rising cost of imports from China.
The import price index for China has trended higher in the last three years, while the index for manufactured imports from Mexico has declined during the same period.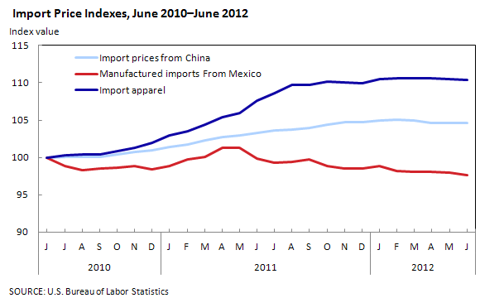 Mexico stands to benefit from the cost advantage over China. This is especially true in the present scenario, where China and U.S. relations are getting bitter.
The chart on wages in China and Mexico also points to gradually increasing wages in China.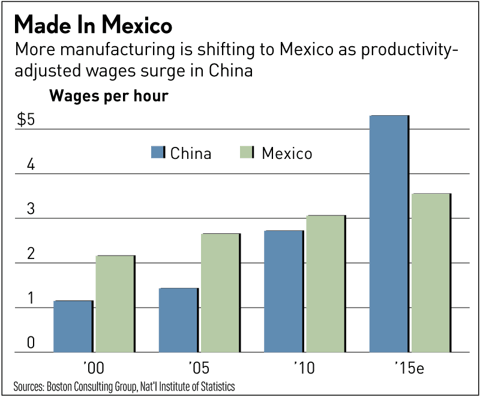 Therefore, it is not surprising to see U.S. companies investing heavily in Mexico. As mentioned above, U.S. companies have invested USD145 billion in Mexico since the year 2000.
Besides the competitive wage advantage, geographical proximity brings down logistics cost significantly when compared to imports from China. The benefits of trade within NAFTA should also not be ignored.
The evidence of a growing competitiveness and higher exports comes from total reserves (excluding gold) for Mexico. Reserves have swelled to USD156 billion as of June 2012.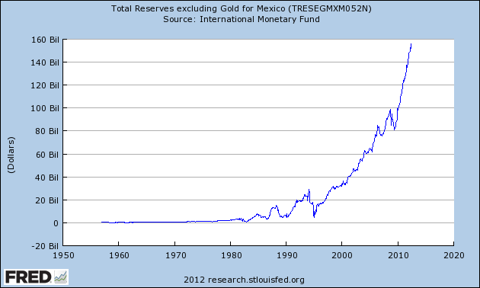 With a low debt to GDP ratio of 27% and an increasing reserve, there is ample headroom for infrastructure development. This, in turn, will attract more foreign investments.
It is also important to note that Mexico is an oil rich country. In 2012, Mexico and United States reached an agreement on regulating oil and gas development along their maritime border in the Gulf of Mexico. This development will open up more than a million acre of deepwater drilling according to the New York Times report. This is beneficial for both partners in the long-term.
Therefore, the factors of good relations with the United States, production competitiveness, low government debt, fairly low inflation and robust FDI make Mexico an attractive investment destination.
Investment Options

iShares MSCI Mexico Investible Market Index Fund (EWW) - The ETF seeks to replicate, net of expenses, the MSCI Mexico Investable Market index. The index consists of stocks traded primarily on the Mexican Stock Exchange. The largest holdings of the ETF are in the consumer staples, telecommunications and materials industry. The top holding of the fund is America Movil S.A.B. de C.V. (NYSE:AMX). The expense ratio for the ETF is 0.52%.
One of the risk factors for the fund is its high beta of 1.62 when compared with the S&P 500 index. Therefore, the fund might be subject to a high degree of volatility. The volatility factor might not be very important for investors considering long-term exposure to the ETF. Over the long-term, the fund will trend higher with improving economic fundamentals in Mexico.
Grupo Simec S.A.B. de C.V. (NYSEMKT:SIM) - The company is engaged in manufacturing, processing, and distribution of special bar quality (SBQ) steel and structural products primarily in the United States, Mexico, and Canada. SIM's structural steel products are mainly used in non-residential construction market and other construction applications.
From that perspective, the impact on growth due to a weak housing market is minimized. At the same time, the risk related to being in a cyclical industry cannot be completely ignored.
However, SIM currently trades at an attractive PE (TTM) of 6.18 and can give reasonable returns in the long-term. Investors can consider some exposure to the stock in their long-term equity portfolio.
Disclosure: I have no positions in any stocks mentioned, and no plans to initiate any positions within the next 72 hours.