Agriculture and forestry equipment company Deere (NYSE:DE) claims its recent downward revision of guidance for 2012 was related to macroeconomic and manufacturing issues, and not related to drought conditions. In its Q3 earnings call, held on August 15, 2012, the company reported a 16% increase in sales over the prior year's quarter, which also represented record revenue/profit for a third quarter. Deere believes 2013 will be a very positive year, yet reduced its 2012 earnings guidance from a previous forecast of $3.35 billion to a revised forecast of $3.1 billion.
The company attributed half of the downward revision to softening market conditions outside of the U.S., mainly China, India and EU-27, and half due to manufacturing execution related to the production of a new North American Combine. China was soft due to government subsidy payments being delayed to farmers. Softness was also experienced as a result of import license grants in Argentina and a weaker Reais in Brazil. Additionally, the wheat harvest has been accelerated by four or five weeks in some areas, which has resulted in the late delivery of machines with respect to the harvest. Deere believes it has resolved the manufacturing issues and believes the shortfall in Q3 related to manufacturing issues will be made up for in Q4. The real proof for the "makeup" will be seen in Q4 when it is learned whether the issues related to manufacturing resulted in delayed opportunity or lost opportunity. It also remains to be seen whether some of Deere's competitors such as AGCO's Massey Ferguson (NYSE:AGCO) or CNH Global (NYSE:CNH) can step in and take advantage of Deere's missteps.
In its Q3 conference call, Deere also noted drought conditions are not just limited to the U.S., as the Black Sea Region is seeing drought conditions and the monsoon in India is diminished over previous years, which could result in reduced crop yields.
For 2012, Deere forecasts U.S. and Canada Agriculture to be up 10%, EU-27 to be flat, Commonwealth of Independent States to be up strongly, Asia to be down moderately, South America down 5-10% and U.S. and Canada Turf flat to up 5%.
Deere maintains a rosy outlook for 2013, even in the face of a drought, due to the high percentage of farmers participating in crop insurance, as 85% of farmers participated in 2011 and as much or more may be enrolled in crop insurance in 2012. So, even though the corn crop is burning up in the field, the majority of farmers are not hurt too badly, as they have good insurance. And, if the price of corn remains high in 2013, then farmers positive about prospects for 2013 could be more eager to replace their farm equipment.
Following Deere's guidance revision, the company's stock priced took a pretty good hit as shown below: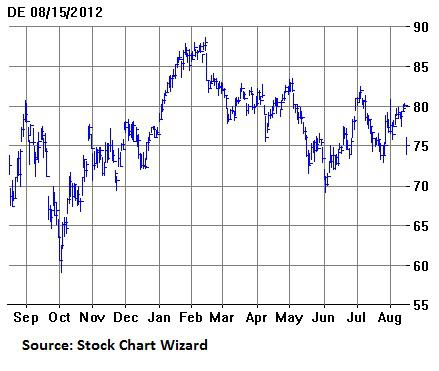 Deere's stock price is currently just above its previous support level in the $73 range and has been in a trading range between $70 and $85 for the last several months.
A bull-put credit spread is a good trade to consider when a quality company's stock price gets negatively hit due to a short-term negative issue, like Combine manufacturing issues in Deere's case. A bull-put credit spread may be entered for a net credit by selling one put option and purchasing a further out-of-the-money put option. The goal is for the options to expire worthless and retain the initial net credit as profit.
Using PowerOptions, a variety of bull-put credit spreads for September expiration are available as shown below: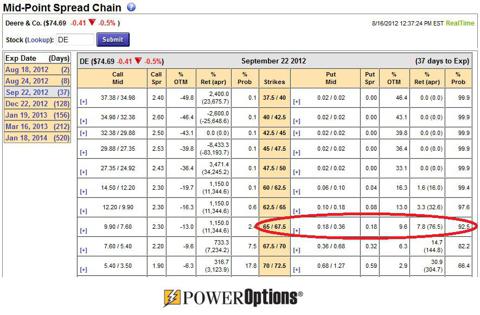 The DE 2012 Sep 65/67.5 bull-put credit looks attractive with a potential return of 7.8% (76.5% annualized) and a separation between the stock price and the strike price of the short put option of 9.6%. The bull-put credit spread may be entered for a net credit of $0.18 by selling the DE 2012 Sep 67.5 put option at $0.36 and buying the DE 102 Sep 65 put option for $0.18.
DE Bull-Put Credit Spread Trade
Sell DE 2012 Sep 67.5 Put at $0.36
Buy DE 2012 Sep 65 Put at $0.18
A profit/loss graph for one contract of the Deere bull-put credit spread is shown below: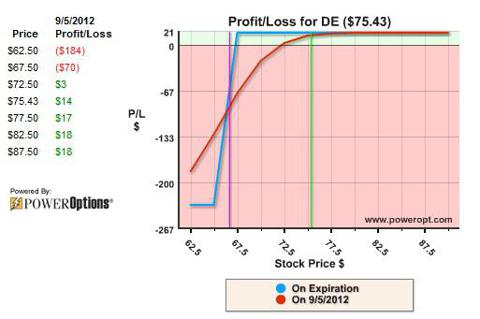 For a stock price greater than the $67.5 strike price of the short put option at expiration, the position returns the full profit of 7.8% (76.5% annualized). For a stock price less than the $65 strike price of the long put option at expiration, the position results in a total loss, however, the position should be exited or rolled prior to realizing a loss.
A management point of $70 is set for the position. If the price of the stock drops below the $70 management point, then the position should be managed for an exit or a roll.
Disclosure: I have no positions in any stocks mentioned, and no plans to initiate any positions within the next 72 hours.