Although macroeconomic conditions remain depressed, some recent positive trends have made us bullish about International Paper's (NYSE:IP) stock. The company has been able to maintain high dividend yields, and its free cash flow yield of more than 10% is very lucrative. In addition, it has started to expand its fluff pulp production due to rising demand for personal-care products, especially in Asia. Meanwhile, its acquisition of Temple-Inland has started to deliver synergies, which makes us optimistic about IP's long-term prospects. The stock is currently trading at almost $34, while our target price is $44.
Company Description
IP is a global paper and packaging company, and is the world's largest producer of paper products. The company has four major segments: Industrial Packaging, Distribution, Printing Papers, and Consumer Packaging. The following charts show the segmental breakdown of its FY 2011 revenue as well as its geographical exposure.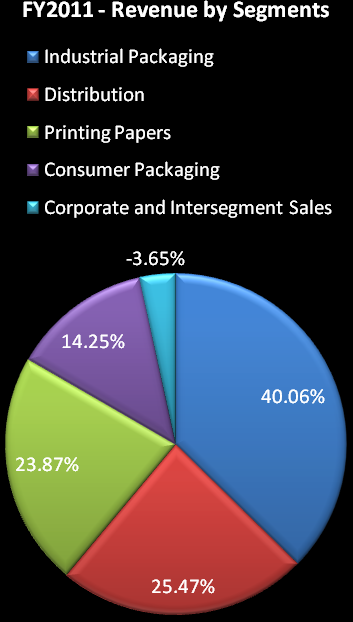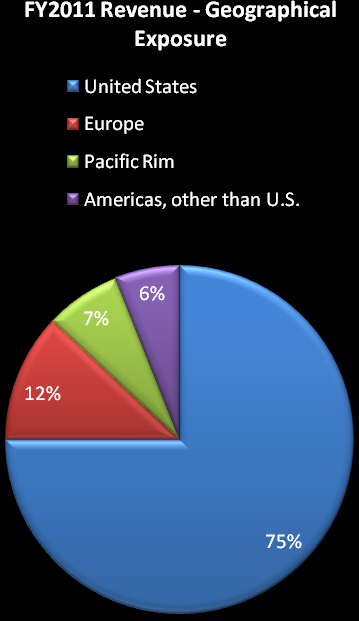 Latest Earnings Review
The company announced its latest earnings on July 26, according to which the company's profit dipped by 39% to seasonal outage delays from 51 cents per share in Q2 2011. Excluding restructuring and other one-time items, the foreign exchange swing dipped to 46 cents from 79 cents. The primary reasons the company has attributed to this decline are the seasonal outage delays at several of its plants, along with the one-time unfavorable foreign exchange swing at a joint venture in Russia.
The company's foreign exchange swing reduced to 25.5%, relative to 26.6% in the last year, as a result of an increase of 8% in input costs during the same time horizon.
Bullish Factors
Expanding Asian market for personal-care products
Three years ago IP closed one of its largest paper mills at Franklin, Va., but is now going to reopen it so as to increase its production of fluff pulp, an absorbent used in diapers, tampons, and some medical bandages. This is a result of increasing demand from emerging markets, especially in Asia. According to the Wall Street Journal, IP's VP and General Manager for pulp Rildo Martini said, "There is a huge, huge opportunity as families in the burgeoning middle classes of China, India, and other Asian countries are seeking more personal hygiene and baby care products."
Integration of newly acquired Temple-Inland
IP acquired its rival maker Temper-Inland in February for $3.7 billion. The company expected to save around $300 million over two years, but has now increased its EBITDA to $400 million. Now the company is targeting an EBITDA of $5.1 billion annually within three to four years, relative to $3.7 billion in 2011.
This increase in the cost-saving target and improvement in EBITDA estimate show that the acquisition has proved fruitful, as the company is able to deliver synergies. This integration is what is giving a competitive advantage to IP and will be beneficial for the company for years to come.
Improvement of containerboard industry
Although the demand for containerboard, a special type of paperboard used for production of corrugated board, has remained flat amid weak macro conditions, the suppliers are keeping inventory levels low, which is going to improve the industry fundamentals. Recently, almost all containerboard producers have announced a $50 per ton price increase for early to mid-August. This is good news for IP, which is the leading manufacturer and exporter of containerboard (one of its main products in its industrial packaging segment).
Sustainable dividend and free cash flow yields
IP's free cash flow yields have exhibited volatile patterns lately, but currently lie above 10%. Its dividend yield has also remained sustainable, which is a good incentive for dividend seekers.
Click to enlarge images.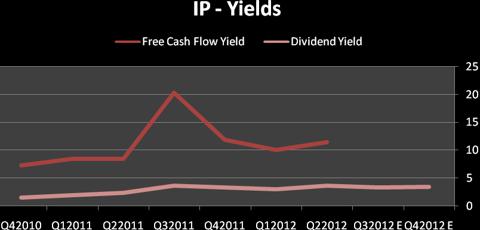 Valuation
| | | | |
| --- | --- | --- | --- |
| | IP | UFS | PKG |
| Forward P/E (1 year) | 10.12 | 9.38 | 13.26 |
| EV/EBITDA (FY2013E) | 5.5x | 4.6x | 6.2 |
| Dividend Yield | 3.2% | 2.50% | 3.3% |
| Share price performance (YTD) | 15.24% | -7.71% | 25.55% |
IP is a cheap stock relative to Packaging Corp. of America (NYSE:PKG), as its EV/EBITDA ratio of 5.5 times is less than that of the latter's 6.2. Domtar Corp. (NYSE:UFS) is very attractive if our sole focus is valuations. However, its stock has performed poorly amid weak operating performance. IP's current dividend yield is 3.2%, while, as already mentioned, it has the ability to sustain its dividends.

Source: Google Finance.
Target Price
We have come up with a target price for IP of $44 based on EBITDA estimates for FY 2013 end. The stock is currently trading at around $34.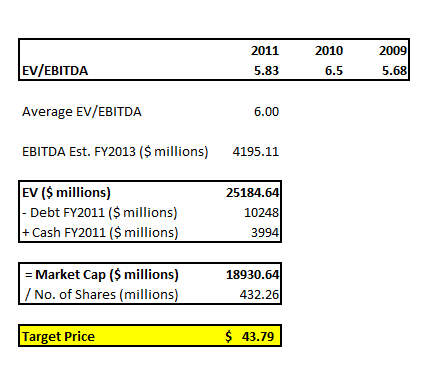 Disclosure: I have no positions in any stocks mentioned, and no plans to initiate any positions within the next 72 hours.