In our reports on American Capital Agency (NASDAQ:AGNC) and other mREITs, we make it a point to approach the company and the sector with the proper perspective. We have moderated our enthusiasm on AGNC a bit after it released its secondary offering on July 17 because we felt that its 17% premium to book value was a bit too much relative to what we would like to see from the company, especially in light of declining spread income and an increase in its otherwise low projected CPR prepayment rates (AGNC's projected prepayment rates increased from 9% in Q1 2012 to 12% in Q2 2012). However, it is remains one of our three favorite mREITs. AGNC's Q2 2012 results were a far cry from the results it achieved in 2011 and Q1 2012, but we can still expect 10-14% dividend yields from this high quality, mREIT industry leader.
Having said that, we were actually happy to see Macquarie's downgrade of AGNC on Wednesday from an outperform rating to a neutral rating because, in our opinion, we felt that some pull-back in the company's shares was due. Before the secondary public offering was released, AGNC's shares were trading at a premium to book value of over 17%. As much respect as we have for Gary Kain and his team at AGNC, we didn't feel that a 17% premium to book value was warranted.
We are aware of the fact that mREITs have the ability to use leverage on a level that mutual funds, ETFs and separate accounts only dream of. Considering the capital controls being put on banks, we believe a well-run portfolio of mREITs has the potential to generate investment returns comparable to a portfolio of common stocks in well-known banks. Now that the company's stock price has seen a slight decline of 4.3% relative to its all-time high of $35.58, and its book value has increased from $29.41 in Q2 2012 to $30.39 based on its estimated QTD comprehensive income of $.52 per share, and based on its ability to sell its stock at a 15% premium to book value in July, we believe that its adjusted premium to book value of less than 12% is a bit more palatable for us and rational investors.
(click images to enlarge)

Click to enlargeSources: AGNC's Q2 Earnings, Secondary Offering and Saibus Research's Estimates
Other recent reports on AGNC include buy ratings from Jefferies and Nomura, as well a hold rating by Wunderlich. Wunderlich recently increased its target value by $1 per share to $35.
AGNC was not the only mREIT to see a recent downgrade by the analyst community. On August 6, FBR Capital Markets downgraded Annaly Capital Management (NYSE:NLY), which is the biggest mREIT in the industry, and a company that we see as a bellwether of mREITs, despite its lackluster performance relative to Gary Kain and AGNC. FBR expressed the same concerns about Annaly that we have seen even with AGNC with regards to narrowing spread income and increased CPR prepayment speeds. While AGNC's projected CPR prepayment rate had increased from 9% in Q1 to 12% projected in Q2 2012, it was still less than Annaly's 19% CPR prepayment rate. AGNC was able to see only 10% actual CPR in both quarters, though.
We believe that investors should moderate their expectations with regard to dividends from the mREITs. Because mREITs are facing a compressing yield curve, it is only natural for these companies to generate narrower investment income spreads. Also, a number of mREITs are reducing leverage, which will further narrow spread income per share. This will eventually serve to reduce dividend distributions to shareholders.
As many of these mREITs have taxable investment gains, we would believe that any potential dividend cut due to reduced investment income would be partially softened by the mandatory distribution of pro-forma taxable gains, however when the gains are distributed, dividends will continue to drip down. We'd also like to point out that even if AGNC cut its dividend by 25% to $.94 per share (AGNC's Q2 2012 net spread income), it would still provide a solid 11% dividend yield to patient, prudent and rational investors.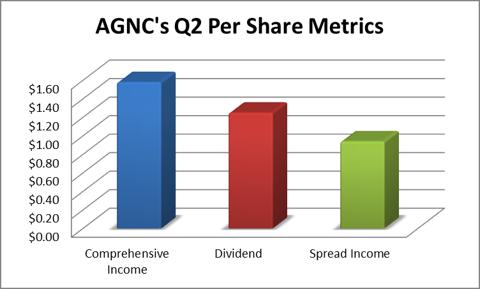 Click to enlarge
Source: AGNC's Q2 Earnings Release
In conclusion, we still see AGNC as one of our three favorite mREITs. While we don't see a repeat of the impressive run the company has enjoyed since 2008 due to its massive size, flattening interest spreads on MBS securities and 12% adjusted premium to book value, we still believe that AGNC is one of the top mREITs in the industry. We believe that investors who are looking for high-yielding, high quality investment instruments should keep AGNC at the top of their watch lists in order to strike if the premium to book value potentially drifts downward from its adjusted 12% premium as of August 16.
Disclosure: I have no positions in any stocks mentioned, and no plans to initiate any positions within the next 72 hours.
Additionally, Saibus Research has not received compensation directly or indirectly for expressing the recommendation in this report. Under no circumstances must this report be considered an offer to buy, sell, subscribe for or trade securities or other instruments.