We previously published our investment analysis series on how mobile carriers benefit from carrying the iOS enabled mobile communication devices from Apple Inc. (NASDAQ:AAPL), the worldwide (profit) leader in the mobile communication devices industry.
On August 9, we analyzed and evaluated Apple's bold move to match the $50 price cut on its iPhone 4S devices at its Apple Stores in response to Sprint's (NYSE:S) unilateral $50 price cut on iPhone 4S devices sold through Sprint. We were pleased to see that Apple was willing to sacrifice margin in order to potentially boost its sales of iPhone 4S devices, especially because Samsung (OTC:SSNLF) has opened up a commanding lead in terms of smartphone sales during the most recent quarter. While we believe that a number of people were putting off the purchase of an iPhone 4 or 4S due to the iPhone 5 being launched in September, we were glad to see that Apple wasn't going to stand idly by and that it was willing to make tactical pricing decisions.
Apple's recent price cut was in a significantly different context than Nokia's (NYSE:NOK) $50 price cut in July. Nokia and AT&T (NYSE:T) announced a $50 price cut on the Nokia Lumia 900 Windows Phone Smartphones at AT&T three months after a widely anticipated and celebrated product launch. Then again, when Nokia only sells about 250K (according to Sanford C. Bernstein analyst Pierre Ferragu) of its Lumia POS smartphones at AT&T, we think that $50 price cuts are too moderate a price move. We think that the estimated 250K Lumia unit sales at AT&T is pretty disappointing, especially when Nokia had development support from Microsoft (NASDAQ:MSFT) in making the Windows Phone and marketing support from AT&T. Since Apple sold more iPhone smartphone devices in a down quarter versus the combined level of smartphone device sales at Nokia and Research In Motion (RIMM) combined, we don't really believe that those companies are a competitive threat to Apple. However, because Samsung sold more of its Galaxy smartphone devices than Apple, Apple needs to keep its eye on its erstwhile Korean partner.
(click images to enlarge)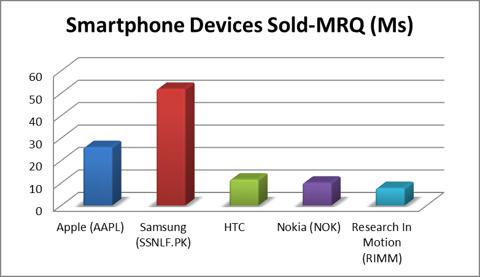 Click to enlarge
Source: BGR
While we can see that Apple has fallen behind Samsung in terms of smartphone unit volumes (26M iPhones sold in MRQ versus 52M Samsung smartphones, according to Juniper Research), we take note of Apple's dominance in tablet computer sales. Apple sold over 17M iPad tablet computing devices in its most recent quarter, and this mostly, but not totally, helped offset weak sales of its iPhone smartphone devices. Apple sold over twice as many tablet computers as the rest of its competition (also known as the bums of the month club). Now that only AT&T is providing a $150 subsidy for a pre-owned Samsung Galaxy 8.9 tablet with a 2-year qualifying AT&T data contract and T-Mobile is providing $50-$80 subsidies for the Galaxy 10.1 tablet and the 7.0 tablet, respectively, we don't expect Samsung to gain much ground against Apple in the tablet segment. Nokia is such a non-factor in the tablet computing space that its Windows Phone partner Microsoft decided to bypass it with the introduction of its Surface tablet. Research in Motion is hardly a company in motion with regard to tablets, as it has only shipped 250,000 BlackBerry Playbooks.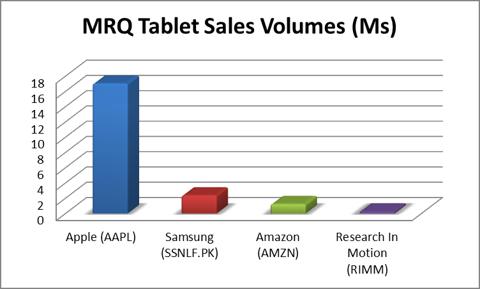 Click to enlarge
Source: IDC
Despite the fact that Apple sold less iPhones than Samsung in the most recent quarter, Apple's mobile device revenue of $26.5B in its most recent quarter still exceeded Samsung's mobile device revenue of ~US$21B in its most recent quarter due to Apple's dominance in the tablet computing sector. Also, Apple focuses on higher-end consumers than Samsung, and is able to realize a higher level of revenue per unit sold. While we are happy that the popularity of Apple's iPhone device enables it to sell it for higher prices than Samsung's POS Smartphone line, we appreciated the $50 per unit price cut in order to keep competitors honest and to clear out iPhone 4S inventory in favor of the widely anticipated iPhone 5.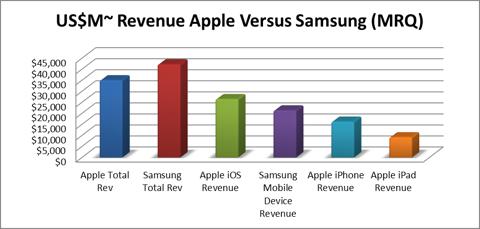 Click to enlargeSource: Our Most Recently Published Apple Report
The argument that Nokia and Research in Motion bulls make is that people misunderstand those two venerable money losing device makers. Bulls in Nokia and Research In Motion insist that all is well with those two beleaguered business entities. Such investors also insist on snide snarky remarks about Apple's success because Apple is an "American company with a U.S.-centric mindset." Such investors also say that investors "misunderstand Nokia and Research In Motion because those august device makers are 'global telecom firms, competing in a 'global market' and have a 'global outlook and vision.'"
OK, let's examine that thesis. We noticed that Apple's International Revenues in its most recent quarter ($22.2B) dwarfed the trailing twelve month revenue of Research In Motion ($16.3B). Apple's MRQ International Revenue also exceeded Nokia's total consolidated revenue in the most recent quarter. Then again, Apple's American revenues also exceeded Nokia's total revenue in the most recent quarter as well. In fact the one area Nokia's Devices Division saw its revenue grow was in the U.S., due to the introduction of the Lumia 900 Windows Phone developed in conjunction with Microsoft and marketed in conjunction with AT&T. We guess Nokia would like to walk back its decision to not create a phone for sale at Sprint and Verizon, especially because Apple brought its popular iPhone devices to those carriers and it seems to be working out pretty good for Apple. We can safely conclude that Nokia/RIMM has the global vision rhetoric, while Apple has the global revision revenue. Thank you very much!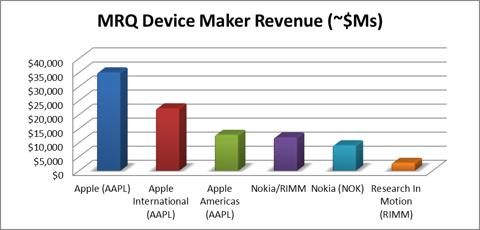 Click to enlargeSource: MRQ Releases from Apple, Nokia and RIMM
In conclusion, despite Apple's soft results in its most recent quarter as well as the expected weakness in Q4, Apple is still the global leader in mobile communication device revenues and profits. Though we are going to use Apple management's conservative $7.65 EPS guidance for Q4 2012 rather than the $8.33 consensus EPS estimate by Wall Street Analysts, we are expecting Apple's financial performance to pick up after September 12, when it releases the widely anticipated iPhone 5.
While Samsung is better at generating higher unit sales volumes of its smartphone devices, Apple is able to generate a higher profit margin from its devices, and that is why it is the global leader in mobile communications devices. Apple is also far and away the unquestioned, undisputed King-Of-The-Mountain with regards to tablet computing devices. Even with regards to the whole device subsidy issue, Apple and its subsidies are less reprehensible than Samsung and its subsidies. We previously discussed while Apple benefits from voluntary subsidies of its iPhone smartphone devices provided by mobile carriers like AT&T , Verizon (NYSE:VZ) and Sprint, Samsung previously benefited from subsidies on its tablet computing devices from the mobile carriers. We also mentioned how Samsung Electronics also benefitted from taxpayer-funded subsidies for its product line across all divisions as well. Despite Apple's soft performance in its most recent quarter, it still generates more than twice as much profit ($8.8B) as Samsung's mobile device division ~US$3.7B.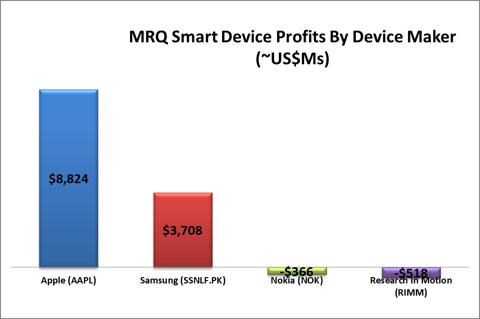 Click to enlargeSources: Most Recent Earnings Releases from Apple, Samsung, Nokia and RIMM
Disclosure: I am long S, AAPL.
Additional disclosure: Saibus Research has not received compensation directly or indirectly for expressing the recommendation in this report. Under no circumstances must this report be considered an offer to buy, sell, subscribe for or trade securities or other instruments.