What was once a frequent debt issuer came to market yesterday with a new unsecured debt issue. International Lease Finance Corp (NYSE:AIG) issued ten year notes Thursday.
Here are the details:
Covenants:
Restrictions on Liens. There is a 12.5% tangible asset carve out, and does not apply to liens to secure the payment of all or part of the purchase price of such property (think planes).
Restrictions as to Dividends and Certain Other Payments. No dividends or certain payments made when an event of default exists.
Restricted subsidiaries will not become unrestricted subsidiaries.
Merger and Sale of Assets. The company cannot merge or sell substantially all of their assets to any entity, unless that entity assumes the debt and the transaction does not cause an event of default.
These are standard investment grade covenants and are consistent across their debt. Protection here is limited.
Financial Snapshot: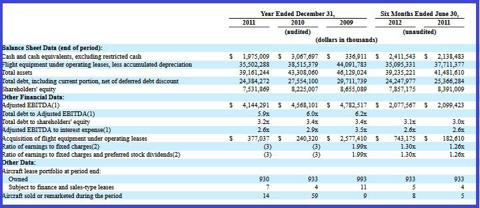 As the above table from the prospectus shows, the company has been selling aircraft, delevering (marginally) and raising liquidity. The goal would appear to be ratings upgrades (needed to bring down interest costs) and potentially preparing for an initial public offering.
Risks/Considerations:
Steven Udvar-Házy, the former CEO who managed the company through the 2001 downturn is now with Air Lease Corp (NYSE:AL). Udvar-Hazy was responsible for the growth and vision of ILFC. AIG has named Laurette T. Koellner, a former Boeing (NYSE:BA) executive, to the role of executive chairman.
As of June 30, 2012, ILFC had approximately $0.9 billion and $4.0 billion of indebtedness maturing during the remainder of 2012 and in 2013, respectively. In addition, they currently have commitments to purchase 239 new aircraft and seven used aircraft for delivery through 2019 with aggregate estimated total remaining payments of approximately $18.2 billion.
For the six months ended June 30, 2012 and the year ended December 31, 2011, we generated approximately 42% and 44%, respectively, of our total revenues from rental of flight equipment from European lessees.
Since the beginning of 2011, 13 customers have ceased operations and returned 55 aircraft, and two other customers, have filed for bankruptcy and returned seven owned aircraft. Ten of the customers that ceased operations were airlines operating in Europe.
Bottom Line: While International Lease Finance Corp is the largest of the aircraft lessors, their funding costs are higher than large peers, their role within AIG (non-core) is uncertain and is subject to change (IPO) and their profitability is somewhat weaker than peers (although liquidity and debt metrics have begun to increase). Add to this the uncertain nature of the European airline sector (as well as emerging/developing markets) and the US airline industry, I think there is better value available elsewhere.
Disclosure: I have no positions in any stocks mentioned, and no plans to initiate any positions within the next 72 hours.
Additional disclosure: This article is for informational purposes only, it is not a recommendation to buy or sell any security and is strictly the opinion of Rubicon Associates LLC. Every investor is strongly encouraged to do their own research prior to investing.