Shares of chemical manufacturer Huntsman Corporation (NYSE:HUN) are up more than 46% so far in 2012. However, I believe there are three reasons why HUN can continue to rally.
Options Activity
Option Monster reported on the high level of bullish options activity recently: investors purchased the September 14, 15, and 16 strike calls. Volume at all of those strikes was significantly above open interest which means these are new positions. In total, during the session, call volume outnumbered put volume by a ratio of 10 to 1. The large block trades likely represent institutional money. Institutional money is usually smarter, thus worth following. In summary, the recent options activity points to more upside ahead for HUN in the short term.
Short Interest
Currently, short interest in HUN stands at 11.17 million shares or 5.8% of the float. While this is not a huge short interest, it is significant. Based on average volume of roughly 3 million shares, it would take nearly 4 trading sessions for shorts to cover their positions. If the stock continues to move higher, shorts will likely feel pressure to cover which can lead to a short squeeze.
Relative Valuation
As shown by the chart below, compared to other chemical companies such as Dow Chemical (NYSE:DOW), Eastman Chemical (NYSE:EMN), E. I. du Pont de Nemours and Co. (NYSE:DD), and Airgas (ARG) HUN is trading at a cheaper valuation. Despite the more than 46% rise so far in 2012, HUN remains cheaper than its peers. Market participants may look to rotate out of more expensive names such as DOW and ARG into the cheaper HUN.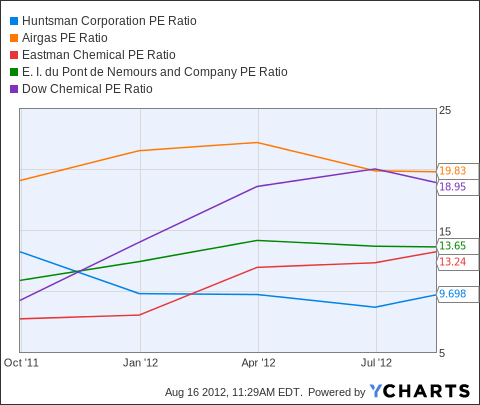 HUN PE Ratio data by YCharts
Leverage
It should be noted, as shown by the chart below, that HUN is more leveraged than its peers. The additional leverage makes HUN a riskier play if business gets weak. That being said, this is a risk that investors are currently willing to take because the economy looks to be improving. However, if the economy slows down, HUN will probably get hit harder than other, less leveraged, chemical stocks.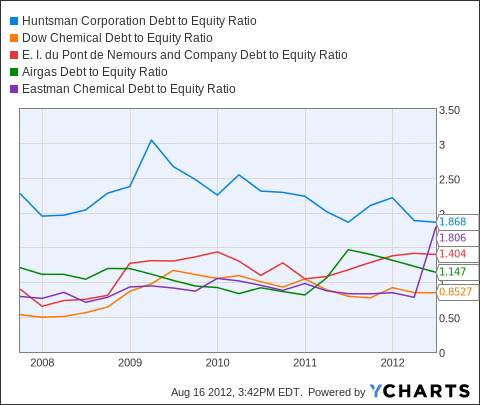 HUN Debt to Equity Ratio data by YCharts
Conclusion
While HUN shares are already up by more than 46% so far in 2012, I believe the stock can continue to rally. I believe this because of the bullish options activity, high short interest, and cheap relative valuation. Because of the leverage, one thing that would make me change my position on HUN is if global growth slows.
Disclosure: I have no positions in any stocks mentioned, and no plans to initiate any positions within the next 72 hours.