Business
Flower Foods (NYSE:FLO) is a bakery goods manufacturer and marketer. It was founded in 1919 and is headquartered in Thomasville, Georgia. It operates 44 bakeries that produce breads, buns, rolls, snack cakes and other baked items. It has a strong presence in the Southeastern, mid-Atlantic and Southwestern states where its products are distributed to foodservice and retail customers.
Brands
The company's top brands include Nature's Own, Whitewheat, Cobblestone Mill, Tastykake, Mrs. Freshley's, European Bakers, BlueBird, and Mi Casa. Among the company's top regional brands are ButterKrust, Captain John Derst's, Sunbeam, Bunny, Mary Jane, Aunt Hattie's, and Holsum. Its biggest brand is Nature's Own which is expected to generate almost a $1 billion in revenue for 2012.

The company has two operating segments - the Direct Store Delivery (DSD) Segment and the Warehouse Segment. The DSD segment handles fresh breads, buns and snack cakes that reach almost 70% of the US population via a network of independent distributors. The Warehouse segment is responsible for distribution of snack cakes and frozen breads/rolls to customers' warehouses via contract carriers.
Competition
The bakery business is fragmented and there are no other bakery-only stocks listed on the US exchanges. Mexico's Bimbo Bakeries is the largest bakery in the US. It is a private company that owns some of the best known brands including Sara Lee, Arnold/Oroweat and Bimbo. Hostess Brands is another private company famous for its namesake branded bakery items. Other comparable companies include Annie's Inc. (NYSE:BNNY), B&G Foods Holdings (NYSE:BGS), ConAgra Foods (NYSE:CAG), Farmer Brothers (NASDAQ:FARM), General Mills (NYSE:GIS) and Hillshire Brands (NYSE:HSH) which is the new name for Sara Lee.
Financial Performance
The company has a long-term growth objective of growing organically by 3-5% and an extra 2-5% through acquisitions and mergers. It aims at an EBITDA margin of 11-13%. The company has projected an EPS growth of 4-8% for 2012. The company has been able to launch new products successfully over the last few years. This has helped the company to grow revenue and profits in the high single digits. Flower Foods has made more than 100 small-to-medium size acquisitions since it was founded. Some key acquisitions in the last 5 years include Lepage Bakeries in May 2012, Tasty Baking in May 2011, Leo's Foods in Oct 2009, Bakery Mix Plant in May 2009 and ButterKrust Bakery in August 2008 and Holsum Bakery also in August 2008. The management has indicated that it will continue to look for meaningful acquisition opportunities around the country.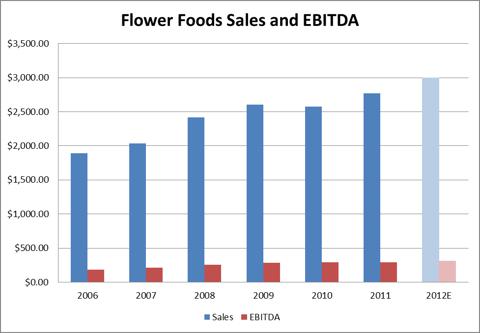 Cash Distribution
The company has used cash quite effectively over the last few years. It pays a quarterly dividend of $0.16 per share which amounts to a future yield of approximately 3% at current market price. The dividend growth rate for the last year was 12.9%, and the compounded annual growth rate over last 3 years was 15% while the DGR for last 5 years was 22.5%. The dividend growth rate is definitely slowing down as the payout ratio has increased. I expect the company to maintain dividend growth in high-single digits over the next few years.
The company continues to use a smaller cash amount every year to buy back shares. It is always encouraging to see companies that pay a good dividend as well as buy back shares regularly. This is helps reduce the impact of equity dilution due to management stock options and acquisitions and often prevents the stock price from falling irrationally during a period of prolonged market mood swings.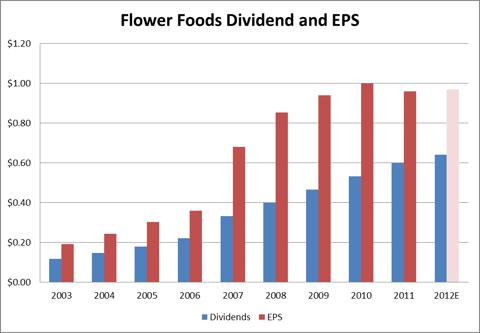 Quarterly Results
First quarter results announced May 24 were very encouraging. Sales increased 12% to $898 million helped by a 7.9% increase due to Tasty Baking acquisition in 2011. However, due to increased input costs, the diluted EPS fell 6.7%. The company announced a $31 million expansion of its Oxford, PA bakery that would help bread production. Second quarter results announced August 14 were similar to first quarter results. Lepage Bakeries acquisition was completed in July which fueled a 6.1% increase in revenue over the second quarter of last year. However, the EPS was flat at $0.21. The company has given an indication of 7-9% increase in sales for the current year over 2011. The company expects an EPS of $0.96 for the current year which gives a forward P/E of approximately 21 at current market price of $20.
Concluding Remarks
The stock is not cheap but I expect the company to increase profits and dividend distributions in the coming years. I have faith in the company's management and believe that they will continue to make meaningful acquisitions while maintaining organic growth initiatives that will lead to faster growth than seen in the recent few quarters. I will add to my current position if the stock comes down to $18 at which point it will yield 3.5%. As a corollary, if the stock runs up to $26 then I will sell it to book profits. I will then look elsewhere for better yield and stronger dividend growth prospects.
Disclosure: I am long FLO.