There are stocks like Amazon (NASDAQ:AMZN), Facebook (NASDAQ:FB), or LinkedIn (NYSE:LNKD) that sell at stratospheric valuations. There are companies that are on the ropes like Nokia (NYSE:NOK) or RIM (RIMM). People love to short them. It makes sense: PEs greater than 100 are tough to justify; crumbling business strategies beckon short sellers.
And then there's the Buckle (NYSE:BKE), an apparel store I guarantee you most Wall Street analysts have never been in. Selling to well-healed young adults (denim average price over $92), this regional-going-to-national doesn't cater to the fickle teen market. Its model: conservative growth with strong dividends.
Yet the Buckle has drawn its share of heat: 42% of the float has been sold short. Yesterday, the Buckle reported in-line revenue and earnings. The stock jumped more than 4% as the shorts were forced to cover, as they were expecting a disaster. This giant short position is nothing new - it's been greater than 20% for 3 years.
With 42% short, you'd think the Buckle has a PE over 100 or have a failing business? No, its PE is 12 and its business is steady. The shorts are nuts and here are the 6 reasons why:
1. The Buckle is steady Eddie earnings producer, not like Aeropostale (NYSE:ARO), American Eagle (NYSE:AEO), and Abercrombie & Fitch (NYSE:ANF).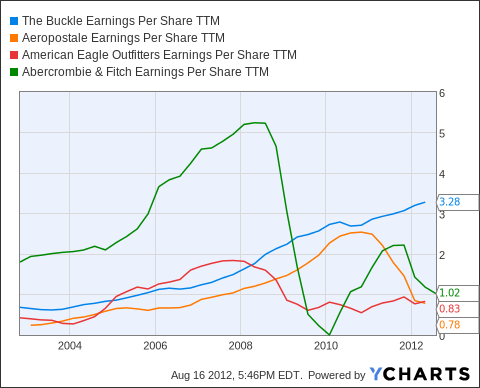 2. The Buckle has been increasing its cash operations year after year.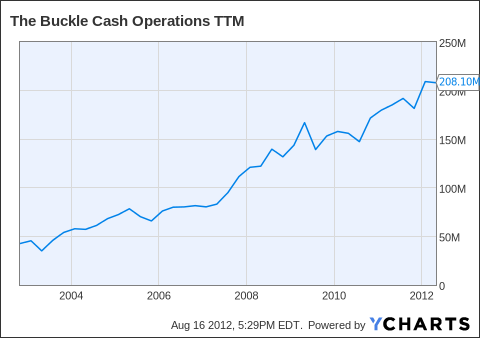 Aeropostale, American Eagle, and Abercrombie haven't been able to consistently increase operating cash flow.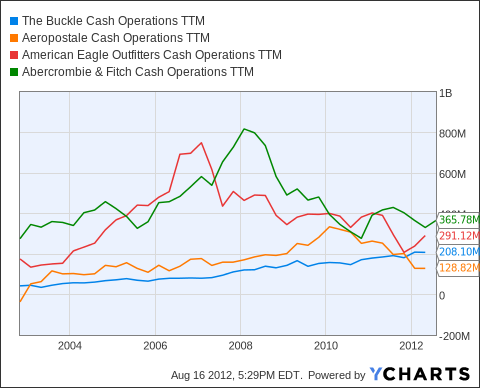 3. Management has improved operating margins. Very few retailers can give shareholders 22% margins. Even in difficult markets (2008 to 2009), the Buckle has increased its margins.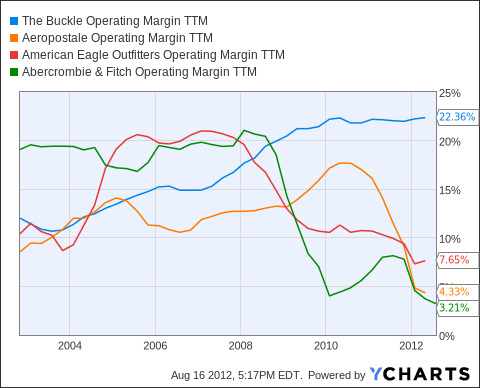 4. The stock is cheaper than its peers. Hey, it's cheap compared to the market.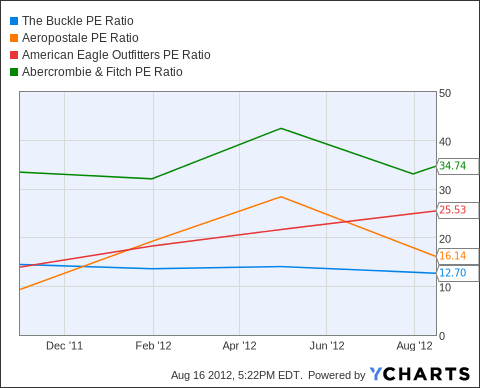 5. The Buckle loves to give special dividends on top of its regular dividend. For the last 3 years, the Buckle has handed investors extra cash. Check out the dividends on the Buckle and its peers.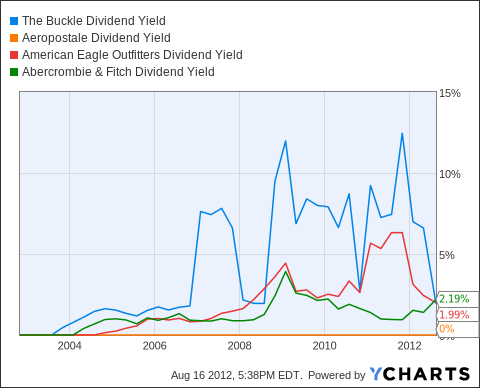 Here's a chronicle of the special dividends and dividends versus its competitors.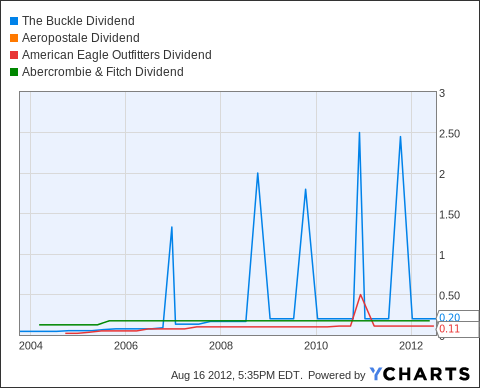 BKE Dividend data by YCharts
6. The Buckle will likely give a special dividend this year. On its conference call, Sterne, Agee, and Leach analyst Margaret Whitfield inquired as to the minimal amount of cash the Buckle needs on hand. She knows the Buckle has built up a fortress of cash. Per the call, capex for the year will be 30 to 34 million, leaving a ton of dough available for a special dividend.
We already know the minimum cash Buckle likes to keep on its books. Check out the history of Buckle's cash and short term investments below. The nadir points occur after the special dividends. The Buckle usually leaves itself $80 to $110 million. Right now, it's got $200 million in the vault, leaving a hefty $2 to $2.75 special dividend.
Whitfield might be jumping the gun. The Buckle is more likely to wait until December to declare a special dividend. That way the Buckle accumulates more cash to disperse to shareholders before the tax-advantaged treatment of dividends ends January 1.
The shorts are wrong. The Buckle is worth owning. You get steady growth, conservative management, and a juicy dividend, all at a PE of 12. What's not to like?
Disclosure: I am long BKE.
Additional disclosure: Disclaimer: The opinions in this document are for informational and educational purposes only and should not be construed as a recommendation to buy or sell the stocks mentioned. Past performance of the companies discussed may not continue and the companies may not achieve the earnings growth as predicted. The information in this document is believed to be accurate, but under no circumstances should a person act upon the information contained within. We do not recommend that anyone act upon any investment information without first consulting an investment advisor as to the suitability of such investments for his specific situation.