By Rom Badilla
Economic data released yesterday suggests further signs that the housing recovery is taking shape. Yesterday, U.S. Housing Starts fell 1.1% in July to annualized number of 746,000 homes. The market was disappointed since the median of economists' forecasts was at 756,000. While the rebound of the housing market halted for now, current underlying trends remain intact it seems.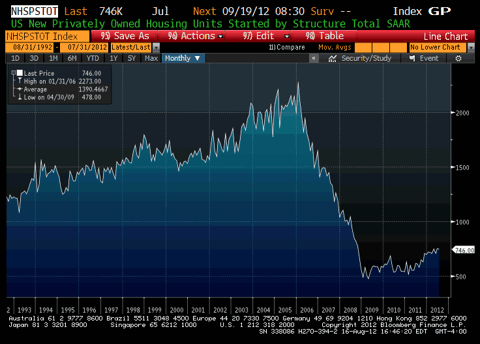 Click to enlarge
Housing Starts (Click to enlarge)
Despite the "tad" disappointing display of Housing Starts, Housing Permits show a much brighter side of the future of the housing market. Housing Permits hit a record high of 812,000 homes in four years. In fact, Housing Permits has been rising since the third quarter of last year where figures reached 698,000 homes.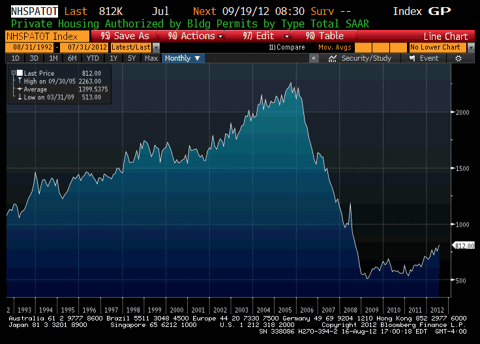 Click to enlarge
Housing Permits (Click to enlarge)
Behind the revival, less expensive properties and record low mortgage rates are driving consumer demand. As a result, real estate developers and contractors are regaining confidence in demand for housing.
Though it is way too early to say that the market has recovered, the data reflects improvement in sentiment toward the housing market. For the next few months, the resilience of a rising housing market will be tested amid lingering concerns in Europe and slowing growth around the globe, coupled with uncertainty regarding the Fiscal Cliff. All of which could dampen the economy.
In regards to the macroeconomic outlook, this definitely is good news for economic growth and potentially the labor market. Unfortunately for bond bulls, this is a headwind for U.S. Treasuries as evident by today's activity. The yield on the 10-Year rose to a high of 1.86% in intraday trading. Since then, some buyers emerged to support bond prices, which led to the 10-Year closing at a yield of 1.84, an increase of 2 basis points from yesterday.)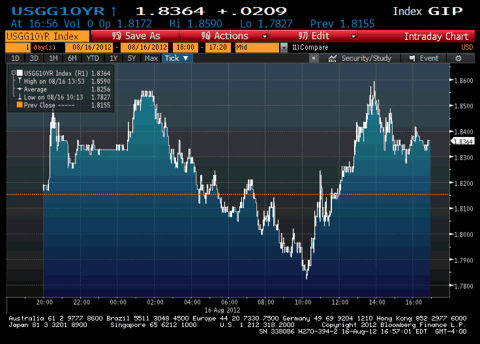 Click to enlarge
10-Year Treasury Yield (Click to enlarge)
Disclaimer: The above content is provided for educational and informational purposes only, does not constitute a recommendation to enter in any securities transactions or to engage in any of the investment strategies presented in such content, and does not represent the opinions of Bondsquawk or its employees.