Every day, we read headlines about the eurozone crisis, the anemic growth of the U.S. economy, and a slowdown in the rate of growth in the BRIC countries, notably China and India. This begs the question: if the world economy is so lousy, why are oil prices so high? The answer is more complicated than simply relating to supply/demand fundamentals with a geopolitical premium. The answer includes these considerations, but there are others as well.
Here is a chart of oil prices as of August 16, 2002:
Oil Prices as of August 16, 2012

Nymex

$ 95.20

+$0.87

Brent

$116.75

+$0.31

WTI (Cushing, OK)

$ 95.60

+$1.27

*Bakken

$ 95.60

+$1.77
*Bakken quote is as delivered @ Clearbrook, MN at this Bloomberg website.
Supply/Demand
On the supply front, things are looking pretty good. Production in the U.S. is up due to increased production coming from the Bakken, Eagle Ford, and Permian Basin shale plays. Meanwhile, the weekly U.S. oil inventory report showed commercial inventories brimming at 366.2 million barrels. This figure does not include the Strategic Petroleum Reserve - which is an additional 696 million barrels. Canadian oil sands production is expanding.
Another bright spot is Iraq (at least in terms of oil production), where oil production has reached 3.2 million barrels/day. Iraq's output has now surpassed Iran and Kuwait and is the highest in 20 years. But Brazil can't seem to figure out how to get its massive discoveries of pre-salt oil lifted and seems intent to take out its frustrations on the foreign oil companies trying to help. Iran's output continues to sink as sanctions impact its ability to export.
On the demand side, the U.S. imported 8.7 million barrels/day last week, up 90,000 per day from the previous week. Over the last four weeks, the world's largest consumer of crude oil imported 494,000 barrel/day less than the same period last year. Japan and India are increasing oil consumption for power generation. China's demand for oil is up over 4% from last year. Automobile sales in China grew 10% year-over-year in June. Also, the third quarter is seasonally prominent in China, as its transport and agricultural sectors expand.
Bottom line: despite some good news on the supply front and a tepid world economy, oil consumption growth is holding up quite well. We are in an era when worldwide oil production is having a hard time keeping up with worldwide demand. In fact, the International Energy Agency revised this month's 2012 global oil demand estimate upward to 900,000 barrel/day. This is only a fraction below the 10-year average of 1.1 million barrels/day.
"Despite weak global economic growth, oil demand is showing pockets of renewed demand strength," the Paris-based IEA said in its latest monthly oil market report.
U.S. Dollar Index
The U.S. dollar index is a basket of six major world currencies weighted against the greenback. Dollar futures are traded on the Inter-Continental Exchange ICE.
Click to enlarge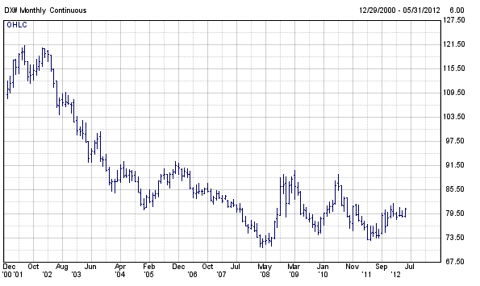 Click to enlarge
Oil, many a time, tracks the U.S. dollar index: dollar index up, oil down, and vice versa. Now, if something were to happen in the Middle East for example (see next section on Geopolitical Considerations"), the U.S. dollar index would likely go "up" as a safe haven investment. Normally, such a move would be a "risk-off" trade. That said, the term "risk-off" certainly wouldn't describe a conflict in the Middle East.
Geopolitical Considerations
The saber rattling between Israel and Iran continues. Israel is threatening to bomb Iran's nuclear infrastructure, while Iran says it will jeopardize the world's oil supply by shutting down the Straits of Hormuz. Meantime, sanctions are tightening the noose around Iran's neck and causing high inflation for its citizens. In the past, U.S. sanctions have more often then not been a prelude to war.
Lately, I see signs that things are coming to a head. Gas masks are being distributed in Tel Aviv. The Tel Aviv stock exchange is at a 3-week low. The Israeli shekel is its lowest value in nearly 15 months. Iraq and Afghanistan are unstable as adversaries of the U.S. occupation explode bombs on a near daily basis. Kurdistan is thumbing its nose at Iraq's central government and signing its own oil contracts with oil super-majors. Iraq has responded by threatening the super-majors' contract if they don't stop 'misbehaving' in Kurdistan.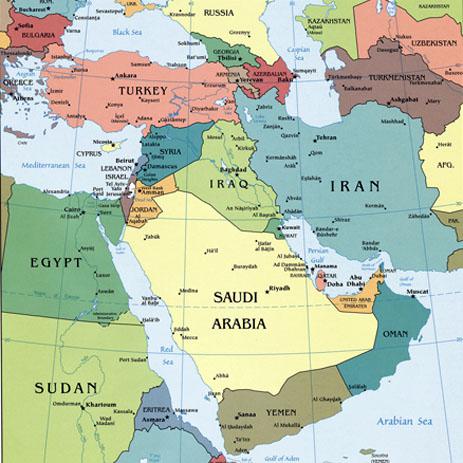 Syria is in turmoil and the crisis there appears to be jumping across borders. Turkey, Saudi Arabia, and Qatar have backed the opposition against President Bashar al-Assad's government in Syria. Iran has been accused of assisting the Assad government. There has been bloodshed on the border between Egypt and Israel.
All the troubles are adding a geopolitical risk premium to every barrel of oil. It is impossible to determine what this premium is. Some experts say it could be between $10-$20/barrel. If war breaks out between Israel and Iran, this premium will expand considerably. If oil shipments through the Straits-of-Hormuz are impacted, I suspect we'll see a new all-time high for the price of a barrel of Brent.
Central Banks
Meantime, it has been heavily telegraphed by the central banks of the U.S. and the eurozone that monetary stimulus is on the way should their economies weaken further. Inflation rates in China are slowing, giving its bank more leeway to ease. If the recent past is a guide of the future, substantial central bank easing will lead to increased speculation in hard assets - namely oil and gold. There is probably some "print money premium" already in today's oil price. Depending on the size of the "stimulus", the "print money" premium could either expand or contract.
Investor Speculation
People unfamiliar with the worldwide oil market tend to blame speculators alone for the high price of oil. I disagree, but speculation does play an important role. Expect speculation in the oil markets to increase were war to breakout between Israel and Iran and oil shipping be affected. The speculation would cause oil prices to rise sharply in the early days (minutes) of any such conflict.
Strategic Importance
Oil is the most strategic of all the commodities on Earth. No modern economy can function without it. Readers familiar with my articles know I am a big proponent of adopting natural gas transportation to reduce dependence on foreign oil for both economic and environmental reasons. What is sometimes lost in my argument are the national security issues facing the U.S. as a result of its dependence on foreign oil imports. The U.S. must have oil or the economy craters. We could easily transition to natural gas transportation, but as of today, the U.S. has no substitute for oil. We must have it. Period. Here are the U.S. oil import numbers for June:
June 2012:
337 million barrels of oil were imported
58% of total oil consumption were foreign imports
$34.6 billion (yes, with a "b") was sent out of the country to pay for oil
Oil - The New Reserve Currency of Choice?
Oil may now be the world's new reserve currency of choice. One can see both oil and gold rising whenever central banks ease, and who can doubt that more easing is coming? Although the U.S. dollar has been quite strong of late, this is simply because it is currently the world's reserve currency of last resort and can print its way out of its problems (or so some believe, excepting the author). However, one should consider the U.S. has more real debt than all the eurozone countries *combined*. Perhaps the U.S. dollar is not quite as strong as it may appear. Oil is.
What's an investor to do?
It is clear, oil is high, and moving higher, because of the reasons listed above. It is strategic and as of today, the biggest consumer of oil (the United States) has no realistic plan in place to reduce its dependence on it. Investors must take steps to protect themselves from much higher inflation due to rising oil, gasoline, and food prices.
The standard asset classes are worth taking a look at: gold, silver, and energy. My favorites are North American energy companies that pay good dividends like ConocoPhillips (NYSE:COP), Chevron (NYSE:CVX), and Suncor (NYSE:SU). I also like European energy provider StatOil (NYSE:STO) for its dividend, production growth, safety, and as a currency diversification play. I like companies that are growing oil production like Whiting Petroleum (NYSE:WLL). Lastly, any war in the Middle East will surely boost shares of Exxon Mobil (NYSE:XOM), which is a good stock to own in times of turmoil. XOM has a better credit rating than the U.S. government.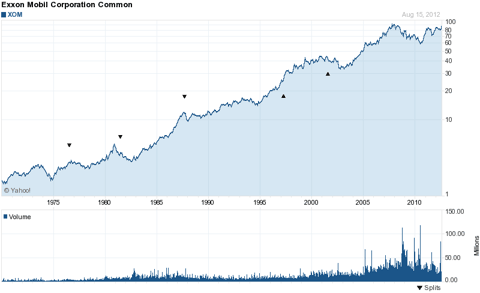 Click to enlarge
Meantime, New York gold is trading around $1615.40. Good luck with your investment decisions.