Electronic Arts (EA) moved up some 6% yesterday on rumors that it is quietly looking at a sale with a consortium of firms that include Kohlberg Kravis & Roberts (NYSE:KKR) and Providence Equity Partners. Chatter has it that the company would accept a bid of $20 per share, significantly above the $13 it was selling at prior to the rumor. I think this put a focus on the beaten down video game industry and could drive investor interest and share price appreciation in the sector. My favorite stock in the sector is Activision (NASDAQ:ATVI).
"Activision Blizzard publishes online, personal computer, console, handheld, and mobile interactive entertainment worldwide." (Business description from Yahoo Finance).
Five reasons ATVI is a solid value pick at under $12 a share:
The company has a fortress balance sheet with $3B of net cash (over 25% of market capitalization). It also yields 1.5%.
Activision has beat earnings estimates 11 of the past 12 quarters, the average beat over consensus during the last four quarters has averaged 40%.
The stock is selling at the bottom of its five year valuation range based on P/S, P/E, P/B and P/CF.
The median price target for the 18 analysts that follow the stock is $15.50.
The stock just broke out of a narrow technical support range it has trading in over the six months and just crossed its 50 day moving average (See Chart).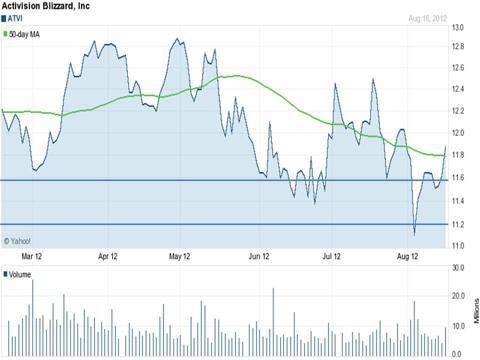 Note: The biggest overhang on this stock is the 50% plus stake Vivendi owns. Vivendi would like to monetize its stake and a consortium like the one that is rumored to be looking at EA could be the answer to accomplishing this. A combination of private equity firms with a perhaps a Fortune 50 company taking a stake could make sense. The two most logical bigger players to me would include Disney (NYSE:DIS) and Microsoft (NASDAQ:MSFT). Disney could leverage the core franchises like "Call of Duty" into movie franchises along the lines how comic book characters from Marvell have developed into successful blockbusters. In addition, it would be easy to imagine an ESPN Football or other sports genres being viable gaming franchises. Microsoft easily has the spare cash to make to take a significant stake and could further their penetration into the gaming business where its Xbox is the number one selling gaming console.