By Brendan Gilmartin
Lowe's Companies (LOW) is scheduled to report 2Q 2012 earnings before the opening bell on Monday, August 20. The report is due out at approximately 6:00 a.m. EST and will follow with a conference call at 9:00 a.m. The report follows an impressive release on August 14 from rival Home Depot (HD). Recall, Home Depot reported 2Q earnings that exceeded the upper end of analyst estimates and raised its outlook for the balance for the year.

Outliers and Strategy
Key measures:
Earnings Per Share: The current Street estimate is $0.70 per share, the mid-point of the consensus range ($0.64 - $0.74). (Source: Yahoo Finance)
Revenues: Revenues are seen slipping 0.5% to $14.46 bln. By way of comparison, Home Depot posted a 1.7% increase.
Earnings Per Share Guidance (FY2012): Lowe's previously reported diluted EPS of $1.73 to $1.83 are expected for the fiscal year ending February 1, 2013. The Street estimate is $1.80.

Lowe's shares are up 9.89% YTD, trading at just 18.2x trailing earnings and a mere 0.63x sales. The shares are significantly lagging its larger rival Home Depot which is up 35.56% YTD, fetching 21.25x earnings and 1.2x sales.
Recent News
08/15: Barclays reiterated an Equal-Weight rating on Lowe's with a price target of $30, according to a post on StreetInsider.com. The firm sees comparable store sales of 0.0% - 1.0%, while the 'everyday low price strategy' is likely to pressure margins.
08/07: Nomura Securities lowered its price target on Lowe's from $37 to $34 and cut its 1Q EPS estimate from $0.73 to $0.68, according to StreetInsider.com. The firm cited weak feedback from suppliers and continues to favor rival Home Depot (Buy).
Technical Review
Lowe's shares have significantly underperformed rival Home Depot over the past six months. Note, however, that the recent breakout in Home Depot has helped lift Lowe's through $27.00 resistance -a level coinciding with both the 50-Day & 200-Day SMA. From here, Lowe's has the potential to reach $28.50 in the event that earnings and guidance do not disappoint. Should the recent rally begin to fade, look for support near $26.50, with downside risk to $25.00. (Charts courtesy of StockCharts.com)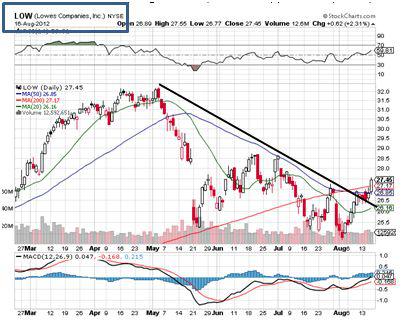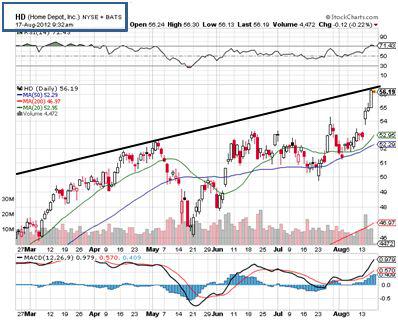 Summary
Lowe's shares have significantly underperformed its chief rival in the previous six months, rising a mere 0.9% YTD, compared with the 30% plus breakout at Home Depot. Lowe's is grappling with slower same-store sales and margin depression resulting from its everyday low price model, while effective promotional activity and streamlined operations have helped Home Depot gain the upper hand. But given the disparity in stock performance and valuation, Lowe's could extend the recent advance, so long as earnings come in marginally above consensus, comps are better than flat, the company reiterates its full-year outlook, as a result or the improved housing market.
Disclosure: I have no positions in any stocks mentioned, and no plans to initiate any positions within the next 72 hours.
Disclaimer: By using this report, you acknowledge that Selerity, Inc. is in no way liable for losses or gains arising out of commentary, analysis, and or data in this report. Your investment decisions and recommendations are made entirely at your discretion. Selerity does not own securities in companies that they write about, is not an investment adviser, and the content contained herein is not an endorsement to buy or sell any securities. No content published as part of this report constitutes a recommendation that any particular investment, security, portfolio of securities, transaction or investment strategy is suitable for any specific person.