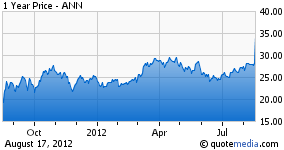 Shares of AnnTaylor Stores Corporation (NYSE:ANN) hit a new 52-week high off the success of their second-quarter earnings. The women's retailer, which owns Ann Taylor and Loft stores, saw increasing sales at both retail brands and online.
In the second quarter, AnnTaylor saw record earnings per share of $0.63, up 34% from last year's reported $0.47. Net sales increased 7% to $594.9 million. Operating income increased 27% to $52.9 million. Net income was reported as $30.7 million, versus $24.8 million a year ago. The company had record gross margins of 56% during the second quarter.
Sales broken down by brand (last year's sales):
Ann Taylor: $233.3 million ($217.9 million)
Loft: $361.6 million ($340.3 million)
Comparable sales increased across all segments:
Ann Taylor Stores: +3.2%
Ann Taylor e-commerce: +29.0%
Ann Taylor Factory: +2.1%
Loft Stores: +4.1%
Loft e-commerce: +14.6%
Loft Outlets: +0.3%
During the second quarter, AnnTaylor Corporation opened a total of 17 stores, while also closing two underperforming units. The company opened three Ann Taylor stores, one Ann Taylor Factory store, seven Loft stores, and six Loft Outlet stores. With the openings in the second quarter, Ann Taylor now has the following store counts:
222 Ann Taylor
100 Ann Taylor Factory
505 Loft
80 Loft Outlet
962 Total Stores
The company expects to open a total of 65 stores during the fiscal year. Around 30 stores will be closed throughout the year. By the end of the year, Ann Taylor Corporation will have 985 retail stores in the United States.
The company issued guidance for the third quarter today as well. AnnTaylor Corporation sees net sales of $600 million during the quarter. The company also says it will see same store sales growth in the mid single digits. Gross margin levels are expected to rise to 58% in the next quarter. Analysts on Yahoo Finance are expecting sales of $585.61 million and earnings per share of $0.51 in the third quarter. For the fiscal year, AnnTaylor Corporation sees net sales of $2.39 billion. Analysts see earnings per share of $2.05 on $2.37 billion in net sales.
Shares started the day trading up over 10% after the earnings report. By the middle of the trading day, shares were up over 22% to $34.36. With today's large increase, shares are now up almost 40% on the calendar year. Shares, hitting a new 52-week high today, are now trading at their highest levels since October 2007.
At the end of the quarter, AnnTaylor had a cash position of $133 million, with no long-term debt. With the new increase in AnnTaylor shares, the company now has a market capitalization of $1.65 billion. With recent buyouts and consolidation in the retail industry, I think AnnTaylor shares could see some rumors of a buyout coming soon. The company has two key brands in the women's segment that could fit in nicely with a retailer attempting to expand in the women's market. The company also has the potential to expand internationally on its own or through joint ventures to expand sales.
AnnTaylor shares have run up quite nicely today with the optimism surrounding new store openings and same store sales growth. I think AnnTaylor provides a nice retail play and trades with a reasonable valuation. Shares trade at 16.7 times this year's expected $2.05 in earnings per share and around 14 times next year's estimated earnings. The company also trades at 0.60 times the company's sales over the last 12 months. Put AnnTaylor on your watch list and consider holding the retailer for the long term.
Disclosure: I have no positions in any stocks mentioned, and no plans to initiate any positions within the next 72 hours.