The trend in asset classes such as government bonds and gold gives investors an indication of the direction in which an economy is headed. More importantly, these asset classes also signal the probable policy action by central bankers.
This article analyzes the trend of these asset classes, and links it with certain economic factors to conclude on the possibility of further quantitative easing.
The ten-year Treasury bond yield has increased by 44 basis points in 18 trading sessions, after touching a record low of 1.4% in July 2012.
(click images to enlarge)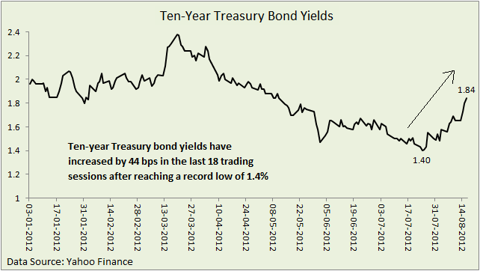 In general, an increase in yields is indicative of higher inflation, or the view of market participants that inflation will increase in the foreseeable future.
I am of the opinion that market participants believe that inflation will increase in the foreseeable future due to another round of quantitative easing. Further, a sharp increase in yields indicates that policy action might come relatively soon.
The current inflation (headline CPI) numbers in advanced and emerging economies strengthens my opinion.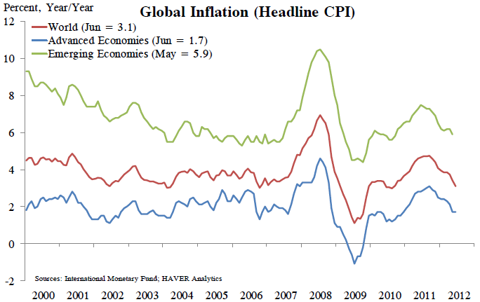 Click to enlarge
With global inflation trending down, there is no reason for bond yields to trend higher. Therefore, the increase in yields comes from expectation of some future event. In all probability, yields are discounting another round of quantitative easing.
The inflation data also provide evidence of a continued slowdown in the global economy. Weaker growth is manifesting itself in the form of lower consumer price inflation. Preventing deflation, which is one of the biggest objectives of central bankers, will lead to expansionary monetary policies.
I must also mention here that the U.S. is heading towards a consumption-led slowdown or recession. Retail sales point to a sluggish GDP growth in the current quarter. I had discussed the employment factors killing consumption is one of my recent articles.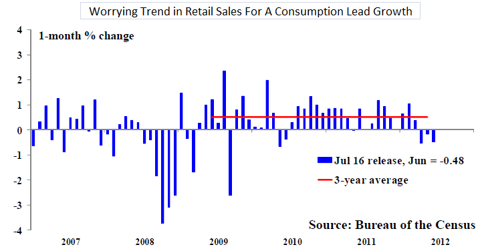 Click to enlarge
Therefore, in line with the conclusion on a slowdown and QE, Treasury bond yields might trend higher over the next 3-6 months.
One can argue that if we are headed for another recession, money should flow into Treasuries, leading to lower yields. However, if the Fed does resort to quantitative easing by taking a proactive approach rather than a reactive approach, yields will rise on higher inflation expectations.
Moving on to the recent price trend for gold, readers can again argue that gold prices do not suggest quantitative easing. Gold has been in a prolonged period of consolidation, and prices have not spurted along with the rise in Treasury yields.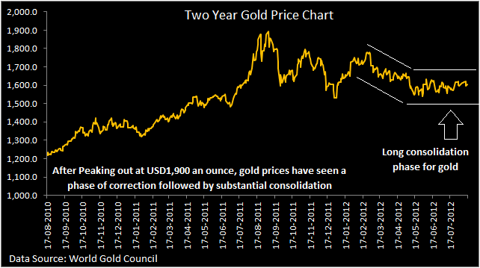 Click to enlarge
To understand the reason for the recent price trend in gold, it is important to understand that gold prices are a function of demand and weak currencies.
Since we are talking about gold prices in dollar terms, it is not surprising to see gold prices correct with a strong dollar over the last few months.
Also, the latest press release from the World Gold Council suggests that gold demand has declined to a two year low in the second quarter of 2012. Lower demand from India and China contributed to an overall decline in demand.
Clearly, there are no positive cues for gold to trend higher in the near-term. The positive factor of a possible QE has been offset by the negative factor of declining demand.
This trend might change relatively soon, as weak global growth will result in expansionary monetary policies by central bankers around the world. There are already indications of this with the U.S. adjusted monetary base expanding by USD100 billion in the last 2 months.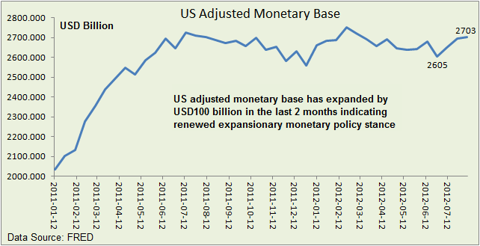 Click to enlarge
I had shown in one of my earlier articles that gold prices move in tandem with the U.S. adjusted monetary base. Therefore, it would not be surprising to see gold surge again over the next 3-6 months as investors renew gold purchases to shield their capital from weak currencies.
In conclusion, central bankers have to eventually resort to more quantitative easing to avoid a recession. The real economy might benefit significantly in terms of job creation and sustained economic growth. However, asset markets will be interesting, with some profit making opportunities.
I am of the opinion that this is one of the best times to buy and accumulate gold. The precious metal is in the process of forming a strong support at current levels. Investors can consider exposure to gold through the SPDR Gold Shares (NYSEARCA:GLD) ETF.
Long-term Treasury bonds, with rising yields, should be avoided in the near-term. I would also not consider having government bonds in my long-term portfolio. Investment grade corporate bonds would be a better option.
It is very difficult to talk about the possible trend in equities. I would assign a higher probability of some correction in the near-term followed by renewed strength towards the end of the year. My personal suggestion would be to ignore the short-term volatility in the markets and invest in the index. There are not many investors who can beat the index over the long-term.
Investors can consider investing in the index through the SPDR S&P 500 ETF (NYSEARCA:SPY), which seeks to provide investment results that, before expenses, generally correspond to the price and yield performance of the S&P 500 Index.
Disclosure: I have no positions in any stocks mentioned, and no plans to initiate any positions within the next 72 hours.