Information technology company Dell (NASDAQ:DELL) is in the process of transforming from selling PCs and accessories to providing solutions and services to enterprises -- small, medium, and large business. The company is transitioning from selling products to selling solutions, and sees its future roll as more of a "trusted advisor."
During Dell's 2012 analyst meeting held on June 14, 2012, the company noted it has opened 11 solution centers where customers can come for a day and have a solution designed especially for his or her particular needs. The company also has 12 research and development centers around the world for developing new technologies.
Dell has been on an acquisition spree over the last year, with eight acquisitions. Dell has more than 200 people dedicated to integrating the newly acquired companies. Over the previous few years, Dell has spent $10 billion on 18 acquisitions, which has delivered $9 billion in post-acquisition revenue.
Dell does not see the PC market as dead, but rather perceives a lot of potential growth remaining in emerging markets India and China. Dell claims its brand recognition in emerging countries is outstanding and plans on taking advantage of its brand in those countries. Also, Dell is excited about the forthcoming introduction of Microsoft's (NASDAQ:MSFT) Windows 8 operating system and is planning on marketing a tablet device based on Windows 8.
Dell and storage company EMC (EMC), discussed in this article, parted ways when Dell entered the storage market and became a competitor. EMC has since replaced its Dell partnership for one with Lenovo, the world's second-largest PC company.
Dell recently announced the introduction of a dividend, with the initial annual divided set for $0.32 with $0.08 paid quarterly. The initial dividend distribution is planned for the third quarter of 2012. At Dell's current stock price, the annual dividend yield is 2.6%.
In Dell's Q1 2013 earnings release from May 22, 2012, the company reported revenue of $14.4 billion, which was down 4% from the prior year's quarter. The poor results were attributed to sales execution not as expected, a demand environment tougher than planned in Europe, Middle East, Africa, Asia, and the public market segment. Dell indicated it is also experiencing increased competition in the market overall, with significant competition experienced in Asia.
Dell is making changes in order to improve sales execution, but there's not much the company can do about weak demand, other than take market share or enter new markets. The company's notebook sales contracted 10% with the increased competition and with customer dollars going for more mobile computing devices such as Apple's (NASDAQ:AAPL) iPhone and iPad.
Dell's services business grew 4% and its security business was up 31%, mainly driven by the company's SecureWorks acquisition. Dell indicated its XPS high performance laptop computers performed well, with growth of 33%.
Dell's stock price has cratered recently (shown below), as a result of its mediocre performance, and is back down where it was about two years ago. The stock appears to be forming a base around $12.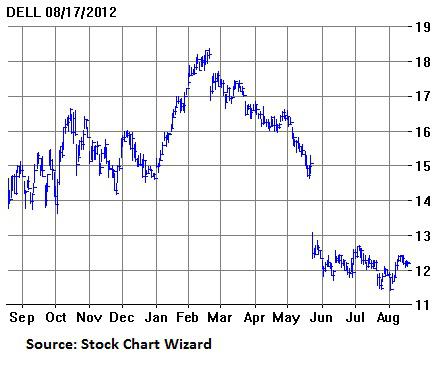 With Windows 8 forthcoming, Dell's transformation in process, and its very low price-to-earnings (P/E) ratio of 7 and low price-to-sales (P/S) ratio of 0.4, the prospects for the company, while not bright, are looking much better. Dell's low P/S ratio puts the company in the value category. A prudent investment for Dell might be to enter a married put for the company. A married put provides unlimited upside and limited downside. The strategy provides participation in the stock price's increase, but limited exposure to a stock price decline. A married put may be entered by purchasing a put option against the stock.
Using PowerOptions, a variety of married put positions for February 2013 expiration are available for Dell as shown below: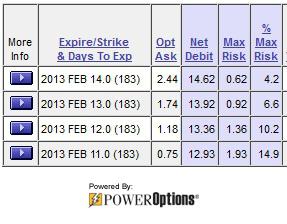 The top position in the table above has a maximum risk of 4.2%, not including an expected dividend payment. Including an expected dividend payment during the holding time, the maximum potential loss is reduced to 3.6%. The specific put option to purchase is the 2013 February 14 at $2.44.
Dell Married Put Trade
Dell stock (existing or purchased)
Buy Dell 2013 February 14 Put at $2.44
A profit/loss graph for one contract of the married put position is shown below:
Click to enlarge image.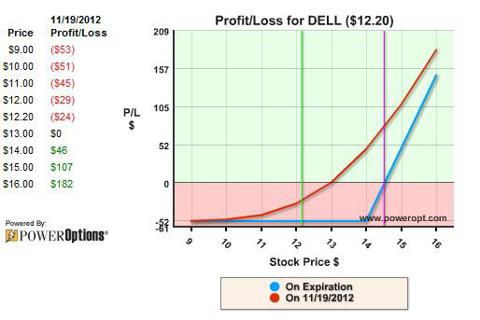 Click to enlarge
If the price of the stock increases above the $14 strike price of the put option, then income methods may be implemented for receiving income and reducing risk, as described by RadioActiveTrading.com.
Disclosure: I have no positions in any stocks mentioned, and no plans to initiate any positions within the next 72 hours.