Lindsay Corporation (NYSE:LNN) is an Omaha, Nebraska firm, which manufactures self-propelled center pivot and lateral move irrigation systems used in the agricultural industry. It is acquiring companies like Traffic Maintenance Inc. and Albert W. Unrath Inc. guaranteeing future growth continues like present growth.
Lindsay Corporation has been under some incredible growth with EPS growing 63%, 117%, 275%, 40%, 19%, 23%,140%, and 276% the past eight quarters. Not only have earnings been exploding from $0.52 to $0.79 the past eight quarters but sales have been putting in some huge gains itself going from 75 million sales per quarter eight quarters ago to 108.4 million in the most recent quarter. 34%, 41%, 30%, 16%, 24%, 30%, 47%, and 70% out of a manufacturing stock in sales growth is stunning for the past eight quarters. The current numbers are incredible enough but knowing estimates for the future should help some get over the relatively high (which is NOT a bad thing all the time) P/E ratio of 55. This is in the upper range of the 18-62 P/E range the past five years but when you have 2008 estimates for a 144% growth in EPS and 2009 growth of 27% expected on top of that, you have a great reason to pay up for a high quality stock like this. While the fundamentals have been growing hot the past eight quarters, mutual fund growth has risen to 29% of the shares outstanding with the past four quarters going from 68 funds to 75 funds last quarter and 89 funds this quarter. The reason for the growth in mutual funds is obvious when you look at the EPS and sales growth. The ROE of 12%, a cash flow of $1.96, and an EPS growth rate of 9% and only 23% debt to shareholder equity are just some more good reasons to own this stock. An Investors Business Daily checkup confirms the growth, with an EPS rating of 85, a RS rating of 99, a group RS rating of 87, an SMR rating of B, an Acc/Dis rating of A, a composite rating of 99, a timeliness rating of B, and a sponsorship rating of C. Despite this being an amazing stock I still must see it move higher immediately as I do this for a living and like any good business will not let losses run. So if it moves lower I will cut my loss with a close below the 50-day moving average (the white line in the upper window).
click to enlarge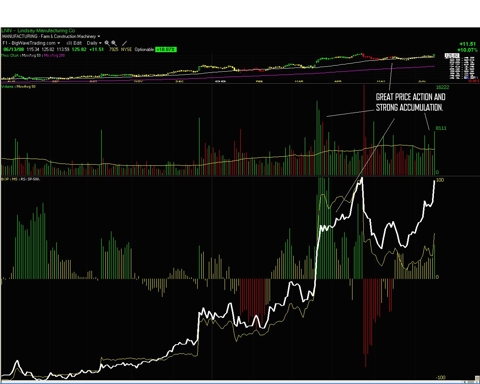 Disclosure: The author was long LNN at the time of publication.